What's the right pocket money app for lockdown learning?
It's My Money Week, a time when schools would usually teach children essential money-saving skills. But as lockdown continues, what is the best way to still give this important lesson?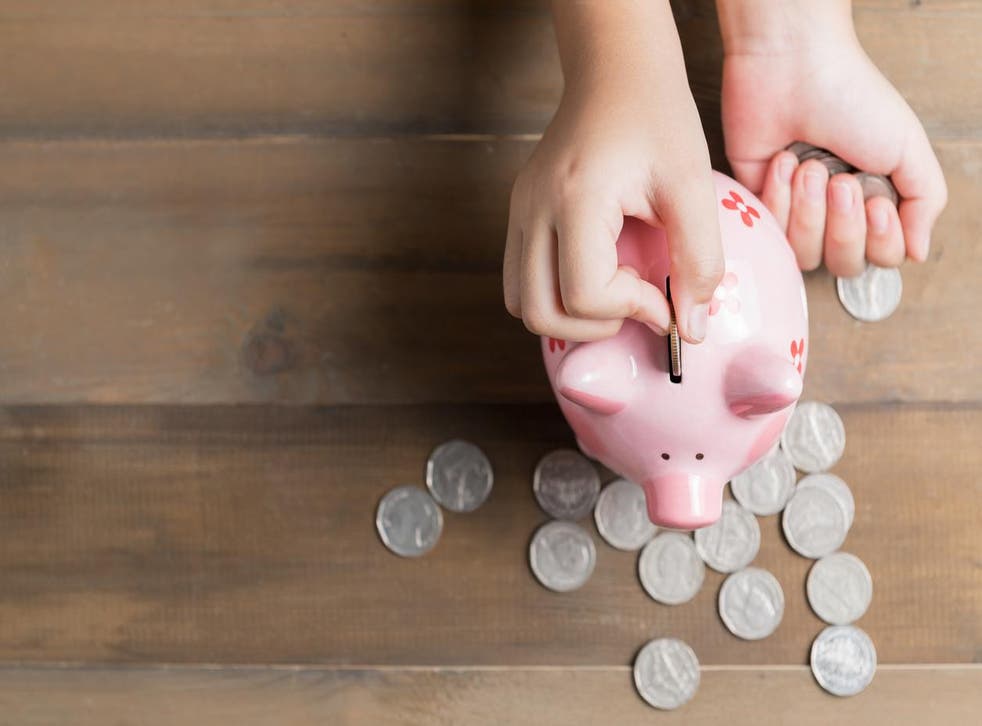 So many of us are going cashless during lockdown. There are almost no daytrips so nowhere to spend small amounts of cash. Many shops have signs up saying they appreciate customers using contactless cards.
And the spending limit for contactless payments rose from £30 to £45 at the start of April. Contactless is king in a pandemic.
But there's one area where, for me at least, actual physical coins and notes have always seemed really important – pocket money.
Without breaking notes in shops, I have no change for my three boys. They are nine, seven and four and receive £3 a week in pocket money (is that too much? Too little? Answers in the comments, I don't know the answer). So they haven't had any pocket money for months now.
I've not been too worried about that, my boys can't spend their money during the pandemic anyway. Supermarkets sometimes discourage parents from bringing their children with them if there's another option and I haven't wanted or needed to expose them to the risk.
But now it's My Money Week, the week each year when there's a focus on financial education in the classroom. In lockdown, the classroom is now my kitchen table so I wonder if I should restart pocket money to help them develop good money habits.
It could teach them a lot. Normally I hand over their weekly pocket money and then it's up to them. If they blow it on Pokemon cards or save it for a new Lego set, I think that's the lesson they need to learn.
Now they can't spend, there's the possibility that they could learn how quickly their cash can add up if they save it. There's a chance they could recognise the benefits of not blowing it all at once, and realise there's even more they could do with it if they let it grow.
So it's time to make some changes – I've decided to sign them up to one of the many apps for pocket money – pocket money 2.0, if you will. But which one is right?
Gohenry
One of the first pocket money solutions, this one works in collaboration with Visa. Parents open accounts for their children and can set up automatic weekly pocket money transfers, make one-off payments and allow kids to earn extra by completing tasks.
Children receive a spending card that gives them that real debit card experience and parents can set spending limits and even choose where the card can be used. Parents can also block it and unblock it whenever they want to.
It also lets children automatically save a percentage of their pocket money each week and set saving goals. They can also choose to donate a small amount each week to the NSPCC if they want to.
Only my older two boys could use this as the minimum age is six but I don't really think a four year old could grasp this anyway.
gohenry is a subscription service and has a monthly membership fee of £2.99 per child, so this would cost me almost £9 a month. And if I wanted to load my parent account more than once a month, that's an extra 50p per transaction.
Osper
With Osper, children can be given a prepaid Mastercard that can be loaded with cash by parents or guardians.
This option would really give my boys a genuine experience; the card can make contactless payments and I can set weekly or monthly allowances. I'm kind of tempted by the monthly option as it might help them learn not to blow all their cash on Lego mini figurines on the first day.
It's powered by an app and available to children aged between 8 and 18. There's a £2.50 monthly charge per kid but no transaction fees (unless I want to make an instant upload of cash, perhaps in an emergency, in which case I'd pay 50p).
With this option, only my eldest could have the card just now. That's not necessarily a bad thing, it could be a coming of age event for my other boys. But it wouldn't solve my pocket money problem now.
Nimbl
This is one of the cheapest prepaid kids cards, with a £2.49 a month charge but it doesn't seem to offer much less than the other options.
There's a parent's account for me, linked accounts for my children, all managed via an app. I could set up weekly or monthly transfers for my kids, again giving me the option to let them learn to budget the hard way.
With Nimbl, I could open pocket money prepaid cards for my two older boys right away rather than waiting.
One additional touch that I really like is that there's a micro-savings feature that means children can drip-feed small amounts of money into a savings pot to help them learn good money-saving habits.
That's not a proper savings account, there's no interest paid. But I think this is more about roleplaying adult finances than actually earning savings so that's not a problem.
RoosterMoney
This is another option that's available for children from age six up to 18 and is also competitively priced at £24.99 a year for the first child, then £19.99 for each additional child.
It's powered by an app that again lets parents upload money and set spending limits. Parents and guardians can decide how and where the card is used, including whether it can be used online, at cash machines and in shops.
Plus, like its competitors I will receive notifications when they spend – which I think is sensible rather than intrusive, at least while they are very young.
What's unusual about this pocket money option is that it a version is available from age four, meaning that all three of my children could get something out of it. My youngest could have a reward chart based within the app so that he joins in with his brothers in a way he can understand.
Another aspect I like is that I can tie their allowance to household chores or let them earn extra cash by doing those chores. I can also choose to pay them interest to reward saving.
Which one is right for us?
Looking at the different options it's pretty clear that some surprising innovation has gone into the pocket money app market.
It's hard to choose between these different options. I can tell which services I like best – the ability for the kids to save money, the option for all three of my children to get something out of it.
So I think, on balance, I might choose the RoosterMoney app simply because of the age range. However, I also think the point of this is to give my children some autonomy over this.
I've decided to discuss the different options, with the older two at least, and ask what they feel is most important. If they want to be able to make donations or savings or earn extra money through chores then that I might choose one of the competitors. Fintech is often disruptive of older traditions but it's interesting to see it's even disrupting the way parents pay pocket money.
Register for free to continue reading
Registration is a free and easy way to support our truly independent journalism
By registering, you will also enjoy limited access to Premium articles, exclusive newsletters, commenting, and virtual events with our leading journalists
Already have an account? sign in
Register for free to continue reading
Registration is a free and easy way to support our truly independent journalism
By registering, you will also enjoy limited access to Premium articles, exclusive newsletters, commenting, and virtual events with our leading journalists
Already have an account? sign in
Join our new commenting forum
Join thought-provoking conversations, follow other Independent readers and see their replies