Mind the financial gap – and make sure you stay insured
Hard-up families risk disaster if they drop cover on homes, cars and holidays, says Chiara Cavaglieri
Chiara Cavaglieri
Saturday 07 September 2013 19:19 Comments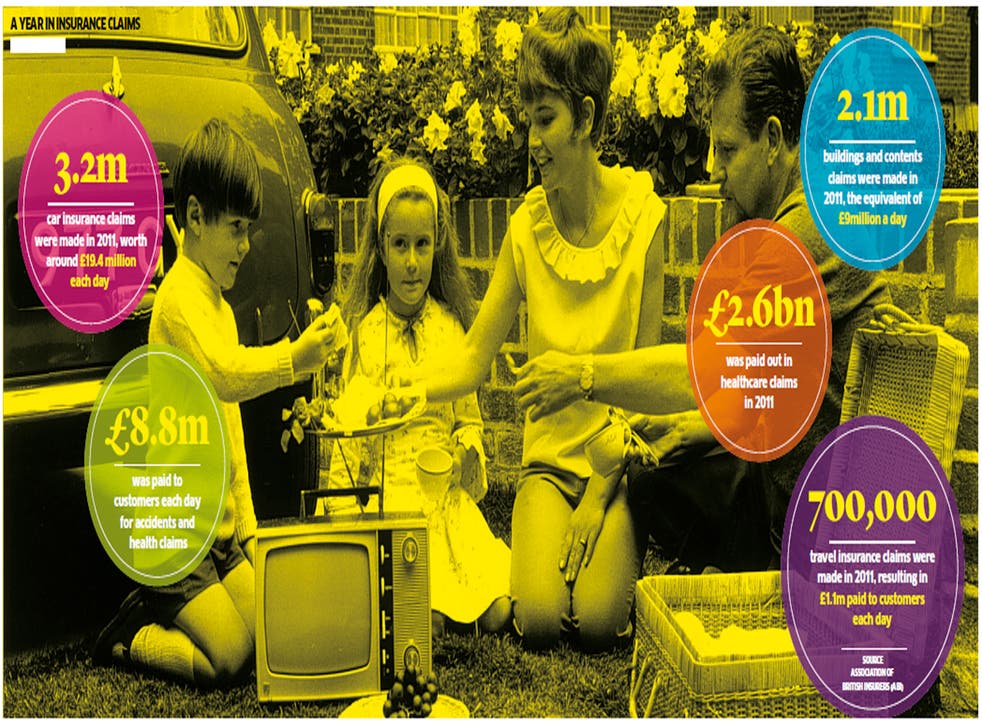 During economic nosedives, insurance policies are among the first things to be jettisoned by families tightening their belts. Today, the insurance gap has left millions of Britons vulnerable to financial ruin after either cancelling or reducing their cover. So with the economy on the mend, unemployment starting to drop and real wage rises expected next year, how can you ensure your financial safety if the worst happens?
Personal protection
Most households would struggle if they lost their main source of income, but many people still don't see income protection and life assurance as a priority. Almost two-thirds (60 per cent) of adults do not have any financial protection in place, according to new findings from insurer Bright Grey. If the breadwinner in your family suffered illness, disability or death, all your hard work to achieve financial stability could be obliterated.
Even if you are insured, you may not have adequate cover; the average life assurance shortfall in the UK amounts to £100,000 per person, according to Swiss Re. With life assurance, be realistic about how much cover you require and start by separating cover for debts (as you pay off the mortgage, the amount of insurance needed will fall) and for income (ie, looking after dependants). A flexible policy is preferable as your needs may evolve.
"After ten years you may decide you don't need as much cover, and if you give up smoking, for example, your premium could be reduced quite dramatically – but not every company will allow you to amend your policy," says Peter Chadborn of independent financial adviser (IFA) Plan Money. Similarly with income protection, think about how much you would need to cover your outgoings after sick pay. Look, also, for an "own occupation" policy that pays out until you can resume your particular line of work, rather than any job.
Car
Motor insurance may be a legal requirement but 2,500 uninsured vehicles are seized by police each week, according to the Motor Insurers' Bureau. Automatically opting for basic cover is a mistake as it's often cheaper to take out fully comprehensive cover, particularly for young drivers (the AA Index shows that comprehensive premiums were around £595 in July 2013, compared to £820 for third party, fire and theft). Always compare policies on a like-for-like basis and pick the best you can afford. Things to look out for include a courtesy car, cover for lost or stolen car keys, and foreign-use cover.
Home and contents
One in ten homeowners miss out on protection by only having either buildings or contents insurance rather than both, says MoneySupermarket.com. A typical policy now costs £70 a year and the average pay-out for a household fire claim is £10,200, while theft costs insurers an average £1,500.
It's vital to correctly tot up the value of your belongings – "the sum insured" – so think about what's in your wardrobe, even your freezer. Recalculate your cover each year when you renew or buy a new policy.
Beware of losing non-tangible items too. About 45 per cent of home insurance policies don't provide cover for loss of digital content, says Sainsbury's Bank, and yet in the last two years 759 million photographs, 1 billion songs, 7.9 million films and 17.9 million apps have been lost.
For buildings, you only need to cover the cost of rebuilding your home, not its market value, but tell your insurer about any improvements, such as fitted kitchens or extensions, that would increase the rebuild cost. "If you are not fully insured, they will apply something called averaging, in which any claim will be reduced proportional to the under-insurance", says Brian Brown of Defaqto. "If your home rebuild cost is £100,000 and you only insure it for £90,000 then the insurer will reduce all claims by 10 per cent."
Holidays
Around 35 per cent of people going on holiday this year do not intend to take out cover, according to new research for Nationwide. Examples of claims include £800 for a night in a private Spanish hospital ward, and £53,000 for a jet air ambulance from the US back to the UK, says Gocompare.com.
Annual policies make sense if you travel more than once a year, and benchmark cover is around £2m for medical expenses, £1m personal liability, £3,000 cancellation, £1,500 baggage and £250 for cash.
Register for free to continue reading
Registration is a free and easy way to support our truly independent journalism
By registering, you will also enjoy limited access to Premium articles, exclusive newsletters, commenting, and virtual events with our leading journalists
Already have an account? sign in
Join our new commenting forum
Join thought-provoking conversations, follow other Independent readers and see their replies