More than £13bn left rotting in 'dog' funds
Investors' cash in underperformers is rocketing, says financial body.
Simon Read
Friday 19 July 2013 21:29 Comments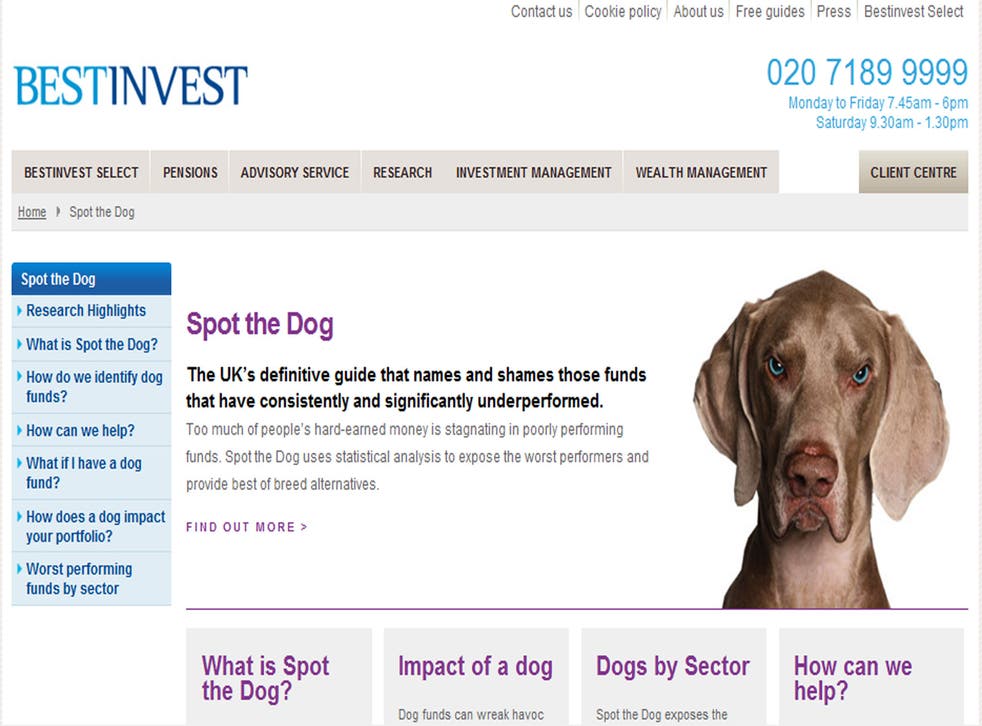 The amount of cash investors have in so-called dog funds has soared from £12.1bn at the start of the year to £13.3bn now. To qualify as a dog, funds must have underperformed in each of the past three years and by 10 per cent or more over the three-year period.
On those criteria there are 59 unit trust/OEIC dog funds, according to the latest Spot the Dog report from Bestinvest.
The figure is down slightly from the 64 highlighted in January, but the amount held in the underperforming funds has been swelled by rising markets. Fund management groups with the highest amount of investors' cash in the poor-performing funds have been named and shamed as Schroders (£4.1bn), Neptune (£1.4bn), Fidelity (£1.2bn), F&C (£734m) and UBS (£662m).
"Many will be surprised to see the mighty blue-chip investment house of Schroders featuring prominently," said Jason Hollands, managing director at Bestinvest.
"The culprits for Schroders' predicament are the Schroders US Mid Cap fund and a large fund with a value-style bias, Schroders QEP Global Active Value.
But James Cardew, global head of marketing at Schroders, slammed the inclusion of the fund: "We are very disappointed. By including the Schroders QEP Global Active Value fund Bestinvest has failed to recognise that the fund's client base is overwhelmingly institutional. Less than 1 per cent of the fund, only £20m of the £3.2bn is held by retail clients. The report is misleading."
Mr Hollands responded: "The fund is made available on a number of popular fund supermarket platforms, including Cofunds and Fundsnetwork, and clearly has a retail share class. It is therefore eligible for inclusion."
But he added that he regards Schroders as a high-quality investment manager. "We rate a number of their funds highly and see their range as strengthened further by the recent acquisition of Cazenove."
Mr Cardew pointed out: "Schroders' overall investment performance remains very strong and ahead of our target with 72 per cent outperformance over three years. In addition, our one-year numbers also look robust with 68 per cent outperforming at the end of March 2013."
So should investors act on the latest report and flee the underperforming funds? Mr Hollands says no. "As we explain in the guide, dog funds are based purely on statistical data and should not be regarded as a "sell" per se," he said.
"We use the examples of funds that a strong style bias that has been out of favour with markets or those that have turnaround potential due to new management to illustrate reasons an investor might decide to persevere with a dog fund. However, the gold rule is that if you find you own a dog in your portfolio, you need to explore whether or not to stick with it."
You can get a free copy of the latest Spot the Dog report from the website: bestinvest.co.uk/dogs
Register for free to continue reading
Registration is a free and easy way to support our truly independent journalism
By registering, you will also enjoy limited access to Premium articles, exclusive newsletters, commenting, and virtual events with our leading journalists
Already have an account? sign in
Join our new commenting forum
Join thought-provoking conversations, follow other Independent readers and see their replies