Government scheme designed to support 3.5 million struggling savers is delayed
Low-income families hit by wage squeeze would be better off with other schemes
Kate Hughes
Money Editor
Friday 15 December 2017 13:47 Comments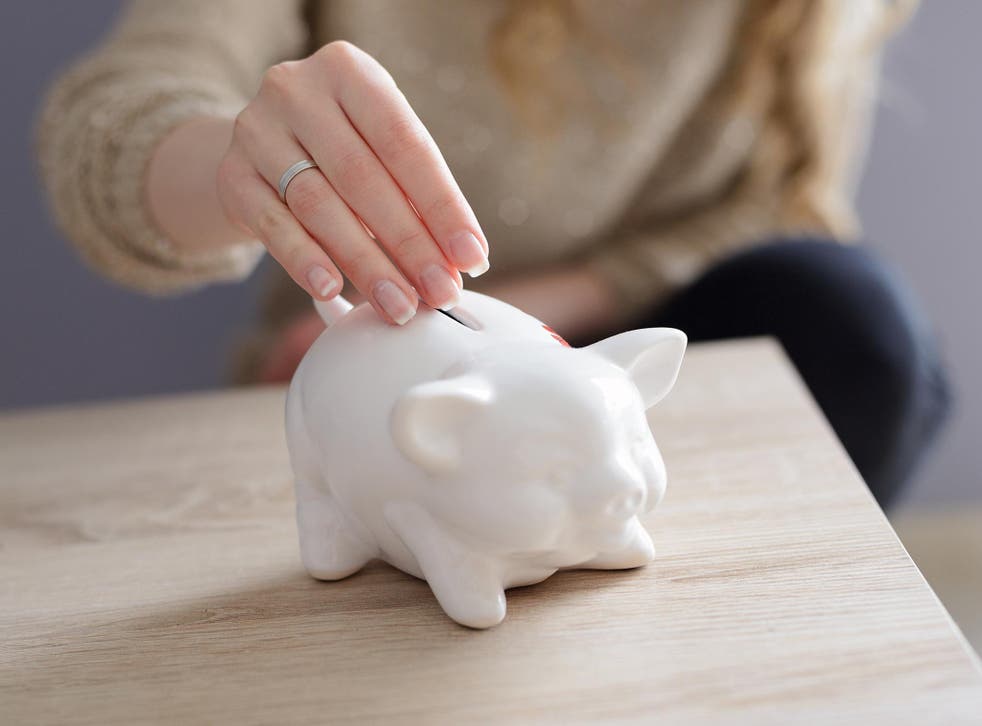 It has been billed as a huge financial boost – a way to ensure those living an increasingly hand to mouth existence are a little more insulated from the hard knocks.
This week though, they were hit with a double blow.
First came the news that real wages were being squeezed yet further by the rising rate of inflation.
The consumer prices index, which measures the cost of living by calculating the changing prices in a typical 'basket' of consumer goods, rose to 3.1 per cent in November – according to figures released by the Office for National Statistics (ONS) this week. That's close to a six year high, and more than 1 percentage point higher than the standard 2 per cent target.
The figure is up significantly from 1.2 per cent this time last year, with food prices in particular, up by more than 4 per cent over the year.
Meanwhile, the typical income is going in the opposite direction.
Weekly earnings grew at an annual rate of 2.2 per cent, down from the 2.3 per cent rate in the previous period, the Office for National Statistics (ONS) reported this week. Analysts expect the squeeze to continue well into 2018.
It's little surprise that 17 million Brits have £100 or less in emergency savings. Those who do manage to put a bit of cash away for a rainy day are facing easy access interest rates of just 0.01 per cent.
With economic uncertainty looming as we battle through EU divorce proceedings and personal debt levels soaring, it's not a great place to be. And yet a much-heralded government scheme designed to give low income families a decent savings shot in the arm has been delayed by months, an announcement this week revealed.
50 per cent savings boost
Help to Save was first announced in January 2016 in a bid to encourage those on low incomes to build up a rainy day fund.
The theory sounds promising, with the government pledging to boost money set aside in the scheme by 50 per cent (up to a monthly maximum individual contribution of £50).
And a wide range of recent schemes designed to boost our savings habits whatever the economic weather have shown promise with the Junior ISA, Lifetime ISA, Help to Buy ISA and pensions savings all demonstrating that incentives do indeed have an effect on our financial habits.
Small print
The details of this particular plan seem generous. Though savers in the scheme will be able to withdraw the cash in the meantime if needed, the bonus will be paid after two years of saving and will be based on the highest balance shown in the account during that two year period.
At that point, savers can decide whether to continue saving for another two years. In total they will be able to put away £2,400 and get bonuses of up to £1,200.
Official figures suggest the scheme, which will be run by NS&I, could help up to 3.5 million people. To qualify they will either need to be claiming Working Tax Credits or claim Universal Credit, and have a household income of at least £542.88 in their last monthly assessment period.
People who are eligible for Help to Save will have five years from the end of the trial in order to take advantage. However, a 10 month roll out means not every eligible saver will be able to access the scheme from day one.
Limited resources
Delayed by several months, Help to Save will now begin a trial in January 2018, inviting gradually increasing numbers of Working Tax Credit claimants to take advantage of the scheme. It will begin inviting Universal Credit claimants in April 2018.
"A six month delay in rolling out Help to Buy isn't a great endorsement of the level of planning and detail that went into the proposal when it was first announced in January 2016," says Sarah Coles, personal finance analyst, Hargreaves Lansdown.
"The key to the success of this scheme is likely to hinge on whether the attractive incentive will change people's savings habits at a time when incomes are squeezed, inflation is biting and the target group are pretty much living hand to mouth as it is."
Short term gains, long term challenges
"The government has announced a number of policies aimed at the lower paid in recent years, including the Living Wage, the rapid increase in basic rate income tax threshold, increasing take-home pay and their flagship automatic enrolment policy helping to kick-start pension savings," adds Kate Smith, head of pensions at Aegon.
But she fears those with limited resources could opt for short-term gains over greater long term benefits.
"People's incomes are under pressure and they have a finite amount of cash they can afford to save. They will need to balance their long-term plans against more short-term considerations.
"Saving in an employer's pension scheme will still be the best deal around, as employees not only benefit from a government top-up on their own contributions, but also the employer's contribution, every time they pay in."
Better money
Currently every £50 an individual saves under automatic enrolment immediately becomes £112.50, and this is set to increase as contributions rise from April 2018.
The truth is that an employer's pension contribution is far more valuable than any government bonus, allowing workers to build up savings at a faster pace than the Help to Save scheme.
"For those people who don't qualify for Help to Save, the fact there's no specific government bonus to reward your savings habits shouldn't stop you from building an emergency fund," Coles warns.
"We should all have 3-6 months' worth of expenses tucked away in an easy access account, so we can handle all the unexpected expenses that life throws at us."
Full details of the Help to Save scheme are available here.
Register for free to continue reading
Registration is a free and easy way to support our truly independent journalism
By registering, you will also enjoy limited access to Premium articles, exclusive newsletters, commenting, and virtual events with our leading journalists
Already have an account? sign in
Join our new commenting forum
Join thought-provoking conversations, follow other Independent readers and see their replies