Taking a mobile and a wallet to the shops?
A handset is all you need to transfer money, whether to retailers or to friends and family, reports Chiara Cavaglieri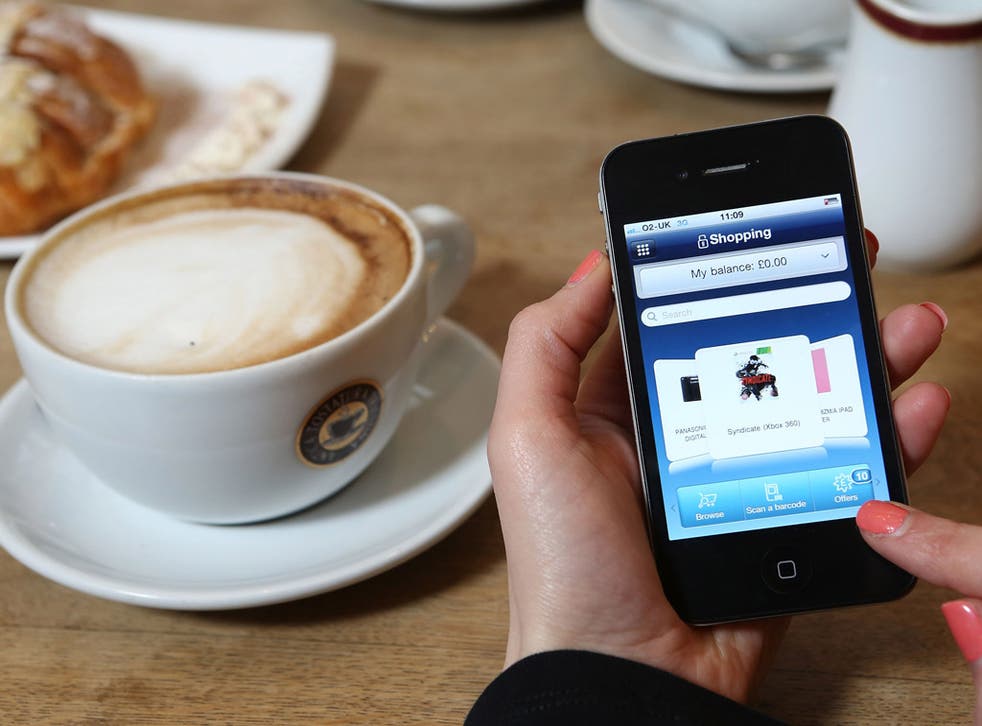 Making payments on the move and at the touch of a button isn't the future of banking; it's already here. Mobile phone providers have been quick to focus on finding new ways for customers to access financial services and products from their phones.
The Barclays PingIt app is now open to all UK bank and building society accounts, for example, and the Orange Quick Tap app will be available on new Android handsets in the coming weeks, but it is O2 taking all the headlines with the launch of its all-encompassing O2 Wallet this week.
The online platform offers users, whether an O2 customer or not, a new way to send and receive money, compare prices and shop – all on the humble mobile phone. O2 Wallet boasts some impressive features including Money Message, which lets you securely transfer money (between £1 and £500) to any UK mobile phone number. If you're out and about shopping, the barcode and search engine function will compare prices for branded goods from more than 100 online retailers to ensure that you don't pay over the odds. There are even daily discounts from retailers under the My Offers icon.
"You can send money to friends and family in a way that is as easy as sending a text," says James Le Brocq, the managing director of O2 Money. "With O2 Wallet it's easier to transfer money, track expenditure and pay swiftly and securely, all using your mobile."
There will also be an O2 Money Account Card, available as both a virtual and a physical card, based on a Visa prepaid account. This will be a contactless card, meaning you can make tap-and-go payments at more than 100,000 payment points across the UK. You can load money into your account using cash (at O2 stores, or PayPoint and epay retail outlets), by debit card, or by receiving a Money Message, and keep an eye on your transaction history in the past month (or the past 12 months online). You can even set up text alerts to avoid going into the red.
Mobile banking technology is moving quickly. Barclays PingIt, launched recently, is also available, free, to all UK bank and building society customers over 16. As with O2's Money Message, PingIt lets users send and receive money by using a mobile phone number, without the need to share bank details. The bank says small businesses and eBay users have started to accept payments by Barclays PingIt as an alternative to cash, cards, cheques and online transfers.
So instead of having to log on to your internet bank from your phone, these services offer a quick and easy way for friends and family to make or receive payments.
"No one is creating something brand new – it's an extension of what customers have already got," says Richard Martin, the head of innovation at the Payments Council.
At the next level, consumers can use their mobile phones as virtual credit cards, as with the Orange Quick Tap app, which lets you make small purchases (currently up to £15) using your mobile phone in various shops, cafés and restaurants with contactless payment terminals through a system known as near-field communication (NFC). Using a Barclaycard, Barclays debit card or Orange credit card, you can transfer up to £100 to the phone account and the app allows you to check your balance and keep a record of your purchases.
Next month, a select group of Barclaycard customers will be the first to receive its new offering, PayTag, the stick-on credit card. The sticker (around a third of the size of a standard credit card) will convert a mobile phone, or indeed any other item you choose, into a contactless payment device. Eventually all of Barclaycard's credit card customers will be able to upgrade free to PayTag.
O2 Wallet offers something of a combination of the features of PingIt and Quick Tap in one platform, which should prove popular, although there will be a wait until O2 incorporates mobile contactless payments via NFC, as Orange/Barclaycard has.
James Richards, the director of mobile at the digital banking provider Intelligent Environments, which makes some of the technology for O2 Wallet, says: "The fundamental difference will be that all of the O2 Wallet's functionality will be contained within a single app. The wide range of devices supported by the app, and the fact that anybody can access the Wallet, make it truly open to a very wide audience."
A major concern for all of the providers is security, and consumers will understandably be nervous that this new technology could pose a further invitation for hackers to steal a host of information – and money – from our mobile phones. There are safety measures, of course.
For example, Orange Quick Tap users can opt for a four digit PIN instead of being able to instantly "tap" their phone to make a payment. If your phone is stolen you can contact your provider to block the app, and O2 says it has stress-tested the Wallet with security experts using PINs, passwords and remote central servers to protect customers.
You can also take steps yourself to avoid problems, by setting a password or PIN on your phone and activating services such as BlackBerry Protect or Find My iPhone, which help you locate a lost phone and if necessary, wipe all the information on it. You should also avoid revealing personal details such as your date of birth on social media sites such as Facebook which could be used to bypass security questions.
There is no doubt that it gives consumers more to think about and we may all be much more concerned about losing our mobiles in the future, but the good news is that these services are still covered in the same way that most other financial transactions are.
Mr Martin at the Payments Council says: "Whether moving money from account to account or using contactless technology, consumers enjoy the same level of fraud protection if anything goes wrong – it all comes under Payment Services Regulations."
Confidentiality is another potential sticking point, and it will be a prevalent issue if the joint venture between O2, Everything Everywhere (which owns T-Mobile and Orange) and Vodafone gets the go-ahead.
Currently being held up by objections from rival operator 3 and awaiting approval from the European Commission, the venture, codenamed Project Oscar, wants to create a mobile wallet platform using contactless NFC technology which would also have a mobile marketing aspect – allowing retailers to reach a potentially huge market.
Caroline Ahmed at the digital design agency Foolproof says that no single organisation is really taking control, which could affect how successful mobile banking is in the future.
"Some users are really confident using tools such as Barclays PingIt and mobile banking, and they will probably be the early adopters of things like O2 Wallet," she says. "But at the other end, you've got quite confused users who are worried about the security aspect and are also not sure what these services can really do for them."
Join our new commenting forum
Join thought-provoking conversations, follow other Independent readers and see their replies