'Those who need charity shops most are being priced out'
Once the place for a bargain, many stock vintage and upmarket clothing, and face claims of price hikes. But the industry says they are vital for struggling high streets
Samantha Downes
Friday 21 February 2014 20:55 Comments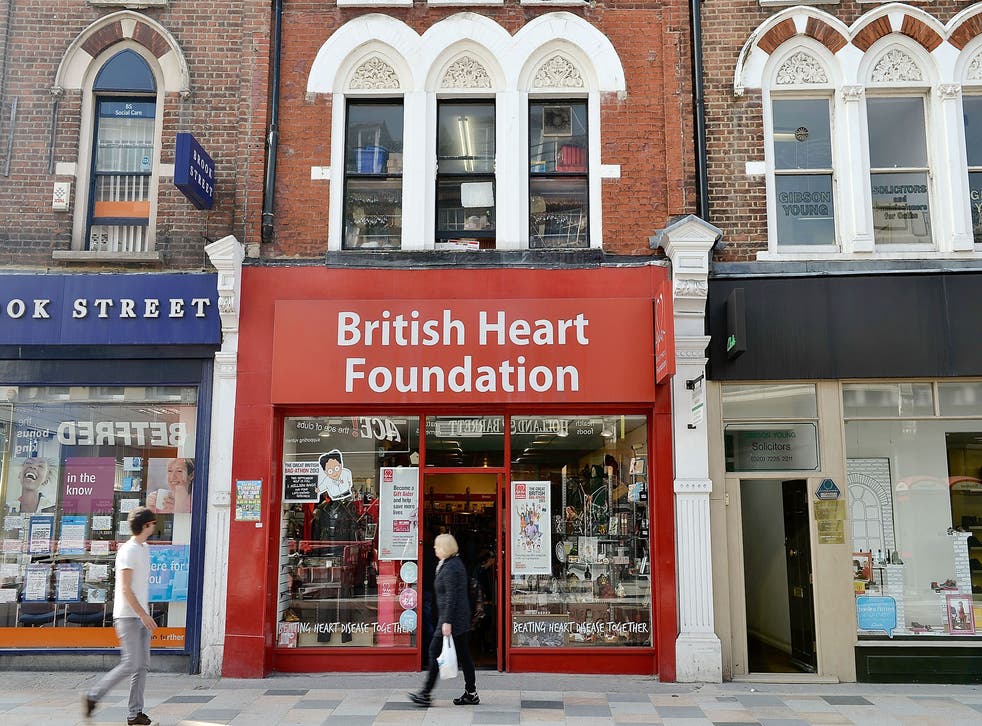 The recession, and the UK public's ever-vigilant eye for a bargain, has helped swell the number of charity shops on our high streets.
According to the Charity Retail Association (CRA), there were more than 10,200 charity shops in the UK and Ireland at the end of 2013. In the last six months of last year the number rose by 10 per cent.
As the number increased, so apparently has the price of the clothes they sell, particularly in areas where affluent people live.
Concern over the number of charity shops dominating the high street led retail guru Mary Portas to suggest capping the 80 per cent business-rate relief they receive. Her proposals were left out of the Government report published in 2011, but are being considered by the Welsh Assembly.
Once the preserve of financially challenged students, OAPs looking for bargains or fancy-dress hunters, some charity shops have all but re-branded themselves as purveyors of vintage, designer and up-market clothing, with increased prices to match.
The Independent took a look along one local high street, in the market town of Bishop's Stortford in Hertfordshire.
The town's population has doubled in size over the last 20 years, and it is home to an increasing number of wealthy retirees as well as commuters who work in the City of London.
In the British Heart Foundation shop we found a Hobbs grey suit for £40, and in Oxfam a coat which looked like faux fur but had no label, for £50. Also seen in the Sue Ryder shop was a top from Atmosphere – Primark's own-brand label – for £5, the same price as it would cost from the retailer brand new.
Oxfam admitted that designer clothes or those with well-known or coveted labels had become more popular as people sought bargains during the recession.
Clare Wilkinson, press spokesperson for Oxfam, said: "Oxfam allows individual shop managers to decide the prices of stock for this reason. This can mean that if the shop is in an affluent area – London's Notting Hill for example – the item may be more expensive than if it's put on sale in a small town in Cumbria.
"We need to respect the donation; if we get a Chanel bag, for example, we are not going to price it at £300 but we are not going to price it at 99p either."
She added that if a high-value item is donated to a shop in a remote area, it might be sent to a shop where it is more likely to sell and can therefore be priced higher.
But one charity shop worker, who didn't want to be named, pointed out that not everyone in an affluent area will be earning a six-figure salary.
The worker said: "The ones who really need the charity shops are being priced out. There is a lot poverty...
"People who rely on their local charity shop to clothe themselves and their kids – they are not going to care whether it's designer or not. And in some of these shops it's mostly designer labels that are donated.
"If someone is looking for work and needs a cheap suit, they won't be able to find it."
But charity shops are adamant the price of clothes they charge remains reasonable.
Liam Challenger, of the CRA, said: "There is no evidence at all that charity shops have increased the price of their clothes; in fact the average transaction value for general charity shops is low – at £5.59 – and has remained steady over recent years.
"Over half of those on the very lowest incomes shop in charity shops."
The Salvation Army chain of shops, which has reportedly recorded an increase in its minimum spend – although it would not confirm how much – said that the rise was inevitable.
Its shops are run by a separate company, the Salvation Army Trading Company, which between 2010 and 2013 gave £22.5m to the organisation.
Claire Anderson, of the Salvation Army Trading Company, said: "We understand the need for charity shops to sometimes review prices, as the cost of retailing on the high street is increasing all the time."
Mike Taylor, retail director for the British Heart Foundation (BHF), also claimed the price of all items was reasonable, and still accessible to people of all budgets.
He said: "We closely track the prices of our items, making sure they reflect the current market conditions. Currently, the average price of items sold in BHF clothing shops is down this year, with an average item of clothing being sold for approximately £4.80.
"When we receive extremely high-quality, stand-out items, we price these accordingly, taking into consideration the wish of our donors – to generate maximum funds for the charity.
"If we have a particularly high-value item, we often send them to our eBay team to ensure the fairest price is paid for it (www.ebay.co.uk/bhf).
"We're lucky to receive generous donations from the general public," he added.
"Stock is the lifeblood of our shops and without these donations, we couldn't raise money to fight against heart disease.
"The BHF currently funds over 1,000 research projects and over half of all heart research across the UK.
"The money raised in our shops and furniture and electrical stores enables us to keep fighting against coronary heart disease, the UK's single-biggest killer."
The CRA claims charity shops are more important than ever.
Mr Challenger said: "Without them Britain's high streets would be in an even worse state."
He said that charity shops employ an estimated 17,200 staff across the UK and have an army of about 213,000 volunteers.
"In a survey we found charity-shop volunteers value the chance to gain retail experience as a path to paid employment, or back into employment after illness or injury.
"We also found that charity shops provide a place for those with poor physical or mental health to socialise and build self-esteem: older people and vulnerable people use charity shops to 'drop in' for a chat. Charity shops combat social isolation for both customers and volunteers."
Ms Anderson agreed: "Salvation Army charity shops are an integral part of communities around the UK and we see the shops very much as mission stations; our staff are trusted and on occasion members of the public seek information about our homelessness services or family tracing service through our shops."
Case study: Anna Watkins
Anna Watkins, from Stansted in Essex, has a five-year-old son
"There's definitely been an increase in the price of clothes, but on other items it's still a giveaway. I bought a booster car seat for £1. Most games are around £1.
"As far as clothes are concerned, yes, you can buy almost as cheap new but you're talking Primark not Prada. You have to compare the price to new designer clothes not new cheap clothes. You cannot compare the two.
"For me, the real excitement still lies in not knowing what I'm going to find. I know I'm going to find a unique piece or at least last season's items for a fraction of the price!"
Case Study Ruth Colbridge
Ruth Colbridge from Lancaster has two young children
"I have noticed an increase in the price of clothes. I think the shops are just getting more savvy, though, because some people buy from charity shops and then resell things on eBay. Most of what I've seen is still a bargain.
"I got an almost brand-new Kaliko suit jacket for £7 and a pair of Office shoes for £5 a couple of months ago.
I saw a Guess full-length camel coat for £20 the other week – I wanted it really badly, but it came without the belt and I knew it would annoy me.
"I don't mind paying a bit more as it's helping the charity.
Also, it's worth remembering that someone else has given their money to the unethical companies that make the garments in the first place."
Stores by numbers
10,200
Charity shops in the UK and Ireland at the end of 2013
80%
Business-rate relief they receive
Register for free to continue reading
Registration is a free and easy way to support our truly independent journalism
By registering, you will also enjoy limited access to Premium articles, exclusive newsletters, commenting, and virtual events with our leading journalists
Already have an account? sign in
Join our new commenting forum
Join thought-provoking conversations, follow other Independent readers and see their replies