Turning a hobby into a business? Give yourself a fighting chance
Rob Griffin explains the best ways to earn money from favourite pastimes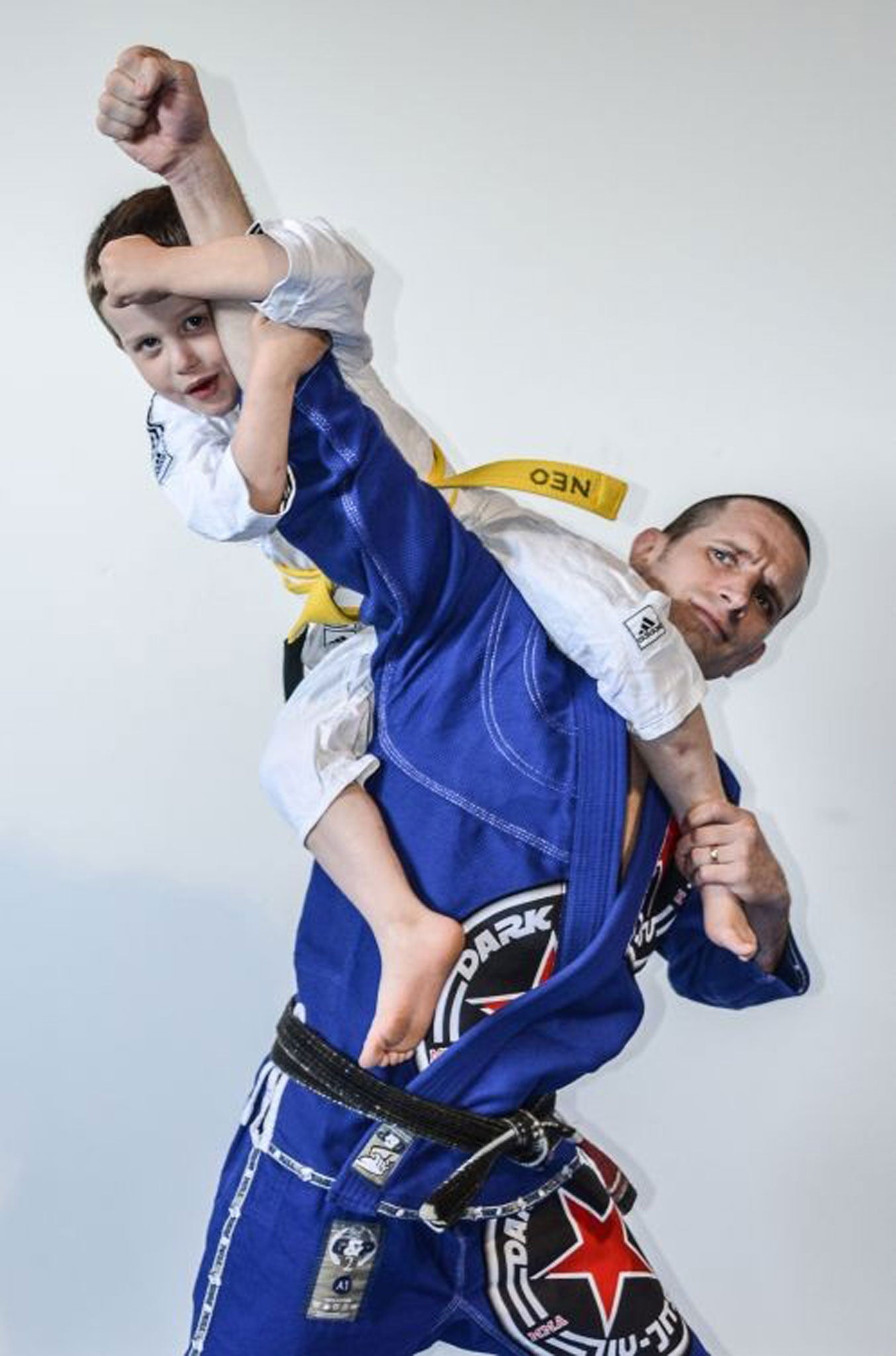 Paul Bridges fell in love with the martial arts at primary school, and has succeeded in turning his passion into a full-time income as a self-employed instructor of both Brazil-ian jiu-jitsu and the increasingly popular sport of mixed martial arts.
"When I started, it felt like I was getting paid to train," he says. "I would happily teach for free – and have done in the past – but bills need to be paid, and you can't run classes during the day if you need to hold down a full-time job."
Mr Bridges, 38, from Hastings, East Sussex, did almost every job from cleaning windows to digging graves before following his heart and taking the plunge. He is now working hard to build up his business, Dark Star Jiu- Jitsu, which trains people of all ages and abilities.
"Jiu-jitsu is a pure system of self-defence that can be used by anyone," he says. "It gives the smaller guy the tools to prevail against much larger and stronger assailants. My passion is to keep it alive and pass on the skills for the benefit of future generations."
He is certainly well-qualified. As well as holding a black belt in freestyle karate, he has the honour of being the first person on the South East coast to be awarded a black belt in Gracie jiu-jitsu – the style created by the famed Brazilian family.
The married father-of-three has also competed in the World Jiu-Jitsu Championships, won gold at the first European Brazilian Jiu-Jitsu Championship, and trained with various members of the Gracie family, including Royce Gracie who dominated the Ultimate Fighting Championship for many years.
"The plan is to grow Dark Star Jiu- Jitsu organically, and we already have one affiliate club and another on the way," he adds. "This type of growth is the best way to maintain high standards and to teach people to be good human beings who care, show respect and help those in need." As well as training adults at his base at The Fitness Loft in Bexhill, East Sussex, Mr Bridges has put together a non-violent bully-proof programme, teaching children how to cope with verbal and physical attacks, which he hopes to get in to schools. His wife, Ali, meanwhile, runs women-only jiu-jitsu classes.
"My main aim is to serve and help others in the most positive way I can," he says. "When I share my knowledge and help someone with their own personal battle, whether that's a confidence issue or understanding a technique, I get it back tenfold. To me that's not work, it's a privilege."
Having such a passion for your business is certainly one of the potential keys to success – and the main benefit of turning your hobby into a source of income is that it'll never feel like work, agrees Emma Jones, founder of Enterprise Nation.
"Earning from what you love to do is a blessing and what I hear from thousands of small business owners is that not only have they turned their hobby into profit but they also enjoy the freedom and flexibility that comes with being your own boss," she says.
So where do you start? The first questions to answer are whether you're just looking for a bit of extra cash or are harbouring dreams of being able to ditch the day job. Within this you'll need to examine your personal circumstances, such as do you have a young family to support?
If the goal is for the new venture to become your sole source of income, you need to make sure there is a demand for your product or service. Carry out proper market research among potential customers and don't just rely on positive comments from friends who are likely to be biased.
Have you got a passion for photography? Are you a devoted collector of memorabilia, and want to become a dealer? Do you want to turn your pastime of wood-turning into a business selling bowls that you've made? Would you like to use your passion for cooking and open up a restaurant? There are three key questions: Is it feasible? Are there enough potential customers? Can a profit be made? You may think the idea is wonderful but you need to find out if anybody will be interested in what you're providing, and whether you can charge enough to make a decent profit.
If you already have financial commitments, you need to work out how the bills are going to be paid while you're trying to build the business. You'll also need to decide where it will be based and whether you need an office or can operate out of a spare bedroom.
Ms Jones at Enterprise Nation advises would-be entrepreneurs to keep hold of the day job and build the business in the evenings and weekends, as this will enable you to build up both cash-flow and confidence in your new venture.
"They should also focus on delivering a particular product or service to a well-defined audience," she adds. "If their hobby is fashion then they could develop a niche that sees them offering a certain type of clothing, such as to women with a certain level of disposable income."
Having this focus will help keep marketing costs low and customer loyalty high. Creating dedicated space in your home from which to work on – and grow – the business is also essential, as is getting out and spreading the word about what you have to offer.
"Make sales and make some noise by getting out to markets, trade shows and fairs," she adds. "Get to know the journalists who have the furthest reach with your audience and send them releases with high-quality images, plus statistics and quotes."
You can make the most of social media too. Facebook remains one of the most effective – and free – ways to generate publicity and keep potential customers in the loop with what you're doing. You can also easily and cheaply set up a website giving details of what you can offer.
As well as making sure you have a large enough customer base, the other most important factor when starting a business is getting the funding in place to get it off the ground, according to Justin Modray, founder of financial website Candid Money.
"A shortfall in either usually means a doomed business, so it's vital you're confident of both," he explains. "Put together a business plan, including an estimate of costs and revenue for the first couple of years. Costs will almost always end up being higher, so add 25 per cent to your figures."
Actual sales figures might come in higher or lower than expected, so write down some pessimistic projections to see how bad things have to become before your business sinks. It's always good to know the bottom line you'll need to avoid at all costs.
Once you've got a handle on how much money you're likely to require in order to get up and running, you need to raise it. There are plenty of options available to you at this point and which one is most suitable will depend on your individual circumstances.
One option is to self-fund. This involves pouring in your own money – such as personal savings or redundancy payments – with the obvious benefits of not having to go cap-in-hand to institutions or pay back interest.
Those with more limited funds may opt to use a number of credit cards. If you can secure short-term funding at a zero per cent rate, this obviously makes sense. But some interest rates can be punitive, so plastic should never be a long-term option.
A wealthy benefactor – or family member who is prepared to co-fund your project – can also come in very handy. Borrowing money from the bank was always the traditional source of finance and these institutions are starting to lend again, although not with any great enthusiasm.
The most important advice when you're choosing your source of funding is to shop around and see what's available. Some high street names may offer free banking to new businesses for the first couple of years, as well as advice to help you get under way.
It's also worth remembering that your income is likely to be volatile – or even non-existent in the early days – so you must ensure you have enough cash set aside to cover your personal bills until the business can pay you a regular income, Mr Modray adds.
"This money should be held in cash, as keeping short-term emergency money in investments is far too risky," he says. "To calculate how much you may need, add together your monthly outgoings and any ad hoc expenditures likely over the next six to 12 months. Unless you're confident your business will generate a profit from day one, it's likely you'll need to fall back on savings in the first year."
There will be problems along the way when you're turning your passion into a business but the key is to stick to your plan as there are plenty of benefits for those who are committed to the cause, Ms Jones adds.
"Some people are concerned that if they turn their hobby into a business it will cease becoming enjoyable, but end up relishing the adventure of learning new skills," she says. "The only negative is for friends and family, who no longer benefit as now you're charging for the product or service!"
Join our commenting forum
Join thought-provoking conversations, follow other Independent readers and see their replies