What the Budget means for your taxes, explained with simple tables
Most should find themselves with a little extra in their pockets with increases to the personal allowance and the basic rate band but no increases to income tax rates or National Insurance
Stefanie Tremain
Personal Tax Manager at Blick Rothenberg
Wednesday 22 November 2017 20:52 Comments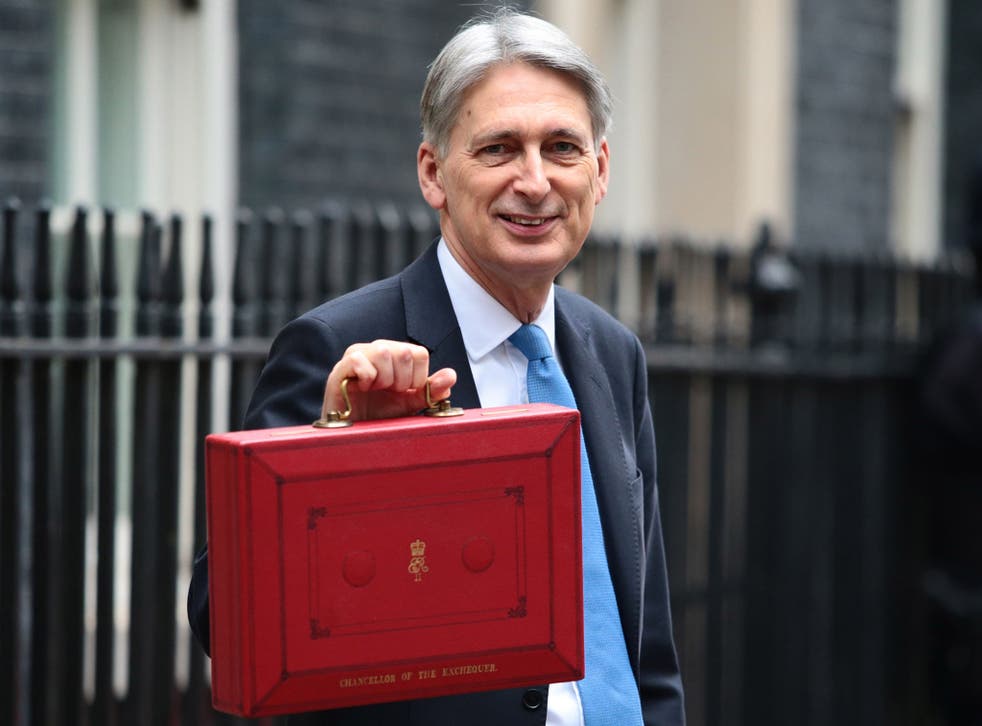 Most taxpayers should find themselves with a little extra in their pockets, following a Budget that announced increases to the personal allowance and the basic rate band but no increases to income tax rates or National Insurance.
The personal allowance increase of £350 up to £11,850 from April 2018 is worth an extra £70 per tax year to basic rate taxpayers. Combined with the increase in National Insurance thresholds, many taxpayers earning up to £45,000 should take home an extra £8 per month. Taking into account the increase in the basic rate threshold (which is the amount at which individuals start to pay tax at 40 per cent) from £45,000 to £46,350, higher rate taxpayers (those earning up to £100,000) should find themselves £20 better off per month; an extra £240 over the course of 2018/19.
For pensioners who do not pay National Insurance the net increase will be slightly lower for basic rate tax payers, who will still be £8 per month better off. Pensioners who pay tax at higher rates will be £28 per month better off (£336 over the course of the tax year).
It also pays for basic rate taxpayers to be married as an married couple with one basic rate earner and one child will take home a whole £1 more each month than an unmarried couple in the same position. Married pensioners look to be the biggest winners, with those earning over £150,000 taking home an extra £57 per month – possibly not the intended effect of a Budget billed as being for the 'next generation.'
So whilst everyone appears to be at least slightly better off, those taxpayers relying on investment income to fund their living costs may remember that the last Budget announced a reduction in the dividend allowance from £5,000 to £2,000, from April 2018.
Married (or civil partnership) couple, two earners, two children
| Salary | Net Income 2017/2018 | Net Income 2018/2019 | Monthly gain/loss 2018/2019 |
| --- | --- | --- | --- |
| £10,000 | 21,206 | 21,206 | - |
| £15,000 | 23,936 | 23,967 | +3 |
| £20,000 | 26,349 | 26,457 | +9 |
| £25,000 | 28,212 | 28,340 | +11 |
| £30,000 | 29,895 | 30,035 | +12 |
| £35,000 | 32,148 | 32,314 | +14 |
| £40,000 | 35,548 | 35,751 | +17 |
| £45,000 | 38,948 | 39,151 | +17 |
| £50,000 | 42,348 | 42,551 | +17 |
| £60,000 | 49,148 | 49,351 | +17 |
| £70,000 | 55,781 | 56,119 | +28 |
| £80,000 | 61,319 | 61,656 | +28 |
| £90,000 | 66,259 | 66,597 | +28 |
| £100,000 | 72,393 | 72,730 | +28 |
| £125,000 | 87,726 | 88,063 | +28 |
| £150,000 | 102,559 | 103,032 | +39 |
| £175,000 | 113,726 | 114,198 | +39 |
Married (or civil partner) couple, one earner, two children
| Salary | Net Income 2017/2018 | Net Income 2018/2019 | Monthly gain/loss 2018/2019 |
| --- | --- | --- | --- |
| £10,000 | 20,986 | 21,017 | +3 |
| £15,000 | 22,866 | 22,974 | +9 |
| £20,000 | 24,216 | 24,324 | +9 |
| £25,000 | 25,566 | 25,674 | +9 |
| £30,000 | 26,916 | 27,024 | +9 |
| £35,000 | 29,098 | 29,207 | +9 |
| £40,000 | 32,498 | 32,607 | +9 |
| £45,000 | 35,668 | 35,770 | +9 |
| £50,000 | 38,568 | 38,805 | +20 |
| £60,000 | 42,580 | 42,816 | +20 |
| £70,000 | 48,380 | 48,616 | +20 |
| £80,000 | 54,180 | 54,416 | +20 |
| £90,000 | 59,980 | 60,216 | +20 |
| £100,000 | 65,780 | 66,016 | +20 |
| £125,000 | 75,680 | 75,776 | +8 |
| £150,000 | 90,180 | 90,276 | +8 |
| £175,000 | 103,430 | 103,526 | +8 |
Married pensioners (both born after 5 April 1935)
| Salary | Net Income 2017/2018 | Net Income 2018/2019 | Monthly gain/loss 2018/2019 |
| --- | --- | --- | --- |
| £10,000 | 10,000 | 10,000 | - |
| £15,000 | 15,000 | 15,000 | - |
| £20,000 | 19,863 | 19,940 | +6 |
| £25,000 | 24,197 | 24,274 | +6 |
| £30,000 | 28,530 | 28,607 | +6 |
| £35,000 | 32,600 | 32,703 | +9 |
| £40,000 | 36,600 | 36,740 | +12 |
| £45,000 | 40,600 | 40,740 | +12 |
| £50,000 | 44,600 | 44,740 | +12 |
| £60,000 | 52,600 | 52,740 | +12 |
| £70,000 | 60,267 | 60,677 | +34 |
| £80,000 | 66,933 | 67,343 | +34 |
| £90,000 | 73,600 | 74,010 | +34 |
| £100,000 | 80,267 | 80,677 | +34 |
| £125,000 | 96,933 | 97,343 | +34 |
| £150,000 | 112,600 | 113,280 | +57 |
| £175,000 | 124,267 | 124,947 | +57 |
Single pensioner
| Salary | Net Income 2017/2018 | Net Income 2018/2019 | Monthly gain/loss 2018/2019 |
| --- | --- | --- | --- |
| £10,000 | 10,000 | 10,000 | - |
| £15,000 | 14,300 | 14,370 | +6 |
| £20,000 | 18,300 | 18,370 | +6 |
| £25,000 | 22,300 | 22,370 | +6 |
| £30,000 | 26,300 | 26,370 | +6 |
| £35,000 | 30,300 | 30,370 | +6 |
| £40,000 | 34,300 | 34,370 | +6 |
| £45,000 | 38,300 | 38,370 | +6 |
| £50,000 | 41,300 | 41,640 | +28 |
| £60,000 | 47,300 | 47,640 | +28 |
| £70,000 | 53,300 | 53,640 | +28 |
| £80,000 | 59,300 | 59,640 | +28 |
| £90,000 | 65,300 | 65,640 | +28 |
| £100,000 | 71,300 | 71,640 | +28 |
| £125,000 | 81,700 | 81,900 | +17 |
| £150,000 | 96,700 | 96,900 | +17 |
| £175,000 | 110,450 | 110,650 | +17 |
Single person, no children
| Salary | Net Income 2017/2018 | Net Income 2018/2019 | Monthly gain/loss 2018/2019 |
| --- | --- | --- | --- |
| £10,000 | 11,082 | 11,113 | +3 |
| £15,000 | 13,480 | 13,581 | +8 |
| £20,000 | 16,880 | 16,981 | +8 |
| £25,000 | 20,280 | 20,381 | +8 |
| £30,000 | 23,680 | 23,781 | +8 |
| £35,000 | 27,080 | 27,181 | +8 |
| £40,000 | 30,480 | 30,581 | +8 |
| £45,000 | 33,880 | 33,981 | +8 |
| £50,000 | 36,780 | 37,016 | +20 |
| £60,000 | 42,580 | 42,816 | +20 |
| £70,000 | 48,380 | 48,616 | +20 |
| £80,000 | 54,180 | 54,416 | +20 |
| £90,000 | 59,980 | 60,216 | +20 |
| £100,000 | 65,780 | 66,016 | +20 |
| £125,000 | 75,680 | 75,776 | +8 |
| £150,000 | 90,180 | 90,276 | +8 |
| £175,000 | 103,430 | 103,526 | +8 |
Single person, one child
| Salary | Net Income 2017/2018 | Net Income 2018/2019 | Monthly gain/loss 2018/2019 |
| --- | --- | --- | --- |
| £10,000 | 17,493 | 17,524 | +3 |
| £15,000 | 19,143 | 19,244 | +8 |
| £20,000 | 20,493 | 20,594 | +8 |
| £25,000 | 21,843 | 21,944 | +8 |
| £30,000 | 24,756 | 24,857 | +8 |
| £35,000 | 28,156 | 28,257 | +8 |
| £40,000 | 31,556 | 31,657 | +8 |
| £45,000 | 34,956 | 35,057 | +8 |
| £50,000 | 37,856 | 38,092 | +20 |
| £60,000 | 42,580 | 42,816 | +20 |
| £70,000 | 48,380 | 48,616 | +20 |
| £80,000 | 54,180 | 54,416 | +20 |
| £90,000 | 59,980 | 60,216 | +20 |
| £100,000 | 65,780 | 66,016 | +20 |
| £125,000 | 75,680 | 75,776 | +8 |
| £150,000 | 90,180 | 90,276 | +8 |
| £175,000 | 103,430 | 103,526 |                      +8 |
Single person, self-employed
| Salary | Net Income 2017/2018 | Net Income 2018/2019 | Monthly gain/loss 2018/2019 |
| --- | --- | --- | --- |
| £10,000 | 10,989 | 11,007 | +2 |
| £15,000 | 13,537 | 13,625 | +7 |
| £20,000 | 17,087 | 17,175 | +7 |
| £25,000 | 20,637 | 20,725 | +7 |
| £30,000 | 24,187 | 24,275 | +7 |
| £35,000 | 27,737 | 27,825 | +7 |
| £40,000 | 31,287 | 31,375 | +7 |
| £45,000 | 34,837 | 34,925 | +7 |
| £50,000 | 37,737 | 38,000 | +22 |
| £60,000 | 43,537 | 43,800 | +22 |
| £70,000 | 49,337 | 49,600 | +22 |
| £80,000 | 55,137 | 55,400 | +22 |
| £90,000 | 60,937 | 61,200 | +22 |
| £100,000 | 66,737 | 67,000 | +22 |
| £125,000 | 76,637 | 76,760 | +10 |
| £150,000 | 91,137 | 91,260 | +10 |
| £175,000 | 104,387 | 104,510 | +10 |
Unmarried couple, both earning
| Salary | Net Income 2017/2018 | Net Income 2018/2019 | Monthly gain/loss 2018/2019 |
| --- | --- | --- | --- |
| £10,000 | 11,302 | 11,302 | - |
| £15,000 | 14,780 | 14,811 | +3 |
| £20,000 | 19,013 | 19,114 | +8 |
| £25,000 | 22,926 | 23,047 | +10 |
| £30,000 | 26,659 | 26,792 | +11 |
| £35,000 | 30,359 | 30,525 | +14 |
| £40,000 | 33,759 | 33,962 | +17 |
| £45,000 | 37,159 | 37,362 | +17 |
| £50,000 | 40,559 | 40,762 | +17 |
| £60,000 | 47,359 | 47,562 | +17 |
| £70,000 | 53,993 | 54,330 | +28 |
| £80,000 | 60,126 | 60,463 | +28 |
| £90,000 | 66,259 | 66,597 | +28 |
| £100,000 | 72,393 | 72,730 | +28 |
| £125,000 | 87,726 | 88,063 | +28 |
| £150,000 | 102,559 | 103,032 | +39 |
| £175,000 | 113,726 | 114,198 | +39 |
Tables compiled by Paul Haywood-Schiefer ATT at Blick Rothenberg LLP
*Data assumes: where both members of a couple are earning, the income is split two thirds to one third; all earners work 30+ hours; no investment income received; all children under 16. Tables include tax credits (working and child tax credits and child benefit where applicable; no pension contributions or gift aid payments. Tables do not include blind person's allowance; transferable allowance only available to married couples and civil partners who are not in receipt of married couple's allowance, and only where a spouse or civil partner has not used all of their personal allowance and their partner is not a higher or additional rate taxpayer
Register for free to continue reading
Registration is a free and easy way to support our truly independent journalism
By registering, you will also enjoy limited access to Premium articles, exclusive newsletters, commenting, and virtual events with our leading journalists
Already have an account? sign in
Join our new commenting forum
Join thought-provoking conversations, follow other Independent readers and see their replies