Aleppo rebels deny Syrian army claims they are hoarding warehouses full of food
About 250,000 people in eastern Aleppo are under effective siege by the Syrian army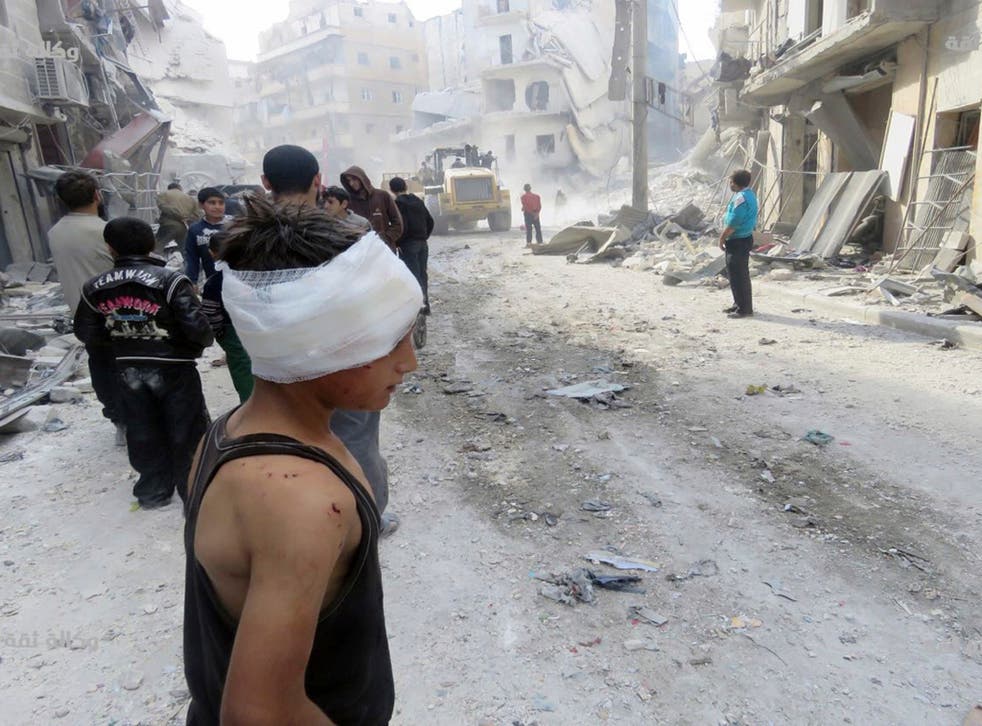 The Syrian army has claimed that rebels in eastern Aleppo are hoarding warehouses full of food and that they should clear land mines from humanitarian corridors, statements that rebels have dismissed as propaganda.
The siege and intense bombardment of east Aleppo, aggravated by renewed, frequent air strikes on hospitals in the past week, have left residents even shorter of medicines, food and fuel.
The UN has not been able to access the rebel-held sector since early July and, on Friday, said that aid supplies had run out in the area, where all eight hospitals are either out of action or barely functioning.
"The general command of the armed forces calls upon militants in the neighbourhoods of east Aleppo to open ration warehouses and distribute food to those that need it," an army statement said.
UN spokesman Jens Laerke said it was unclear whose warehouses the army was referring to.
"There are no UN warehouses of food that can just be opened up ... There are no food stocks on the U.N. side left in the warehouses," he told Reuters. The last UN rations were distributed on 13 November, he said.
Zakaria Malahifji, a politburo member of the Fastaqim rebel group in Aleppo, said there were no such warehouses.
"People are searching for bread. [The army] is saying these things to appear like they care for people," Mr Malahifji said.
Mr Malahifji and another witness in Aleppo said that civilians protested last week outside a building believed to belong to the city council for opposition-held Aleppo, thinking there was food inside.
The council could not immediately be reached for comment.
In pictures: Aleppo bombing

Show all 14
About 250,000 people in eastern Aleppo have been under effective siege since the army, aided by Iranian-backed militias and Russian jets, cut off the last road in early July.
A renewed assault began last Tuesday after a weeks-long pause in air strikes and shelling, although battles and air strikes had carried on along the city's front lines and in the surrounding countryside.
In a separate statement, the army told rebels to clear mines from crossings into the government-held western sector designated by the Syrian and Russian militaries as humanitarian corridors, and to let civilians who want to leave do so.
The Syrian government has said rebels are stopping residents from leaving. Rebel groups and residents of east Aleppo say people are scared to use the corridors for fear of snipers, bombs or arrest.
At least 141 civilians, including 18 children, have been killed over the past week in rebel-held districts, the Syrian Observatory for Human Rights said on Tuesday.
The Britain-based monitoring group said it had documented hundreds of injuries as a result of Russian and Syrian air strikes and shelling by government forces and its allies.
It said there were 87 other deaths of rebel fighters and people of unknown identity in the eastern sector.
The Observatory also documented 16 civilian deaths, including 10 children, and dozens of injuries as a result of rebel shelling of government-held west Aleppo.
The UN has been trying to get all parties to the conflict to agree to a humanitarian relief plan, and says rebel groups have agreed in principle to the plan, but it is still waiting for an official green light from Russia.
"We need the political actors and the military commanders on the ground to allow this plan to proceed," Mr Laerke said.
Reuters
Register for free to continue reading
Registration is a free and easy way to support our truly independent journalism
By registering, you will also enjoy limited access to Premium articles, exclusive newsletters, commenting, and virtual events with our leading journalists
Already have an account? sign in
Register for free to continue reading
Registration is a free and easy way to support our truly independent journalism
By registering, you will also enjoy limited access to Premium articles, exclusive newsletters, commenting, and virtual events with our leading journalists
Already have an account? sign in
Join our new commenting forum
Join thought-provoking conversations, follow other Independent readers and see their replies