Alt-right leaders head to Portland as white supremacist faces trial for murders of men who defended Muslim and black girls
The prominent alt-right leaders include a self-proclaimed "journalist" who makes propaganda for the movement
Clark Mindock
New York
Saturday 03 June 2017 22:29 Comments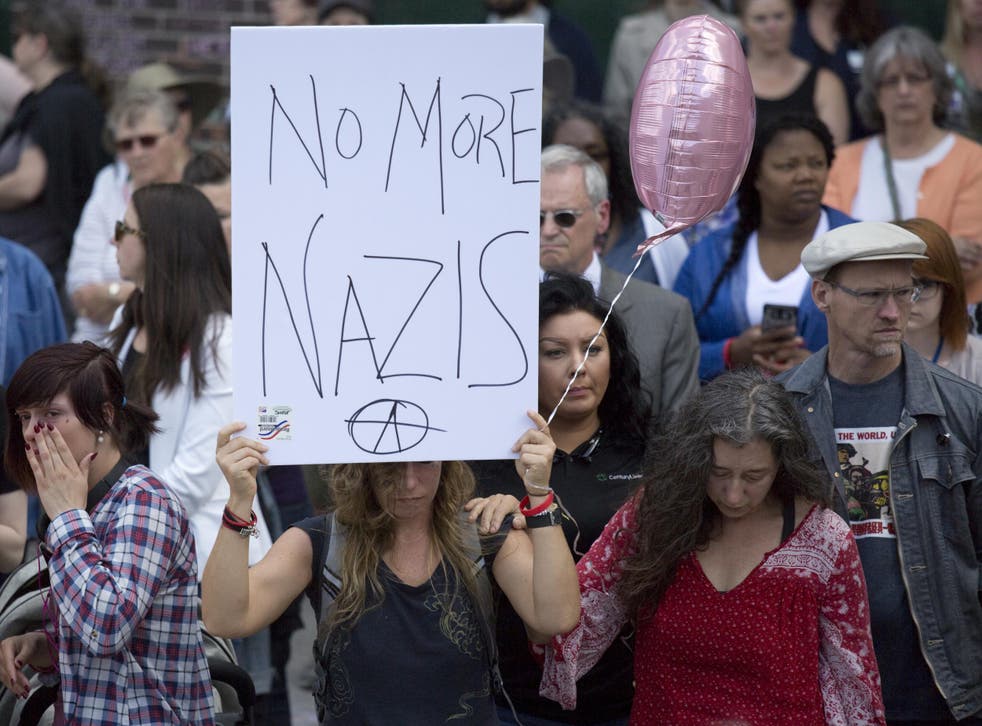 Several prominent alt-right leaders are planning on attending a massive rally in Portland, Oregon, where a white supremacist allegedly stabbed two men to death when they stood up to a man verbally harassing two girls over Memorial Day weekend.
The lineup includes an individual who was deemed to be even too offensive for the general group that assumes the "alt-right" moniker, a man who was arrested at a protest in Berkeley after he attacked anti-fascist protesters, and a self-proclaimed "journalist" who has been showing up at alt-right rallies across the country and producing propaganda for the cause.
That such a rally would even take place in Portland, which has branded itself as a liberal city in the recent past, may be surprising for some. The Oregon city is known in pop culture for a liberal culture, where residents are seen as more likely to eat kale chips and concern themselves with politically correct verbiage rather than host ostensibly racist movements.
But the rally, and the planned attendance of those alt-right leaders, underscores a history there of nazi and fascist ideologies clashing with more liberal ideas. Even as recently as the 1990s, individuals sympathetic to those ideologies freely roamed the streets and intimidated anti-racist youth there, according to the Guardian.
Two men were stabbed to death on the Portland light rail system last week after they stuck up for two girls (another man was also stabbed but survived the attack). One of those girls was black, and the other was Muslim.
City Slicker: Portland

Show all 7
The killing has thrust Portland into the centre over the debate between the alt-right and antifascist groups. That debate has been broiling in the United States and was elevated by the election of President Donald Trump, who has brought a former official of Breitbart News, a conservative outlet that is seen as sympathetic to the alt-right, into the White House.
Register for free to continue reading
Registration is a free and easy way to support our truly independent journalism
By registering, you will also enjoy limited access to Premium articles, exclusive newsletters, commenting, and virtual events with our leading journalists
Already have an account? sign in
Join our new commenting forum
Join thought-provoking conversations, follow other Independent readers and see their replies