Members of Manchester terror network could still be at large, says Home Secretary Amber Rudd
Eleven arrests have been made in the wake of Salman Abedi's deadly attack, but the Home Secretary said the operation was still at 'full tilt' and there were potentially more to come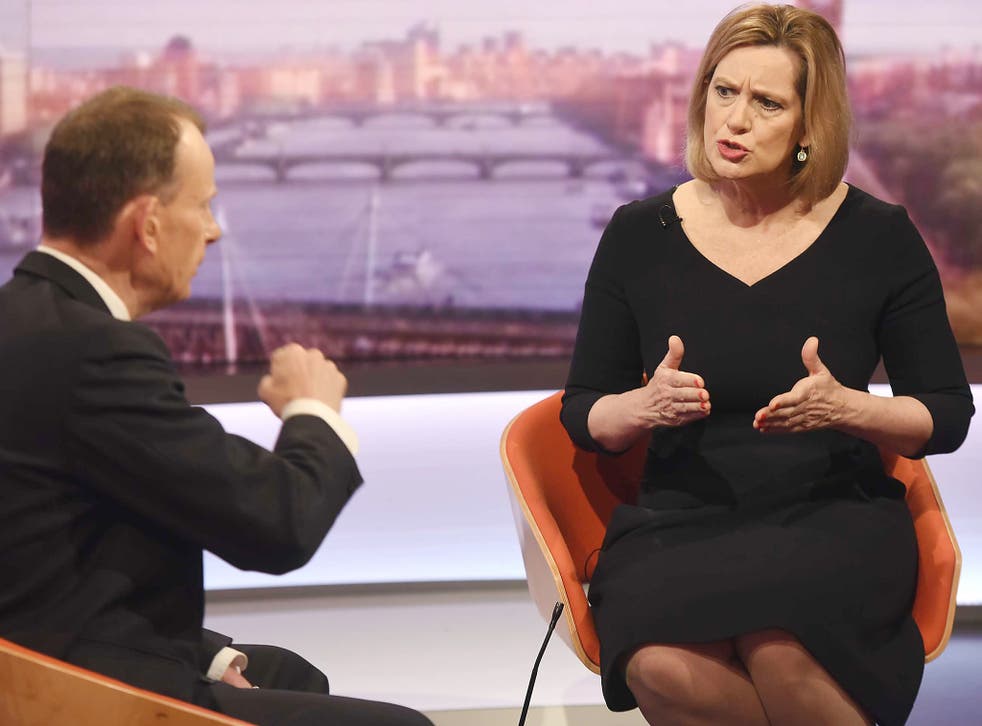 Members of the network behind the Manchester bomb attack could still be at large within the UK, Home Secretary Amber Rudd has warned.
Asked by the BBC's Andrew Marr whether there were other people connected with the attack might not have been arrested, Ms Rudd answered that was potentially the case.
Ms Rudd said: "It's an ongoing operation, there are 11 people in custody, the operation is still at full tilt, in a way.
"Until the operation is complete, we can't be entirely sure that it is closed."
In response to the attack, Theresa May has sought to focus attention on the plans in her election manifesto to launch a Commission to Countering Extremism, which had been published four days earlier.
Part of the commission's remit will be to encourage the public to be more vigilant for signs of extremism and to make suspicions known. But Salman Abedi's family and leaders at his mosque had already been in contact with security services to warn that he had become a danger.
He had been a former "subject of interest" to MI5, of which there are more than 10,000 in the UK. But Ms Rudd said: "The intelligence services are still collecting information about him and about the people around him.
"But I would not rush to conclusions, as you seem to be, that they have somehow missed something.
"What this reminds us is the scale of the problem that we have, the enemy that we have, Daesh [Isis], that is trying to weaponise the young people in our society."
Police have released images of Abedi in his final moments, walking to the Manchester Arena in a dark jacket and baseball cap, in an appeal for fresh information about him.
The family of 18-year-old Georgina Callender, who was one of the 22 victims, have released a statement telling the Government to "open its eyes".
It said: "I wish I could say that Georgina is one of the last to die in this way, but unless our Government opens its eyes we know we are only another in a long line of parents on a list that continues to grow."
Register for free to continue reading
Registration is a free and easy way to support our truly independent journalism
By registering, you will also enjoy limited access to Premium articles, exclusive newsletters, commenting, and virtual events with our leading journalists
Already have an account? sign in
Register for free to continue reading
Registration is a free and easy way to support our truly independent journalism
By registering, you will also enjoy limited access to Premium articles, exclusive newsletters, commenting, and virtual events with our leading journalists
Already have an account? sign in
Join our new commenting forum
Join thought-provoking conversations, follow other Independent readers and see their replies