Woman escorted into abortion clinic surrounded by protestors in Louisville, Kentucky
Campaigner gets coat hanger tattoo saying 'never again' to protest strict Trump anti-abortion laws
Pro-choice activist has words 'never again' engraved on her shoulder blades to represent women who have died as a result of underground abortions
A pro-choice campaigner has had a tattoo of a coat hanger engraved in her back to protest the Trump administration's ongoing series of restrictive abortion laws.
Robin Pereira, 23, had the symbol emblazoned in a rally against the spate of dangerous underground abortions that women are subject to in US states as a result of president Donald Trump's hostile policies.
The US president has come under fire for what protesters have called a 'war on women's reproductive rights', with law changes banning tax money from being used for elective abortions and ending referrals from taxpayer-funded family planning clinics.
In a measure that, however controversial, resonates strongly with Mr Trump's political base, some states have outlawed the practice altogether beyond a certain point in a pregnancy and threatened imprisonment for those who do not comply.
Ms Pereira, from Washington DC, also has the words "never again" inked into her shoulder blades to represent the expectant mothers who she says have died as a result of abortions without a doctor present.
Protests across US after abortion laws enforced

Show all 20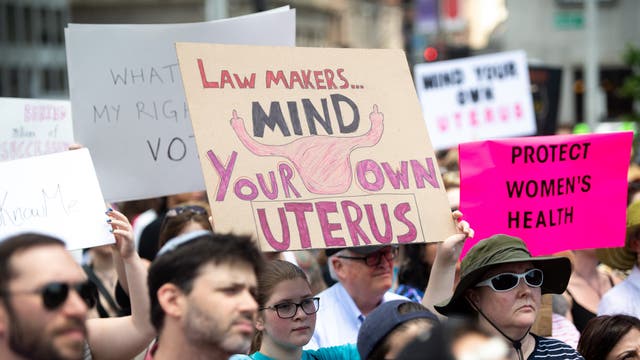 "This tattoo symbolises that we will never forget the women who died because they wanted autonomy over their bodies," she said.
"This tattoo is a promise to myself that I will never let history turn its back on women."
The activist said she "cried and cried" when Trump gained power, and feared the worst for the 1973 Supreme Court ruling in America that legalise abortion nationwide.
Several states including Alabama, Georgia, Louisiana and Mississippi have pursued "heartbeat" bills which would ban abortion as soon as a physician can detect the fetus' heartbeat.
In some cases, a pulse can be felt as early as six weeks, before many women even realise they are expecting.
Even in when a woman is made pregnant by rape or incest, legislation in Louisiana, Mississippi and Alabama grants no exceptions.
Ms Pereira rejected the stigma around abortion among conservative communities in the country, likening Trump's state-sanctioned opposition to the process to Margaret Atwood's dystopian "Handmaid's Tale".
She added: "I hope the tattoo can spark a conversation.
"Although I do not know the names of all the women who died in back alley abortions, I will never forget them and I never want to hear of another women dying from a self-induced abortion.
"There is no such thing as stopping abortion, you just stop safe abortion."
In a sign of the contentious times, American pro-life activist Kandi Cox drew fierce criticism on Monday after she compared terminating a pregnancy early to the Holocaust.
The mother to seven made the comments in BBC Panorama programme, America's Abortion War, on Monday, while recalling an abortion she had at 19 and then regretted.
Abortion laws: In which states is it illegal?
In May, the Governor of Alabama signed a controversial abortion bill into law that is the most restrictive in the US, where doctors would face ten years in prison for attempting to terminate a pregnancy and 99 years for carrying out the procedure.
The abortion ban, which has been branded a "death sentence for women", would also criminalise performing abortions in cases of rape and incest.
But even away from the US states with harshest abortion rules, there are fears that existing clinics could be forced to close as the US government strips funding from those that do so much as to promote abortion as an option to a pregnant woman.
Agencies contributed to this report
Join our new commenting forum
Join thought-provoking conversations, follow other Independent readers and see their replies