Angela Merkel says internet search engines are 'distorting perception' and algorithms should be revealed
'Big internet platforms have become an eye of a needle which diverse media must pass through,' says the German Chancellor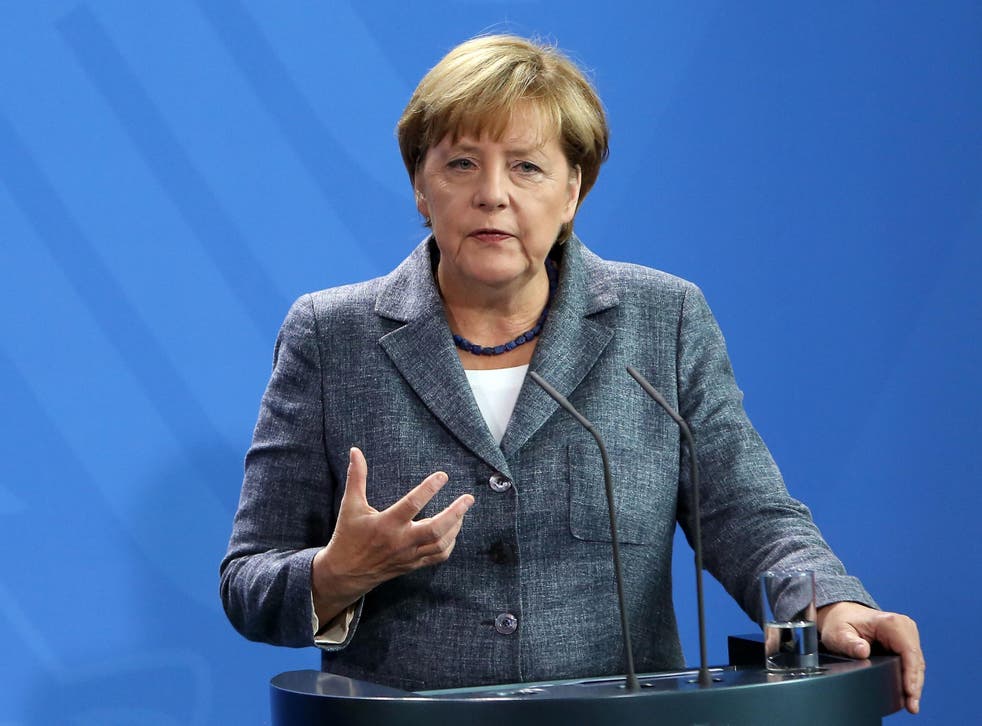 German Chancellor Angela Merkel has called for internet giants such as Facebook and Google to disclose their secret algorithms, saying their lack of transparency restricts debate. She said users were entitled to know how the information they were exposed to online was selected.
Speaking at a conference in Munich, Ms Merkel said: "The algorithms must be made public, so that one can inform oneself as an interested citizen on questions like: what influences my behaviour on the internet and that of others?"
"These algorithms, when they are not transparent, can lead to to a distortion of our perception. They narrow our breadth of information."
An algorithm determines what results a search engine generates and in which order they are shown. They are different for every search engine, are continually changed and are kept completely secret.
Social media platforms, such as Facebook and Twitter often form "echo chambers" that encourage users to only read content that confirms beliefs they already hold, according to Ms Merkel.
"That is a development that we need to pay careful attention to," she said, emphasising that it could undermine fundamental democratic principles.
Although she did not name specific websites, she stressed the powerful position held by only a handful of companies operating globally.
"The big internet platforms, via their algorithms, have become an eye of a needle which diverse media must pass through," she said.
Politics within Germany – as in much of the rest of Europe and the US – has become increasingly polarised, leading to concerns about the way online filtration systems act to reinforce rather than diversify a user's beliefs.
Ms Merkel is not the first to criticise the dangers of receiving information in such a way. Earlier in October, President Barack Obama's former social media adviser Caleb Gardner stressed the danger of so-called 'filter bubbles'.
Gardner told students at Northwestern University in Illinois. "Forty-four per cent of US adults get news on [Facebook], and 61% of millennials.
World news in pictures

Show all 50
"If that doesn't frighten you, you don't know enough about Facebook's algorithm. If you have a parent who's a Trump supporter, they are seeing a completely different set of news items than you are."
Facebook CEO Mark Zuckerberg has dismissed concerns about filter bubbles, arguing that research shows social media expose people to more diverse views than traditional media.
"Facebook is actually, and social media in general, are the most diverse forms of media that are out there," he said in May.
Thomas Jarzombek, a spokesperson of Merkel's CDU told Spiegel Online he did not think Ms Merkel was saying companies such as Google should disclose company secrets, but said: "we do need more information from these operators as to how their algorithms function generally speaking."
Register for free to continue reading
Registration is a free and easy way to support our truly independent journalism
By registering, you will also enjoy limited access to Premium articles, exclusive newsletters, commenting, and virtual events with our leading journalists
Already have an account? sign in
Register for free to continue reading
Registration is a free and easy way to support our truly independent journalism
By registering, you will also enjoy limited access to Premium articles, exclusive newsletters, commenting, and virtual events with our leading journalists
Already have an account? sign in
Join our new commenting forum
Join thought-provoking conversations, follow other Independent readers and see their replies