Southern Baptists expel Oklahoma church after pastor defends his blackface and Native caricatures
The Southern Baptist Convention has ousted an Oklahoma church whose pastor defended his blackface performance at one church event and his impersonation of a Native American woman at another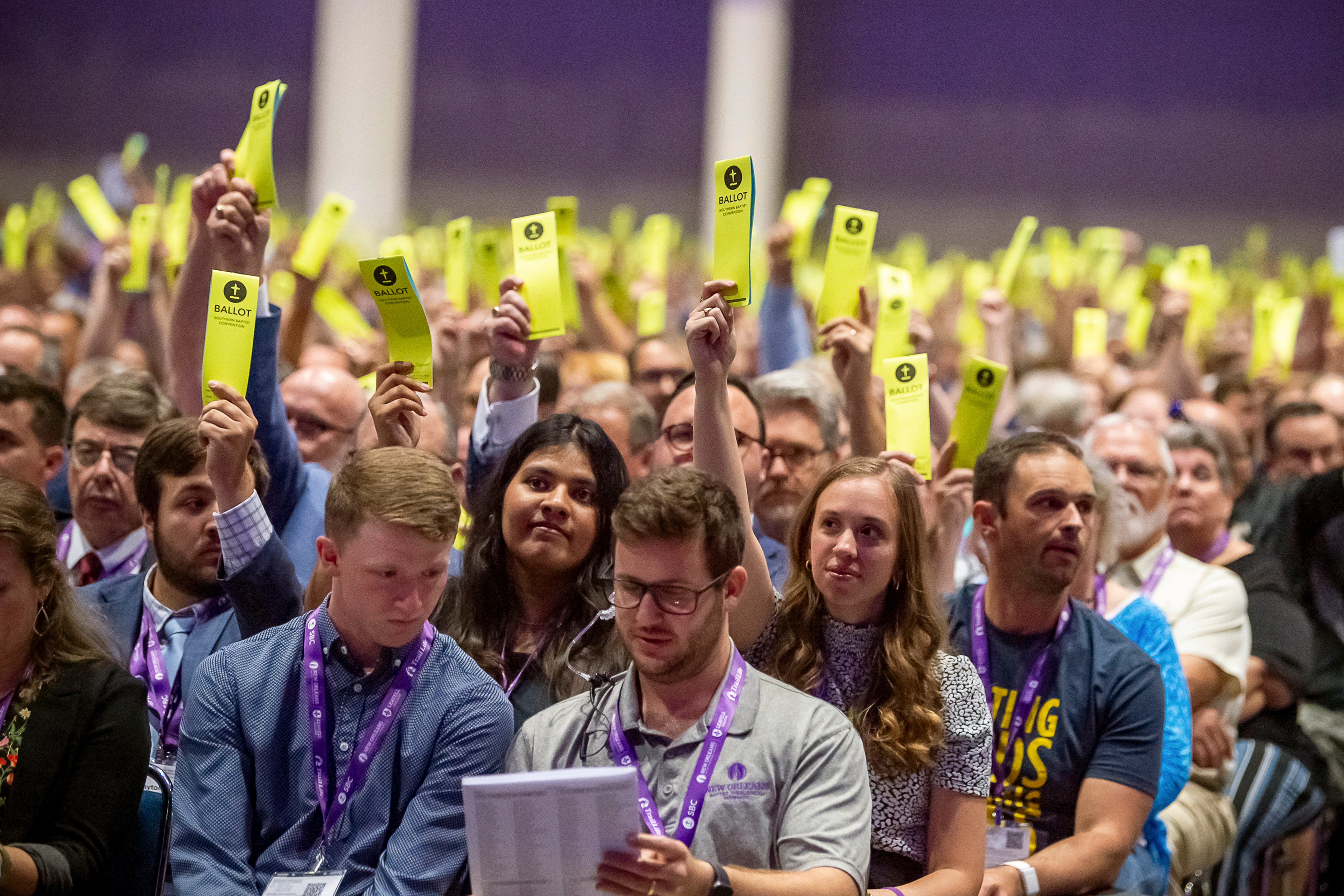 The Southern Baptist Convention has ousted an Oklahoma church whose pastor defended his blackface performance at one church event and his impersonation of a Native American woman at another.
The Executive Committee of the nation's largest Protestant denomination voted Tuesday that Matoaka Baptist Church of Ochelata "be deemed not in friendly cooperation with the convention" — the official terminology for an expulsion.
The church's pastor, Sherman Jaquess, dressed in blackface for a 2017 church Valentine's Day event, in which he claimed to be impersonating the late soul singer Ray Charles. Jaquess wore dark facial makeup, a large Afro wig and dark glasses and smiled broadly as he sang a duet. Some in the crowd can be heard laughing during the video of the performance.
The video was brought to light earlier this year by a Tulsa community activist, Marq Lewis.
Another Facebook photo, published by the Examiner-Enterprise of Bartlesville, also surfaced, showing Jaquess dressed as a Native American woman at a "Cowboys and Indians" night at a church camp. The photo shows a man dressed as a cowboy, holding an apparently fake gun to Jaquess in jest while a boy dressed as a cowboy is poised with raised fists next to him.
In a Facebook post earlier this year, Lewis wrote: "He didn't just mimic Ray Charles, he distorted the features and culture of African Americans and also Indigenous Americans with his offensive Pocahontas caricature. He is promoting the hatred that sees African Americans and Indigenous Americans as not only different but less than. "
Jaquess did not immediate respond to a request for comment sent via email.
Lewis praised the Executive Committee's action.
"For him (Jaquess) to not apologize, and double down on it, to me I felt this is a pastor that needed to be exposed," Lewis said in an interview. "I'm grateful that the Southern Baptist organization said, 'We don't want to have anything to do with this.'"
Blackface performances date back to minstrel shows of the 1800s, in which performers darkened their faces to create bigoted caricatures of Black people.
Jaquess defended his actions when they came to light, saying he was playing tribute to Ray Charles and that he doesn't "have a racist bone in my body," according to the Examiner-Enterprise.
Jaquess, who has campaigned against public drag shows, said in a sermon posted on Facebook that his "dressing up like Pocahontas" was not a drag performance because it wasn't sexual. Drag performers are generally described as entertainers who dress and act as a different gender.
In the sermon, Jaquess said he has "Cherokee blood in me but I put some brown makeup on. ... I was trying to look like a Native American woman." He acknowledged in the sermon that several people were leaving the church amid the controversy.
Since Southern Baptist churches are independent, the convention can't tell a church what to do or whom to have as a pastor, but it can oust a church from its membership.
The conservative denomination has in recent years expelled churches for various reasons — most prominently Saddleback Church, the California megachurch ousted earlier this year for having women pastors. The SBC's constitution says a church can only be deemed in friendly cooperation if, among other things, it "does not act to affirm, approve, or endorse discriminatory behavior on the basis of ethnicity."
Any church has a right to appeal its dismissal to the full annual meeting of the SBC. At this year's annual meeting, delegates overwhelmingly ratified the committee's ouster of Saddleback and two other churches.
In 2018 and 2022, the Executive Committee ousted a Georgia church and a New Jersey congregation amid concerns over alleged discriminatory behavior.
Other reasons for ouster include a failure to address sexual abuse and for acting to "endorse homosexual behavior."
___
Associated Press religion coverage receives support through the AP's collaboration with The Conversation US, with funding from Lilly Endowment Inc. The AP is solely responsible for this content.