Apple tax: Tim Cook condemns 'maddening and political' EU ruling
Tech firm boss says decision has no basis in fact or law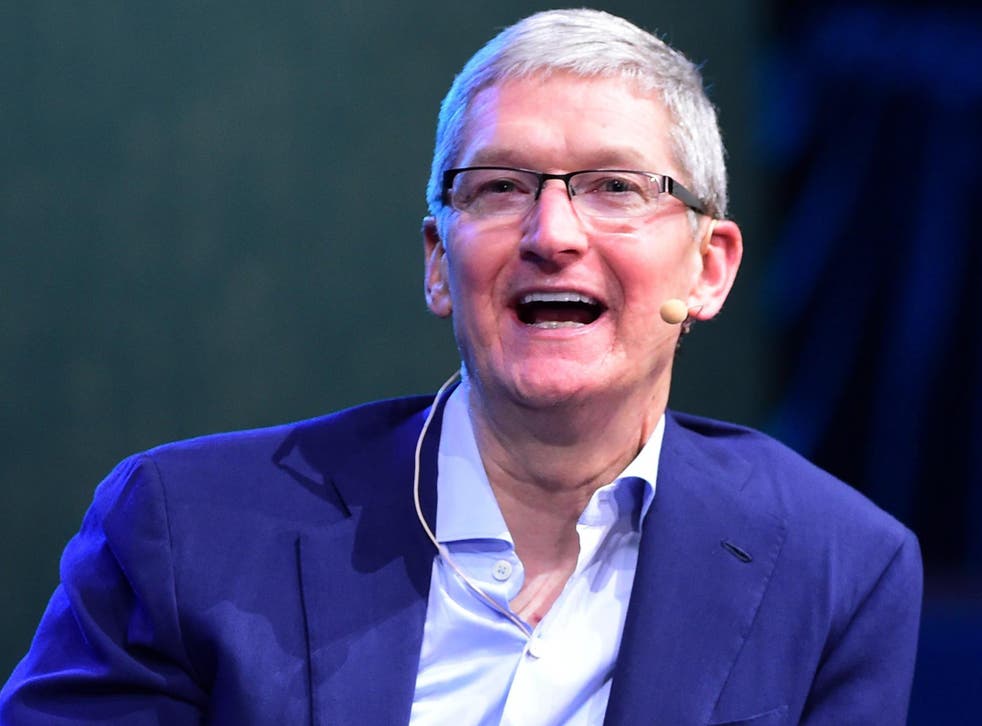 Apple chief executive Tim Cook says the European Commission ruling that Apple should pay €13 billion over its tax arrangements in Ireland is "total political crap" and "maddening".
Speaking to Irish broadcaster RTE, Cook said that Apple had not been given a so-called "sweetheart" deal and that the company was treated as others were in Ireland.
The EU ruling on Tuesday said Apple had been given €13bn of "illegal" state aid, and accused the California tech giant of paying just 1 per cent tax on its European profits in 2003, falling to 0.005% in 2014 - or £50 for every £1 million in profit it made on the continent. Apple has around £69 billion stashed offshore.
Mr Cook said he was "very confident" the ruling would be overturned on appeal.
Cook called the ruling "maddening", and said, "it's disappointing, it's clear that this comes from a political place, it has no basis in fact or in law, and unfortunately it's one of those things we have to work through."
"When you're accused of doing something that is so foreign to your values, it brings out an outrage in you, and that's how we feel. Apple has always been about doing the right thing," he added.
EU orders Apple to pay up to 13 billion euros tax to Ireland
In a separate interview Cook told the Irish Independent that he would "love" to see the Government launch an appeal against the ruling.
"I think we'll work very closely together, as we have the same motivation. No one did anything wrong here and we need to stand together. Ireland is being picked on and this is unacceptable."
Apple still planned to go ahead with an expansion in Cork, he said.
The Irish cabinet will meet on Friday to decide whether to launch an appeal against the decision, having already failed to reach a consensus on Wednesday.
In a statement on Tuesday Irish finance minister Michael Noonan said: "I disagree profoundly with the commission's decision. Our tax system is founded on the strict application of the law."
Ryanair boss, Michael O'Leary also waded into the debate on Wednesday, saying the Irish government should tell the EU to "f**k off".
Ireland: Split emerges in cabinet over response to Apple tax ruling
Theresa May's new government has fuelled the debate over tax avoidance saying it would "welcome any company" to the UK just hours after the EU announced the Apple decision. In a statement Number 10 and the Treasury said that Britain should "remain open for business", in the wake of the Brexit vote.
The Chancellor, Philip Hammond, has previously suggested that reducing corporation tax could be an option to attract companies to the UK.
Register for free to continue reading
Registration is a free and easy way to support our truly independent journalism
By registering, you will also enjoy limited access to Premium articles, exclusive newsletters, commenting, and virtual events with our leading journalists
Already have an account? sign in
Register for free to continue reading
Registration is a free and easy way to support our truly independent journalism
By registering, you will also enjoy limited access to Premium articles, exclusive newsletters, commenting, and virtual events with our leading journalists
Already have an account? sign in
Join our new commenting forum
Join thought-provoking conversations, follow other Independent readers and see their replies