Police officers who failed to help murdered refugee despite years of pleas displayed 'hallmarks of racism'
Bijan Ebrahimi called police 85 times asking for help but an officer dismissed him as a 'pest' within an hour of his brutal killing
Benjamin Kentish
Wednesday 05 July 2017 00:00 Comments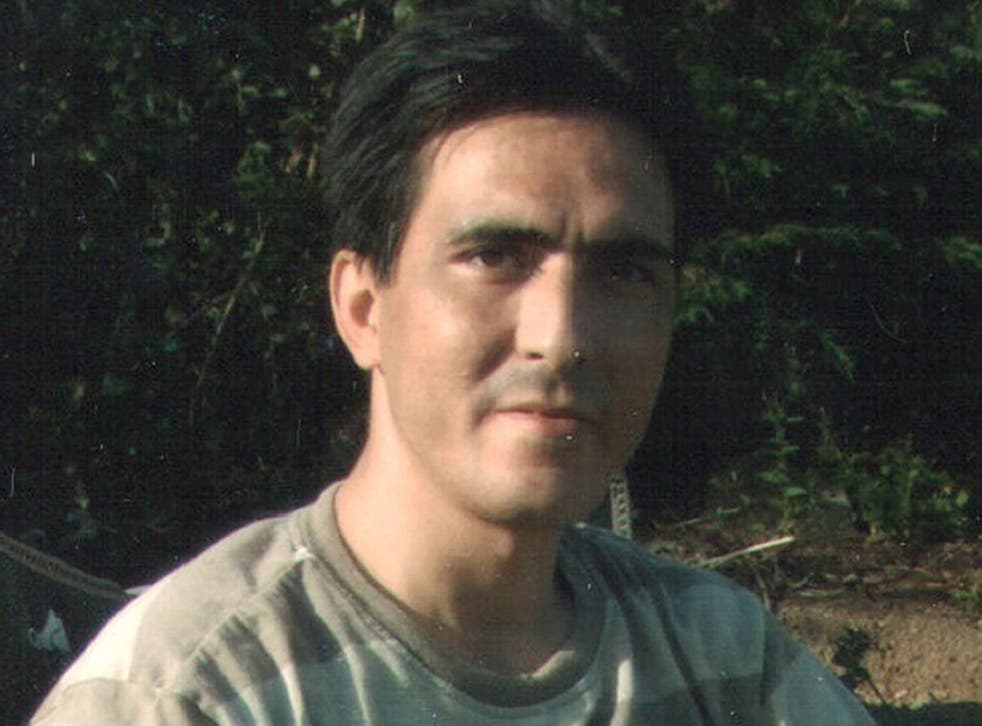 Police officers who failed to come to the assistance of a disabled refugee who was beaten to death and set on fire by his neighbour showed "hallmarks of racial bias", the police watchdog has said in a damning ruling that revealed a catalogue of failings.
Bijan Ebrahimi, 44, was murdered by Lee James in Bristol in July 2013 after seven years of abuse. James wrongly believed his neighbour, an Iranian national, was a paedophile.
In an excoriating report, the Independent Police Complaints Commission (IPCC) criticised the "poor responses" of the police and suggested the officers involved had displayed signs of racism.
Between 2007 and his murder, Mr Ebrahimi made 85 calls to Avon and Somerset Police to report a range of crimes, including racial abuse, criminal damage and threats to kill him.
He had his home and car set on fire and had the word "pervert" daubed on his front door.
On 40 separate occasions, police officers failed to record the crimes.
Jan Williams, an IPCC commissioner, said Mr Ebrahimi had been failed "on a number of levels, over a number of years".
"This failure was at its worst at the very time that his need was greatest," she said.
"There could, and should, have been a very different response.
"Instead, his complaints about abusive neighbours were disbelieved and he was considered to be a liar, a nuisance and an attention seeker.
"Neighbours' counter allegations were taken at face value and accepted, despite evidence to the contrary, and Bijan Ebrahimi found himself regarded as the perpetrator of the abuse, rather than as the victim."
A death foretold: Vigilante Lee James' warning to police days before he murdered disabled man Bijan Ebrahimi after he was wrongly outed as paedophile

Show all 4
Ms Williams said the IPCC had found evidence that officers treated Mr Ebrahimi "consistently differently from his neighbours, to his detriment and without reasonable explanation".
"Some of the evidence has the hallmarks of what could be construed as racial bias, conscious or unconscious," she added.
A police officer, Kevin Duffy, and a PCSO, Andrew Passmore, were last year found guilty of misconduct and jailed for 10 months and four months respectively. They were sacked from their jobs, along with two other officers.
After being told of the suffering Mr Ebrahimi was enduring, police wrote to neighbours to make clear that he was not a paedophile, and a fireproof letter box and smoke alarms were added to his flat. CCTV cameras were not installed, however, and Mr Ebrahimi was forced to film neighbours in order to record evidence of the crimes against him.
He was moved to a new home in 2007 but the rumours about him being a paedophile and the abuse continued. He frequently told police he felt unsafe and was being racially abused and threatened with death. He also said his panic alarm had stopped working.
Family speak out on Ebrahimi
Despite the repeated warnings, police records show officers expressed what the IPCC called "frequent negative views" about Mr Ebrahimi.
Investigators found a "frequent and persistent failure" of officers to record the crimes being committed against him, despite his "polite and ultimately futile persistence" in requesting their help.
There was also a "consistent systematic failure" by call handlers, who breached standards on recording crimes, identifying hate offences and repeat victims.
It was likely "that the perpetrators of the offences against Mr Ebrahimi, came to believe that they could act with impunity towards Mr Ebrahimi", the IPCC report stated.
"Whatever he said was likely to be disbelieved, particularly if the perpetrators and/or their associates made counter allegations. "
One police officer reportedly accused Mr Ebrahimi of lying and "playing the race card".
In another recording, police officer Helen Harris is heard calling Mr Ebrahimi "a pain in the arse" and telling him his behaviour was the cause of his problems. "Shut up…I'm fed up talking to you", she told him. "You're boring me."
One incident against Mr Ebrahimi was recorded with a description reading: "Informant Is foreign and very difficult to understand."
He made one final call to police in the hour before he was murdered, begging them for help.
In response, police officer Leanne Winter, who, like Ms Harris, was one of those dismissed, said: "I'm absolutely not interested in speaking to him ever thanks... I don't think anybody is, to be honest. He's a pest."
James was sentenced to life in prison after being found guilty of Mr Ebrahimi's murder at Bristol Crown Court in 2014. He had repeatedly threatened the Iranian man and head-butted him days before beating him to death and setting his body on fire.
James claimed that, after the head-butting incident, one police officer told him: "Off the record, I would have done the same thing."
The IPCC said Avon and Somerset Constabulary was institutionally responsible for Mr Embrahimi's death.
Lead IPCC investigator John Simick said: "Unfortunately, only his murder uncovered the fact that he was wrongly and unjustifiably being treated by the police as a liar when the evidence showed that he was the victim.
"Had his allegations in earlier years been recorded and investigated correctly, the truth of what he was enduring may have been discovered and, consequently, his murder may have been prevented.
"The extent of the failures and the degree to which they were apparent to others, including supervisors, are such that it might reasonably be said that the Avon and Somerset Constabulary, as an institution, must at least share the responsibility."
Andy Marsh, Chief Constable of the force, apologised for failing Mr Ebrahimi "in his hour of need".
"We've made many changes since Mr Ebrahimi's murder in response to the things we learnt and identified to be in need of change," he said.
"Taken together, these changes have transformed the way we operate and we will do all in our power to prevent a repeat of the circumstances surrounding Mr Ebrahimi's death."
"We must ensure this cannot happen again."
Register for free to continue reading
Registration is a free and easy way to support our truly independent journalism
By registering, you will also enjoy limited access to Premium articles, exclusive newsletters, commenting, and virtual events with our leading journalists
Already have an account? sign in
Join our new commenting forum
Join thought-provoking conversations, follow other Independent readers and see their replies