Aggressive breast cancer tumours can be 'transformed' into more treatable form, scientists find
Findings in mice show that disrupting tumour communication with the surrounding cells can render it vulnerable to conventional drugs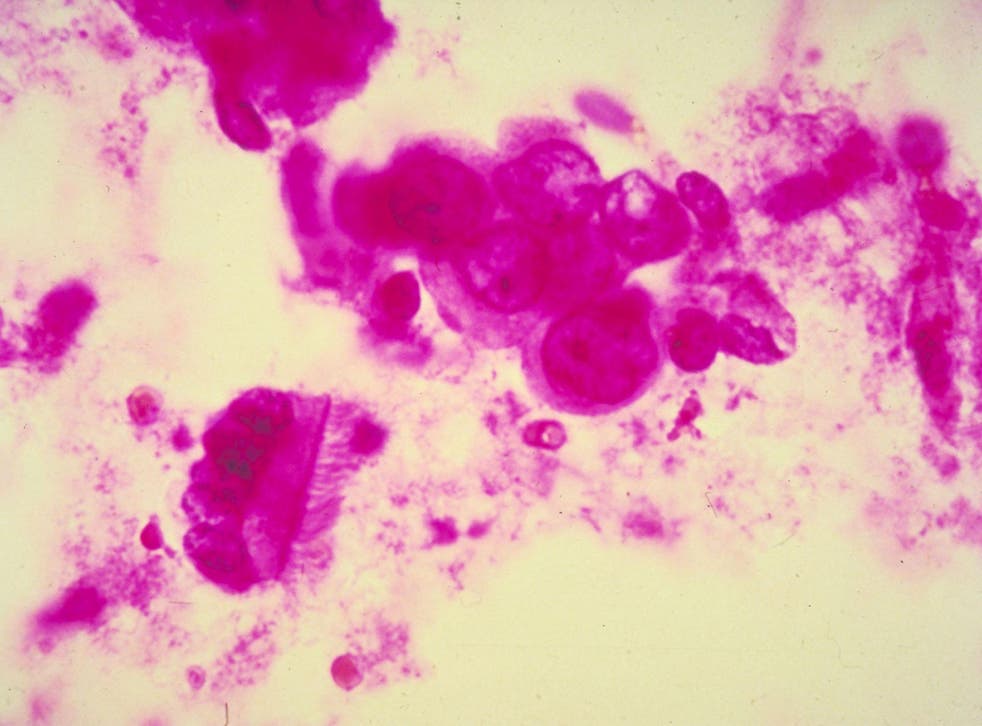 Aggressive breast cancer tumours that are usually only treatable with intensive chemotherapy can be made hyper-sensitive to conventional treatments by a new technique developed by Swedish researchers.
Experts say the approach used opened up new research and treatment possibilities, and it could provide a "real opportunity" to improve the survival chances of the 15 per cent of patients whose breast cancer is resistant to front-line therapies.
In laboratory tests the team from Lund University, showed that disrupting the tumour cells communication with the connective tissue cells of the breast could render it vulnerable to hormone therapy treatments like tamoxifen.
They used an experimental drug to block a signalling molecule that transmits information between breast cancer cells and surrounding connective tissue.
Science news in pictures

Show all 20
Detailed analysis of around 1,400 breast cancers showed that women with high levels of the signalling molecule, PDGF-CC, in their tumours had a poor prognosis.
Lead scientist, Professor Kristian Pietras from Lund University, said: "We have developed a new treatment strategy for aggressive and difficult-to-treat breast cancers that restores sensitivity to hormone therapy.
"These findings have major implications in the development of more effective treatments for patients with aggressive breast cancer."
Most breast cancers are fuelled by female hormones, mostly oestrogen. They generally respond to treatments that either block activity of the hormones or cut off their supply.
The 10-15% of breast cancers that do not respond to hormone therapy treatments are known to be more aggressive and likely to recur.
Previously it was thought that different mammary gland cell types gave rise to different types of breast cancer. Hormone sensitivity was therefore "set" at the start of a cancer's development.
The new research shows that communication between breast cancer cells and connective tissue via PDGF-CC can "switch off" hormone sensitivity.
When the Swedish team used an antibody drug to block the signalling pathway, non-hormone sensitive "basal" cancers were transformed into hormone sensitive "luminal" cancers.
Laboratory mouse studies showed that the altered tumours became "highly responsive" to standard hormone therapy.
The scientists wrote in the journal Nature Medicine: "Out of all breast carcinomas, basal-like tumours have the highest recurrence rate, the shortest time to recurrence and the worst overall survival rate owing to a paucity of therapeutic targets.
"Thus, new treatment approaches for patients with basal-like breast cancer are urgently required."
The promising lab results justified evaluating the new treatment approach in clinical trials, they added.
Independent experts said the findings were exciting but any benefits for humans were likely to be a long-way off.
Cancer Research UK's Dr Catherine Pickworth, who was not involved with the study, said: "This study is a step towards tackling the big challenge of breast cancers that are resistant to treatments.
"The next steps will be to see if this improves survival, and whether it's safe and effective in people. One day, this approach could offer a new option for patients with breast cancer when other treatments aren't working."
Holly Palmer, research communications officer at Breast Cancer Now, said: ""Transforming aggressive breast tumours so that they resemble more treatable forms of the disease is a fascinating approach. If proven effective in breast cancer patients, it could provide a real opportunity to improve survival for those with this aggressive form of the disease.
"This research has highlighted the crucial role of the microenvironment surrounding tumours in determining breast cancer subtype – an avenue of research that we hope will continue to be explored in further detail. If proven effective in patients with basal-like breast cancers, this approach could unlock an array of new therapeutic options for those who so desperately need them."
Additional reporting by PA
Register for free to continue reading
Registration is a free and easy way to support our truly independent journalism
By registering, you will also enjoy limited access to Premium articles, exclusive newsletters, commenting, and virtual events with our leading journalists
Already have an account? sign in
Register for free to continue reading
Registration is a free and easy way to support our truly independent journalism
By registering, you will also enjoy limited access to Premium articles, exclusive newsletters, commenting, and virtual events with our leading journalists
Already have an account? sign in
Join our new commenting forum
Join thought-provoking conversations, follow other Independent readers and see their replies