10 things you didn't know about Africa's economy
Africa is to add millions more to its labour force between 2010 and 2020, which should set the stage for dynamic growth. But capturing this potential will mean a change in development strategy
10 things you didn't know about Africa's economy

Show all 3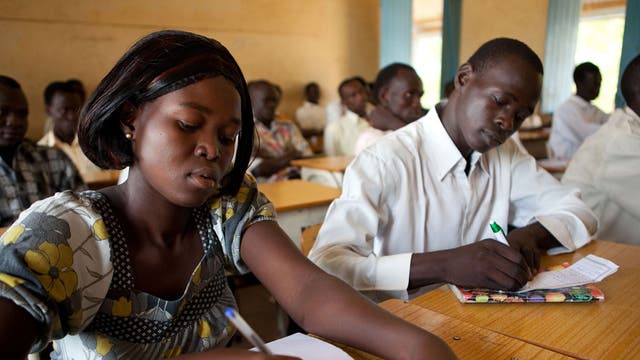 1. Africa is booming
Africa has been the second-fastest-growing region in the world over the past 10 years, with average annual growth of 5.1 per cent over the past decade, driven by greater political stability and economic reforms that have unleashed the private sector in many countries.
Poverty is also on the retreat. A new consuming class has taken its place: since 2000, 31 million African households have joined the world's consuming class. At the point when household incomes exceed $5,000, measured at purchasing power parity, consumers begin to direct more than half their income to things other than food and shelter. The continent now has around 90 million people who fit this definition. That figure is projected to reach 128 million by 2020.
Indeed, contrary to conventional wisdom, the majority of Africa's growth has come from domestic spending and non-commodity sectors, rather than the resources boom.
2. Africa is poised to have the largest labour force in the world
By 2035, Africa's labour force will be bigger than that of any individual country in the world, which offers the continent a chance to reap a demographic dividend, using its young and growing workers to boost economic growth.
As Africa's workforce grows, the number of children and retired people that each worker supports will fall to be par with the US and Europe in 2035, the other part of the demographic dividend. With fewer dependents to support, African households will begin to enjoy even greater discretionary spending power, further driving growth.
3. African workers are better educated than ever before
Today 40 per cent of Africans have some secondary or tertiary education. By 2020, it will be nearly half. But African countries still need further progress to remain economically competitive. While 33 per cent of Africans in the labour force receive secondary education, 39 per cent of workers in India and 66 per cent in China receive education at this level.
4. Steady work is still hard to find in Africa
But here's the bad news: only 28 per cent of Africans have stable, wage-paying jobs. To reap the benefits of its positive demographics and advancements in education, Africa needs to quickly create more jobs. Although it has created 37 million stable, wage-paying jobs over the past decade, 91 million people have been added to its labour force.
As a result, 9 per cent of the workforce is officially unemployed, and nearly two thirds of workers sustain themselves through subsistence activities and low-wage self-employment. Youth unemployment is also a major challenge. In Egypt, youth unemployment is 25 per cent. For the sake of social and political stability, Africa needs to accelerate its creation of stable jobs that are the route to lasting prosperity and an expanding consuming class.
5. With a few reforms, massive job growth is within Africa's reach
The experience of other emerging economies shows that Africa could accelerate its creation of stable jobs dramatically. When they were at a similar stage of development as Africa today, Thailand, South Korea and Brazil generated jobs at double or triple the rate of Africa's.
This would lift millions more Africans out of poverty and vault millions of others into the consuming class. It would also cut the time needed to reach East Asia's percentage of stable employment by more than half, from over 50 years to just 20 years.
Africa's most developed economies, such as South Africa, Morocco and Egypt, are on track to create more wage-paying jobs than new entrants to the workforce. Three sectors have a proven capacity to create jobs and can do so in the future: agriculture, manufacturing, and retail and hospitality.
6. Africa can become the world's bread basket
Africa has about 60 per cent of the world's unused cropland, providing it with a golden opportunity to simultaneously develop its agricultural sector and reduce unemployment. On current trends, African agriculture is on course to create 8 million wage-paying jobs between now and 2020.
With two important reforms, however, Africa could add 6 million more jobs. First, policymakers could encourage expansion of large-scale commercial farming on to uncultivated land. African countries need to reform land rights and water management, build up their infrastructure and improve access to inputs such as seeds, finance and insurance to boost agriculture. Such steps have allowed Mali, which built integrated road, rail and sea links to transport refrigerated goods and to increase its mango exports to the European Union sixfold in just five years. Second, African economies can move from producing low-value grain to higher-value crops such as horticultural crops and biofuels. This will not only boost GDP, but provide much-needed jobs: staples such as grain employ up to 50 people per 1,000 hectares while horticultural products need up to 800.
7. It's often cheaper for Africans to buy goods made in China than those made at home
African manufacturing is declining as a share in most economies, and that needs to stop. Africa is on course to generate 8 million new manufacturing jobs by 2020 but could nearly double that tally if it can reverse this trend.
High transportation and input costs, duties and bureaucracy are some of the obstacles that have hindered African manufacturing. The continent needs to open itself up to foreign investment too.
Lesotho, a country of just 2 million people, has 100 times South Africa's exports of apparel to the United States on a per capita basis because it made investment attractive to foreign players and put the necessary rail and distribution infrastructure in place.
8. Nigeria's four largest cities still have only six shopping malls
Africa's rising number of consumers is already driving growth in retailing, but the sector could grow much faster. The potential of retail still goes largely unrealised: In Ethiopia, Egypt, Ghana and Nigeria, nearly three-quarters of groceries are bought in tiny informal outlets. If barriers to foreign players were removed and action was taken to boost the share of modern retail outlets, this industry could finally hit its stride.
9. Africa needs more than petrodollars
Mining, oil, and gas contribute significantly to Africa's GDP, but these sectors employ less than 1 per cent of the workforce.
Africa needs a jobs strategy, not just a growth strategy. Countries need explicit programmes to create jobs, targeted at labour-intensive sectors that enjoy comparative advantage. Governments, working with private companies, need to improve access to finance in those sectors, build the necessary infrastructure, cut unnecessary regulation and bureaucracy and create a more business-friendly environment, and develop the skills needed to support the industries of the future.
Morocco's auto-parts industry is an example of success. Realising the country's unique advantage of proximity to the large market of high-income earners in Europe, the Moroccan government set a goal for the country to become the industrial automotive supplier for Europe. Today, the sector employs more than 60,000 people, and this year saw the opening of a €1bn (£793m) assembly plant by Renault.
10. The future for Africa looks bright – but there's still a lot of work to be done
More than 300 million Africans will remain in vulnerable jobs in 2020. And even if governments are successful at promoting job creation, the number will keep rising for at least another 20 years because the labour force is expanding so quickly.
Africa's employment challenge is daunting, but it is not unique. Many other emerging markets have transformed their employment landscapes and made sweeping gains in economic growth, and with the right policies in place, Africa has the right ingredients to produce similar success. Businesses and investors are beginning to take note of the continent's potential – not only its wealth of natural resources but its human capital. Africa may prove to be one of the next great global stories.
This is an edited version of a piece in Foreign Policy. Susan Lund is a principal at the McKinsey Global Institute, the business and economics research arm of McKinsey & Co. Arend Van Wamelen is a principal in McKinsey's Johannesburg office
Join our new commenting forum
Join thought-provoking conversations, follow other Independent readers and see their replies