A View from the Top: Susie Cummings, veteran recruiter and CEO of Nurole
'The problem is that companies are consistently not casting their nets wide enough'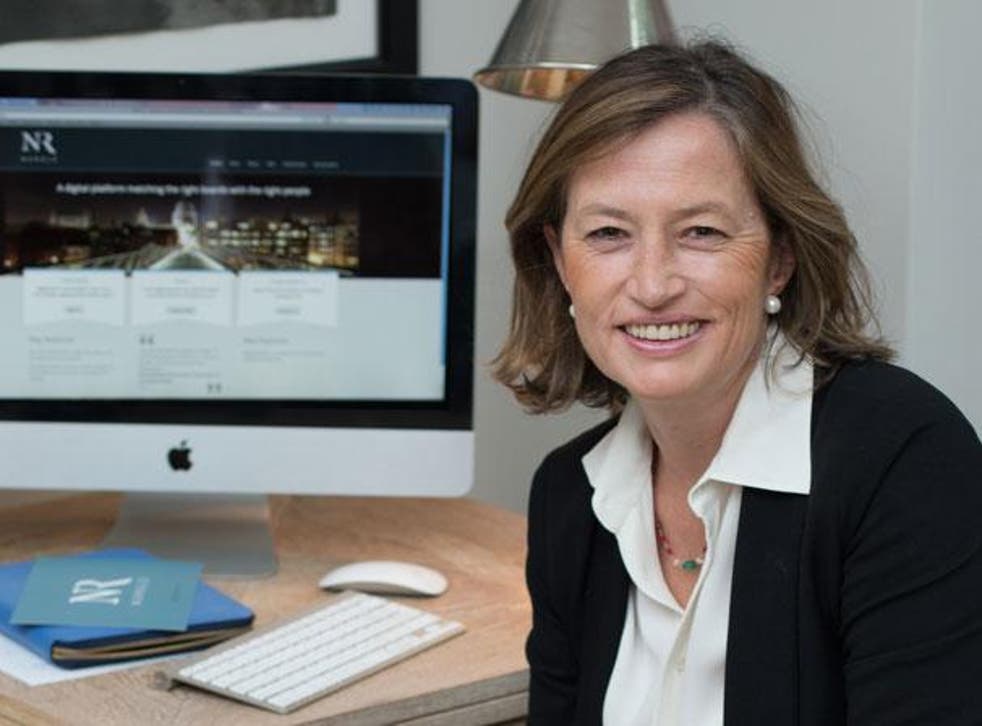 Susie Cummings is on the cusp of turning 60 but her entrepreneurial spirit rivals that of any bright-eyed 20-year-old fresh out of university. In fact, many of those overambitious whippersnappers could probably learn a thing or two from the Shropshire-born businesswoman.
So far, in addition to being able to look back on a 30-year career in recruitment, she's set up two companies, fuelled by a conviction that the technology available today can vastly improve the way large corporations recruit. Often, she says, it's mostly a case of attitude.
Her most recent venture, Nurole, is a recruitment platform which aims to find the most suitable people for board and C-level positions – a particularly apt pursuit at a time when diversity in the workplace is front and centre of many HR departments' collective minds.
In the four short years since Cummings founded it, Nurole, of which she is CEO, has already grown to more than 10,000 users in 100 countries, sourcing and matching chair people, bosses and other senior executives and non-executives with some of the best-known brands and organisations.
The case studies of success are vast and varied. An endorsement from Doug Gurr, UK country manager of Amazon, is prominently pasted on Nurole's website, as is one from GlaxoSmithKline chairman Philip Hampton. The company recently helped private equity firm Hg Capital hire Carla Cico, the former Brasil Telecom CEO, who was once recognised as a top 50 "Power Woman" by Forbes.
During our chat, Cummings drops in plenty of other anecdotes, illustrating just how well-connected and respected she has become since entering the world of head-hunting in her twenties.
"I created Nurole because I felt like, in this digital age, there must be a more efficient way to access the right candidate for the right job," she explains down a crackly phone line from Uruguay, where she has a house and usually spends a month every year – both working and relaxing.
"Big firms have their little black [contact] books which tend to include a number of women and ethnic minorities in order for those firms to be able to prove that they can produce those types of candidates," she goes on.
"But the problem is that they are consistently not casting their nets wide enough. They can do better. And that's where we come in."
Cummings thinks that Nurole can add value to any corporation because creating a less homogenous leadership team is one way of enhancing an organisation's performance and, ultimately, making it more attractive place to work.
Earlier this year, global consulting behemoth McKinsey & Co published research showing that firms in the top quartile for gender diversity are 21 per cent more likely to enjoy above-average profitability than companies in the bottom quartile. And Cummings is adamant that it's not just about gender.
"We're talking about all types of diversity here. Gender, function, age, geography, background," she says. "It's about empowering all individuals to decide what roles they would be passionate about doing, irrespective of those factors."
Although starting a business can be an arduous process, entailing years of hard work before anything pays off, the fruits of Cummings's labour already appear to be showing – perhaps because so many individuals and companies have already recognised the benefits of the service Nurole provides.
"We're still relatively small as a platform," she admits. "But there's certainly momentum there."
Around a third of all FTSE 100 and FTSE 250 executives and non-executives are now registered with Nurole, according to Cummings. In the US, she's set a target of signing up 1,000 female board members by the end of this year. Around 800 are already registered, which means she's firmly on track. But she's not denying that there are plenty of hurdles – both for the business to overcome and to achieving a truly representative corporate Britain, especially across the country's board rooms and corner offices.
"Boards are still predominantly male, stale and pale," she says. "And some of that is down to the fact that women will not apply for a job unless they tick all the boxes. Many men, on the other hand, will apply if they tick at least one of boxes. That makes me really sad and needs to change."
You'd be forgiven for drawing parallels between Cummings's theory and that of Facebook chief operating officer Sheryl Sandberg in her 2013 agenda-setting best-seller Lean In, but Cummings is perhaps more optimistic than the Silicon Valley tech exec.
"It's definitely starting to change," she says.
She tells me of a good friend of hers who had been a senior banker for years and had consistently been paid less than her male counterparts. As a top-level executive she had always been afraid that asking for a pay rise, or complaining of discrimination, would negatively affect her career prospects later on. She says that attitude used to be quite common, but "we're not seeing that as frequently now".
"Women are starting to build confidence. Platforms like Nurole should help those problems become problems of the past."
She also praises the efforts of groups like the 30% Club, which was launched in back in 2010 with a goal of achieving a minimum of 30 per cent women on all FTSE 100 boards. And she's optimistic that April's deadline on gender pay gap reporting will further bring the conversation around equality in the workplace into the mainstream. In fact, she thinks that the collective awareness is already shifting.
"I've spoken to men who have very old-fashioned views, and as soon as they have daughters, they realise how bad women have really had it in the past."
But she also argues that women, ethnic minorities and other people who are under-represented in the top echelons need to keep up the fight. "They must keep pushing themselves forward. Then, hopefully, it will all just be a question of time."
Register for free to continue reading
Registration is a free and easy way to support our truly independent journalism
By registering, you will also enjoy limited access to Premium articles, exclusive newsletters, commenting, and virtual events with our leading journalists
Already have an account? sign in
Join our new commenting forum
Join thought-provoking conversations, follow other Independent readers and see their replies