A View from the Top: Trainline CEO Clare Gilmartin on business success and the future of travel
eBay's former UK business chief looks to keep the global digital travel platform on the right track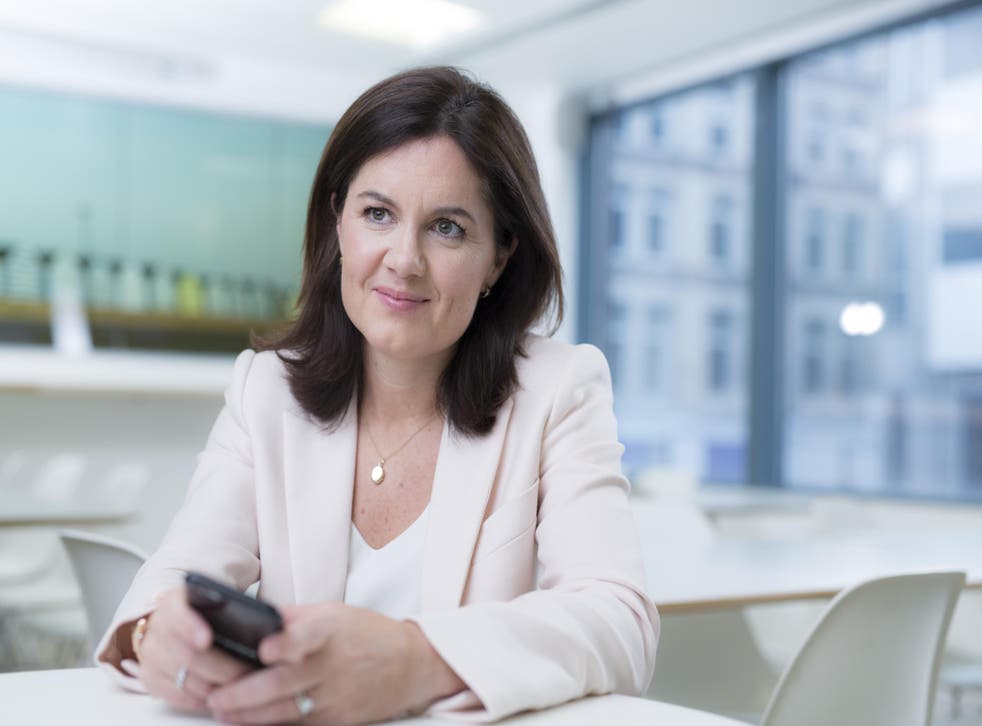 Before deciding whether to take the job as chief executive of Trainline, Clare Gilmartin spent a day travelling by train from London to Woking and back. Twice. She wanted to suss out what passengers thought about their journeys, the prices they paid and the service they received. It was, if you like, her due diligence.
"After all, the taxpayer funded the country's rail network and they should be given the best service. We don't have a business without customers."
That was nearly four years ago. Since Gilmartin came on board, Trainline's take-off has been vertical. It's the only global digital travel platform of its sort and now whizzes across 35 countries in Europe and has just been adopted by Japan Rail. Her next stop is the US.
Fast-speaking but softly spoken with a hint of an Irish lilt, Gilmartin still spends much of her time talking to customers, inviting them into the offices for focus groups, welcoming all ideas and, of course, complaints. And finding out what travellers want seems to work. Trainline now sells tickets to customers living in 173 countries on behalf of 146 different rail and coach operators from 16 localised websites and in 14 different languages.
Use of the mobile app has also soared – there are more than 17 million app users and growth year-on-year is 120 per cent, while 77 per cent of all visits to the site are via mobile. Every minute, 150 tickets are sold, 127,000 journeys are bought each day and its platforms host more than 50 million visits each month. There are about 9 billion searches a year.
Sales last year jumped to £2.4bn, a substantial bite out of the £8bn or so spent each year in the UK on rail and coach journeys, and a decent-sized nibble out of the world's market, worth around £200bn year.
Perhaps that's all not so surprising when you consider the price savings. By booking tickets in advance, Trainline say that it cuts the price of a journey by an average of 43 per cent. Customers also get real-time information on how to make smarter journeys, work out alternative routes and even help with compensation.
What's smart about Trainline is that, because it's now 20 years old, it has first-mover advantage. That might put off global rivals. Because of the UK franchise system, no one single train operator can sell tickets for all services on all routes, so Trainline has had to become a technology pioneer: needs must.
"There is no standardisation in the industry so we had to create our own bespoke routing engine, a fares engine, as they did not exist off the shelf as other tools are elsewhere. We experiment all the time – we make about 200 changes a week."
It's also why more than 300 of her 600 staff are techies – IT specialists, data scientists and AI engineers. You can spot them as soon as you enter her HQ at 120 Holborn – one of those achingly hip and slick offices with big, citrus-coloured chairs and laminated maps on the wall but old-fashioned views across the City.
The office is bustling with young men and women dressed down in their T-shirt-and-jeans uniforms, clustered in breakaway units breathing algorithms at each other, and coming up with new codes for groundbreaking products like PricePrediction – the UK's first predictive rail pricing tool.
There is also a new voice app being piloted, which works through Google Assistant, and they are working with rail and coach carriers to launch e-ticketing. The north of England is the first region to have taken it up and it will soon be rolled out nationally.
With about 70 per cent of all ticket purchases still offline via the ticket office, Gilmartin says Trainline has far to travel. In the UK alone, the number of passengers using rail has doubled over the last 10 years, and passenger capacity is forecast to rise again by nearly a third by next year.
Across the Channel, the continent's high-speed rail network is set to quadruple over the next decade, a move that will be triggered further by the EU's strategy of opening up networks to private operators, forcing rail companies to broaden distribution and growth.
One of the latest example of Europe's new golden age of travel is our very own new Eurostar service from St Pancras in London to Amsterdam. The service starts in April, and Gilmartin hopes to be one of the first to make the journey with her young family and husband: "We travel wherever we can by rail and the children love it. One of our favourite train journeys is down to Cornwall. Such a beautiful journey," the 42-year-old says.
"Rail travel is so much more sustainable than flying. And more fun, particularly now that security takes so long."
Appropriately, her own journey to Trainline has been fast. After studying commerce at University College in Dublin, she joined Unilever in London as a graduate trainee. She went on to work at the Boston Consulting Group and then joined eBay, heading up their motor sales business. Still in her thirties, she was promoted to head the eBay's UK and European business.
Hired by Trainline in 2014 to help float on the stock market, she had her first big business shock. Days before the IPO was due to go ahead, the US private equity giant KKR came up with an offer the owners could not refuse. The business was then owned by Exponent Private Equity – which had paid £163m for it in 2006 – after it bought out the founders, including Virgin, National Express and Stagecoach. How they must be weeping now.
Rumours suggested KKR paid around £450m for Trainline, or around 10 times earnings. Gilmartin won't confirm or deny the price but does say that KKR are great owners, and are – crucially – supportive of her plans for growth.
And maybe there will be an IPO further down the line? "I don't know," she says, smiling.
So what's her next stop? With Trainline's massive database, has she considered the company offering its own travel packages and holidays? "It's possible," she says. "We already have InterRail tickets. And we are looking at all sorts of other options, maybe special packages to the Lake District or trips across Europe. We shall see."
And, finally, how big could Trainline become? Does it have the potential to disrupt travel in the way that Uber has revolutionised the taxi market? She is coy about holding herself hostage to fortune, but does say: "Trainline will blaze a new trail in the pursuit of excellence for the traveller."
Sounds like a yes to me.
Register for free to continue reading
Registration is a free and easy way to support our truly independent journalism
By registering, you will also enjoy limited access to Premium articles, exclusive newsletters, commenting, and virtual events with our leading journalists
Already have an account? sign in
Register for free to continue reading
Registration is a free and easy way to support our truly independent journalism
By registering, you will also enjoy limited access to Premium articles, exclusive newsletters, commenting, and virtual events with our leading journalists
Already have an account? sign in
Join our new commenting forum
Join thought-provoking conversations, follow other Independent readers and see their replies