As Amazon moves into streaming, what difference does it make?
Jeff Bezos says his Prime service is 'the best bargain in the history of shopping'. Ian Burrell wonders whether British listeners will agree
Ian Burrell
Thursday 30 July 2015 09:33 Comments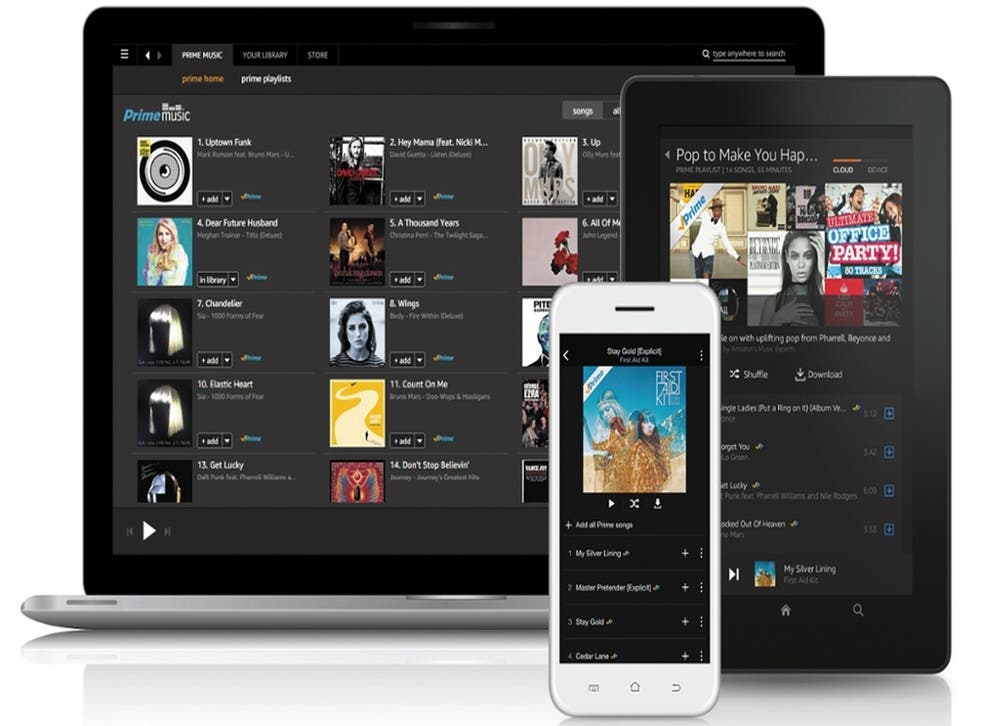 The whole of the retail and entertainment sectors must be wondering who Jeff Bezos will come for next, as Amazon moved in on the booming UK market in music streaming.
Using songs by a raft of leading British artists including Mark Ronson, George Ezra and Ella Henderson to add a distinctly local flavour to its offering, Amazon made more than 1 million tracks available for free streaming and download to its burgeoning base of Prime customers.
Prime Music is an attempt to capitalise on a taste for music streaming in Britain that was shown last week to have grown to 500 million songs a day, benefiting existing services such as Spotify, Deezer and the recently launched Apple Music.
By offering its service to Prime customers, who pay £79 a year for a range of enhanced services including one-hour and Sunday shopping deliveries, Amazon is undercutting the likes of Spotify and Deezer, which charge £120 a year.
Amazon executives were quick to argue that they weren't going to war with rivals already established in the streaming space and that the success of Prime Music was not dependent on the failure of other services.
"Some people might say this is a bit of a crowded space [and] a lot of companies are out there launching streaming services but we are trying to do something a little bit different," said Steve Bernstein, Amazon's head of digital music in the European Union. "We are not trying to go head to head with Apple Music or Spotify, which charge £120 a year.
"We are trying to create a special service for Prime customers where they get over 1 million songs for free included with a Prime subscription."
Those 1 million tracks are but a small proportion of the 30 million which Amazon itself sells from its catalogue of MP3 downloads. Consequently, Prime Music is designed to appeal to less-fanatical music fans who baulk at the idea of paying a monthly subscription to a streaming service. Paul Firth, who runs Amazon Music in the UK, said some customers of other streaming services were "paying £120 a year to access tens of millions of tracks they don't listen to".
Music industry figures suggested that more "serious" music fans would continue to be drawn to existing streaming services with their more extensive catalogues. Murray Stassen, a senior writer at the industry title Music Week, noted that Prime Music's offering was "significantly smaller than the catalogues of other players". He said: "It seems that rather than looking to compete directly with the likes of Spotify and Apple Music, this is more of an example of adding extra value to an existing service – Amazon Prime."
Judging by the popularity of the service in America, where user activity has doubled in the past six months, the launch of Prime Music in the UK seems sure to make Mr Bezos's empire an even more powerful player in the entertainment sector. The company claims Prime Music has been "incredibly successful" in America and has already outstripped other streaming services including Deezer, Rhapsody, Google Play and Beats. Only Spotify is bigger (the initial success of the newly launched Apple Music is not yet known).
Amazon – which some analysts had predicted might never announce a profit on its vast revenues – last week announced a rare quarterly profit of $92m to the end of last June, on phenomenal sales of more than $23bn, up by 20 per cent. The news sent Amazon's shares up by nearly 10 per cent.
It has emerged that Amazon had taken further steps in America in applying to deliver its packages by robotic drones which it wants to fly at between 200ft and 400ft above the ground.
Mr Bezos has described Prime as "the best bargain in the history of shopping". Amazon already has "millions" of Prime subscribers in the UK who have previously been tempted by such offerings as a one-hour delivery service, unlimited streaming of 15,000 films and TV shows on Prime Instant Video, and an e-book "lending library".
Playlists are considered crucial to the Prime Music UK offering. There are 500 of them categorised by genre and "mood and activity", the latter including "Acoustic Hangover Cure" and "Chilled Out Morning Commute".
Mr Firth said the panel of experts who had compiled the playlists wanted to remain anonymous. They included a female hip hop mixing champion, alternative music journalists, a music blogger and former record label staff.
Patrick Clifton, who heads Amazon's digital music team in the UK, said Prime Music would also use Amazon's algorithms, based on previous purchases, to provide a "data driven approach" to creating playlists.
As is largely traditional in this sector, Amazon's streaming rivals allowed the UK launch of Prime Music to pass without comment. But as Mr Bezos's leviathan encroaches further into their waters, the assurances that Amazon is not coming for them "head to head" is unlikely to leave them feeling unthreatened.
Goodbye, Dolly: How playlists are tailored
Amazon does not expect the California band Journey (Don't Stop Believin') to be the star performers on the UK incarnation of Prime Music, even if the Seventies AOR band are inordinately popular on the American version of the service.
Data culled from 15 years of selling music in the UK told the online giant that it could not merely import the American edition of Prime, which launched in June last year. Instead it has created a bespoke UK service "from the ground up", with contemporary British artists such as Mark Ronson, Paloma Faith and Kasabian to the fore.
The 500 UK playlists are also filled with tracks from "classic" UK artists including The Smiths, Duran Duran, Van Morrison and The Clash.
And unlike in the US, where vast swathes of the offering are devoted to songs about heartbreak and whiskey, the "Country Walk" playlist on the UK edition is designed as the soundtrack to a good ramble.
Register for free to continue reading
Registration is a free and easy way to support our truly independent journalism
By registering, you will also enjoy limited access to Premium articles, exclusive newsletters, commenting, and virtual events with our leading journalists
Already have an account? sign in
Join our new commenting forum
Join thought-provoking conversations, follow other Independent readers and see their replies