Belgravia's oligarchs square up for battle
A friend of Blair, Clinton and Soros prepares to take on fellow Ukrainian billionaires engulfed in a stock market row
Jim Armitage
Wednesday 05 June 2013 01:25 Comments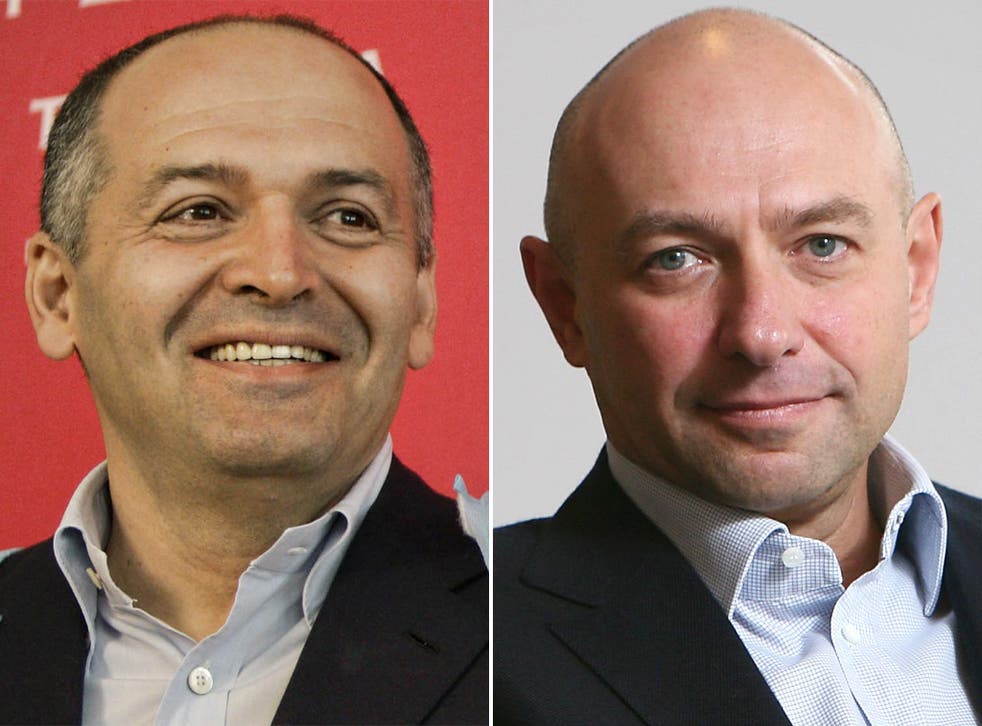 From his five-storey white stucco mansion in Belgrave Square in London – a rare private residence amid the cluster of embassies from all corners of the earth – the oligarch Gennadiy Bogolyubov can look back on a business career that has made him a billionaire many times over.
Little-known in the UK, despite raising a family here, he is feted in Israel for his donations to Jewish charities, sprinkling dollars like confetti on the Hasidic community. In 2010, he sent 4,000 cheques for $500 to the representatives around the world of the Hasidic movement Chabad-Lubavitch – merely to celebrate the birth of his daughter, Dina. Little wonder that this Ukrainian-born tycoon has been applauded by the Israeli President Shimon Peres for his good deeds.
But we in Britain will soon be getting to know his less benevolent side far better. Later today, he – or his legal representatives – will star in a bitter fight to allegedly seize control of a London Stock Exchange-listed mining company, JKX Oil and Gas. That battle now looks set to reach its denouement in the High Court later in the summer, just as a separate $2bn (£1.3bn) court battle erupts alleging his involvement in skulduggery over privatised Ukrainian assets – charges he contests. That case has been launched by another billionaire Ukrainian, Tony Blair's friend Victor Pinchuk.
Together with the JKX spat, it promises to bring into question the controversial business methods not just of Mr Bogolyubov, but of his business partner, the controversial Ukrainian Israeli billionaire Igor Kolomoisky. Also engulfed in the affairs are the owner of the priciest flat in the famously expensive Number One Hyde Park development and, just to keep the Belgravia set agog, the family of Roman Abramovich's art-collecting girlfriend, Dasha Zhukova.
Let us start with JKX. One of the first businesses from the former Soviet states to list in London, JKX was formed in 1998 as a vehicle for Western investors to gain access to Ukrainian gas reserves. Based in swanky Cavendish Square, its top tier of management is distinctly Anglo-Saxon, run by chief executive Paul Davies and commercial director Peter Dixon. But that may all change if Mr Bogolyubov and Mr Kolomoisky get their way.
The Ukrainian duo, who are shareholders in JKX, are, at today's meeting of investors in London, fighting the first stage of their bid to vote out its British chiefs and install their own people at the top. They claim this is not an attempt to seize control, but JKX insiders suspect otherwise, particularly following their similar, failed, assault on the London miner Ferrexpo a few years back.
They had been banned from voting or attending the meeting by JKX's existing board, whose legal eagles spotted a technicality that they said allowed them to prevent the duo from voting. But this was overturned in court last night in a dramatic last-minute twist to today's showdown.
It wasn't just their prettily named Eclairs investment firm (and its 27 per cent stake) that was originally banned. Another major shareholder, Glengary, controlled by Ms Zhukova's father, Alexander Zhukov, was also blocked on the grounds that he appeared to be connected with them. Sources at JKX argue that Mr Zhukov, Mr Bogolyubov and Mr Kolomoisky are acting in concert to take control of the company without going through the expense of making a formal takeover offer to all shareholders – claims they deny. Under last night's ruling, if they succeed in voting out Mr Davies, he will be allowed to continue in post until a High Court hearing in July on whether the Eclairs/Glengary votes should stand.
An ousting of the chief executive only requires a 50 per cent vote, and given that Eclairs and Glengary together have 39 per cent of the shares, it now looks highly plausible.
JKX's critique of the Eclairs/Glengary proposals was blistering. It alleged that one of the directors they were proposing to install was wanted by the Ukraine Ministry of Internal Affairs on charges of abuse of power or position (reports in the Ukraine press say he has fled to London). JKX also alleged that the two other proposed placemen were shareholders or employees of companies controlled by either Mr Bogolyubov, Mr Kolomoisky or Mr Zhukov.
Perhaps most damagingly, JKX alleged in a Stock Exchange statement that it had been struggling to raise money conventionally from banks because they did not want to be involved with a company that had Mr Kolomoisky as a shareholder – claims that Eclairs denied.
Whichever way the vote goes today, the Kolomoisky-Bogolyubov partnership faces an even tougher challenge in a High Court case in the coming months from former business partner and fellow Ukrainian billionaire Mr Pinchuk. He has hired the eminent City QC Anthony Grabiner to fight a case claiming that the duo diddled him out of $2bn by failing to hand over a company he paid them to buy for him during a Ukrainian privatisation.
Mr Pinchuk alleges he gave them $143m in 2004 to buy an iron ore mining business, KZhRK, from the state. They took his money, he claims, but didn't deliver him the mine.
Instead, according to the claim, they sent around a bunch of men who "forcibly entered" the premises and took control of the plant.
Furthermore, he claims, they then sold half of it to Rinat Akhmetov, the billionaire owner of the Ukrainian football club Shakhtar Donetsk. Ukraine's richest man, it was Mr Akhmetov who paid a reported £136.4m for the penthouse in One Hyde Park. No impropriety is alleged on his part in the KZhRK case.
Mr Pinchuk claims the mining assets are now worth $1bn and that he is owed a further $1bn in unpaid dividends. This week, his two enemies accepted that the court case should be heard in London, setting the stage for a very public fight.
The Independent sought comment from Mr Bogolyubov, but got no further than the high-ceilinged marble of his Belgravia home's lobby before staff politely escorted us off the premises. However, both he and Mr Kolomoisky have appointed top City law firms and dispute the allegations. Let battle commence.
Ukrainians splash out on homes
Forget the new rich Russians, Arabs or Chinese – it is the Ukrainians who have been the record-breakers in the London property market recently.
First came Victor Pinchuk's £80m splurge on a house in Phillimore Gardens, Kensington, in 2008. Philanthropist Mr Pinchuk is married to the only daughter of the controversial former president Leonid Kuchma. He counts Tony Blair as a friend and has hosted Bill Clinton and George Soros at numerous high-profile events in Ukraine. His art collection includes work by Antony Gormley, Damien Hirst and Jeff Koons. He once splashed out $5m hosting a public concert with Sir Paul McCartney in Kiev's Independence Square.
In 2011, it emerged that Ukraine's richest man, Rinat Akhmetov, had splashed out £136.4m on the penthouse at the Candy Brothers' One Hyde Park (known among the billionaire set as just "OHP"). He said the purchase was an investment by his System Capital Management fund, although the property has reportedly just been transferred from SCM into his own name.
Register for free to continue reading
Registration is a free and easy way to support our truly independent journalism
By registering, you will also enjoy limited access to Premium articles, exclusive newsletters, commenting, and virtual events with our leading journalists
Already have an account? sign in
Join our new commenting forum
Join thought-provoking conversations, follow other Independent readers and see their replies