BHS: Does the British department store have a future?
As Sir Philip Green puts BHS on the market, Alex Lawson looks at whether general high street retailers are still viable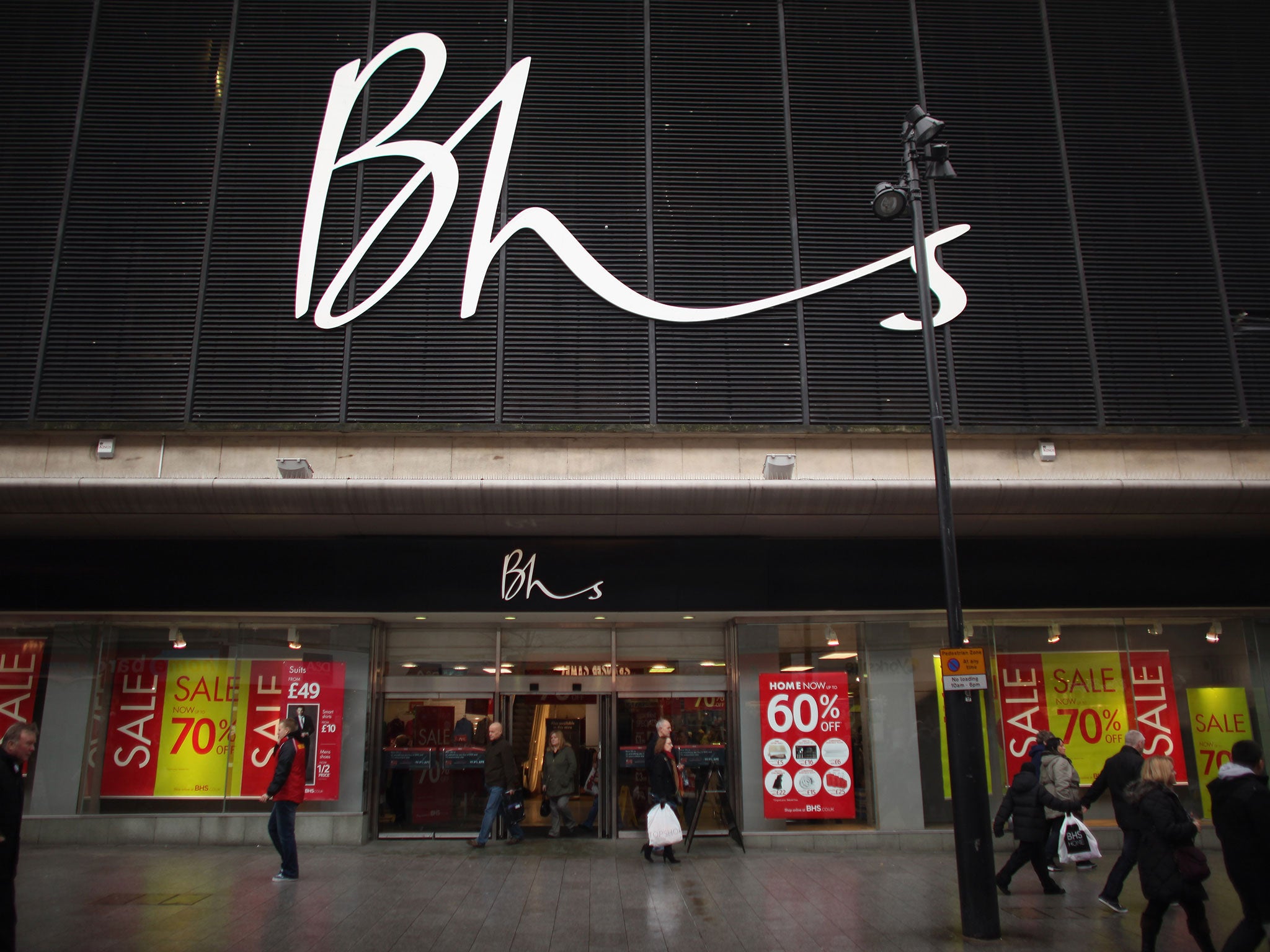 A "for sale" sign has been hung over Sir Philip Green's loss-making BHS business this week. But, for the casual observer, those are words already synonymous with the chain. Shoppers have become used to its frequent sales. And Sir Philip's desire to offload the struggling business has long been suspected.
Sir Philip's Arcadia empire, which encompases BHS as well as the Wallis, Evans, Burtons, Miss Selfridge, Outfit and Dorothy Perkins brands, has confirmed several parties are interested. Arcadia's latest set of financial results, released in November, showed BHS' sales at shops open longer than a year actually rose by 3.6 per cent in the 12 months to August 2014, despite the £21m loss.
However, the retail market – increasingly dominated by discount and online players – leaves the likelihood of someone snapping up BHS in its current form unlikely. A private equity asset strip or a purchase to take advantage of its property holdings looks more likely.
The independent analyst Nick Bubb quips that the retailer was "Never Knowingly Not on Sale", and says: "BHS has clearly been driven into the ground by the relentless competition from Primark and by its own addiction to discounting, which has destroyed its pricing power."
The 87-year-old BHS has seen most of its major competitors enjoy a growth spurt in recent years as Matalan, New Look and Bonmarché snared its fashion custom and Dunelm, Poundland and John Lewis its homewares. Honor Westnedge, the senior retail analyst at Verdict Research, says: "BHS has lacked differentiation. It used to be the go-to place for affordable clothing and homeware but there are better, and cheaper, specialists now."
Ms Westnedge believes that while the introduction of Arcadia's brands into BHS stores has helped attract a younger shopper and improve sales, its core shopper has become disenfranchised.
Neil Saunders, the managing director at consultancy Conlumino, adds: "It is not the most fashionable, the cheapest or the most cutting edge. Without Philip Green's influence and other brands, it risks becoming another C&A. I doubt someone else could make a success of it."
The disappearance of British Home Stores, which employs 12,000 staff, would represent a poignant moment for the high street. It debuted in Brixton, south London, in 1928 as a group of US entrepreneurs attempted to emulate Woolworths' success; by the 1960s it had 100 stores.
Several ventures, including creating SavaCentre hypermarkets with Sainsbury's and merging with Habitat, pre-dated Sir Philip's purchase of the chain for £200m in 2000, which was seen as the deal that made his name.
So what do BHS' woes tell us about the retail market? Perhaps the man studying the events most closely is Marc Bolland. The Marks & Spencer chief has faced criticism for alienating core older shoppers and struggling against Primark. Sound familiar?
Ms Westnedge says: "M&S has a high-price architecture and better focus on quality. It will stick with own-label products but it needs to make sure shoppers feel like they're buying proper brands."
BHS' closest rival is probably Debenhams. The stores group is still recovering from a disastrous Christmas 2013, when its finance director, Simon Herrick, departed amid a profit warning. As the retailer slowly weans its shoppers off the discount drug, Black Friday has provided a new headache for department store bosses. The US imported sales frenzy in late November meant department stores had their quietest December since 1996 as shoppers splashed the Christmas cash early.
Andy Street, the head of John Lewis, has already warned Black Friday will create a logistical nightmare if it spreads beyond electricals. However, it is Mr Street's chain that had provided a leading light for its peers. Sales have grown relentlessly as it has reaped the benefits of seemingly shrewd website investments, and careful store expansion. Rival House of Fraser has also benefited from online initiatives.
Mr Saunders explains: "The department store is a convenient option and they can be shopped quite quickly. They lend themselves well to online as customers like shopping for everything at once and only placing one order."
For BHS, the future is uncertain. As the variety store disappears from the high street a new set of sharper, hungrier competitors fills the gaps. As for Sir Philip, the short-term reputational damage of giving up on BHS will doubtless be outweighed by his grand plan to push Topshop and Topman into new international markets.
Building profits the potential buyers for BHS
Competition on the high street remains fierce as specialist discounters continue to attract shoppers, so a straight buyer aiming to turn BHS around looks unlikely. However, the chain's property portfolio of 180 shops could attract suitors.
BHS has moved to offload unprofitable stores to Primark and, crucially, has gained food licences for 150 of its shops in a tie-up with the wholesaler Booker. Retail analysts suggested the venture was a deliberate attempt to make BHS a more enticing proposition for potential buyers.
The independent analyst Nick Bubb believes the combination of location and the ability to sell food could entice supermarkets including Asda, which already offers low-priced clothing through its George brand. "Asda should be interested in the stores… no doubt some of the high-street sites could be suitable for conversion to food retail use," he said.
Several other buyers have been linked with BHS: Apollo Global Management, which specialises in distressed UK and German retailers; the restructuring specialist Hilco; and even Sports Direct's founder Mike Ashley – a friend of Sir Philip Green, who has taken shares in Debenhams and House of Fraser – could all be keen to swoop. Rival Primark could also return to pick up more branches. And Pepkor UK, the investment vehicle set up by the former Asda boss and retail billionaire Christo Wiese, has also been mooted as a potential buyer. Pound stores and variety retailers including B&M could also be interested.
Join our commenting forum
Join thought-provoking conversations, follow other Independent readers and see their replies