Britain's lack of power generates fears over keeping the lights on
National Grid is bringing in £36m-worth of contingency measures to avoid blackouts this winter as the closure of the UK's ageing power plants means demand for electricity could easily exceed generating capacity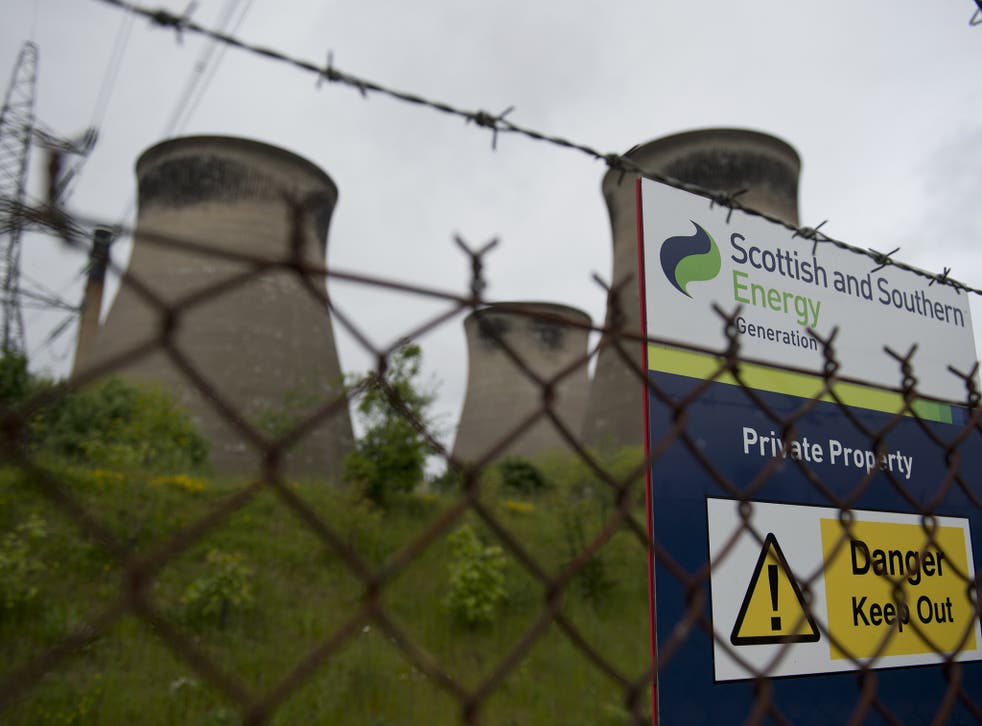 The risk of blackouts in Britain this winter is rising as spare capacity in the electricity markets has fallen to its lowest level in a decade, National Grid has warned.
Generating capacity will exceed demand at peak periods by only 1.2 per cent this winter. It means supplies are the tightest they have been in around a decade.
National Grid is putting contingency measures in place to ensure the lights stay on, paying generators such as Centrica and SSE £36m to keep power plants that would otherwise be mothballed on standby, and asking industrial users such as Tata Steel to be ready to switch off during times of peak demand.
This will ensure a safety buffer of about 5 per cent of capacity is available, but will also add about 50p to every household's bill this year.
Cordi O'Hara, National Grid's director of market operation, said: "It's clear that electricity margins for that coldest, darkest half hour of winter are currently tighter than they have been, due to power station closures."
But ageing power plants and moves to phase out coal-powered stations in favour of "cleaner" sources of energy has meant that the capacity crunch Britain is now experiencing has been predicted for at least 10 years.
So how has the nation come to find itself in this vulnerable position, and can we actually expect the situation to improve any time soon?
This year, the closure of power stations such as SSE's Ferrybridge in Yorkshire and E.on's Ironbridge in Shropshire is taking out another 2GW of capacity. Expectations a decade ago that energy giants would turn to low-carbon power sources – from new nuclear plants to alternative energies such as solar and wind – were thrown off course by the financial crisis and successive governments switching policies and targets. The Government is now banking on a new array of gas-fired plants to solve supply needs in the longer term, while more and more electricity is also set to be imported from the continent - frequently generated from dirty coal plants.
As recently as a year ago, the Grid was predicting the capacity crunch would start easing from winter 2016/17. Uncertainties over the market means this is no longer the case, it warned.
Peter Atherton, an analyst at Jefferies, explains: "The new build program is now running four to five years late. This is leading to a reduction of reserve margins."
"With more coal closures already announced and the gas fleet [of power plants] under severe economic stress the problem is only likely to get worse in winter 2016-2017."
However, Tim Emrich, chief executive of UK Power Reserve believes that new market measures bringing in capacity auctions to encourage gas-fired plants online will also see the situation improve: "In the worst case scenario, we expect that recovery would happen as quickly as 2018 /2019. Significant steps have already been taken to ensure security of supply through the introduction of the Capacity Market, bridging the gap in the longer term. The next round of auctions will further solidify the UK security of supply."
The Government and Ashley Thomas, UK utilities analyst at Societe Generale, are confident though that the lights will stay on this year.
Mr Thomas says: "In the absence of dramatic events such as some major and sustained nuclear outages, I am not in the camp that believes we are at serious risks of blackouts in Britain."
He continues: "Had National Grid not put action in place two years ago to protect supplies the market would have been particularly tight but this winter should be manageable and thereafter the growing contribution from renewables and interconnectors should ease the market pressure."
Meanwhile energy minister Andrea Leadsom says: "Our plan to power the economy is working – and it means that the lights will stay on this winter as well as making sure our homes and businesses have the gas and electricity they need in the future."
Price cut: British Gas
Britain's biggest energy supplier will reduce the cost of gas for 6.9 million domestic customers by 5 per cent from 27 August.
The cut by British Gas will save an average customer £35 a year but critics said the company is still ripping off consumers with high prices.
Stephen Murray of Moneysupermarket, said the cut "may seem underwhelming compared to how low wholesale prices are".
The wholesale cost of gas has fallen from 57.9p a therm last December to 42.93p this week, a 25 per cent reduction, according to the Natural Gas Price Index – following a drop in the price of oil.
British Gas cut prices by 5 per cent in January following similar or higher reductions by its Big Six rivals. It's the first to move this time, but the pressure is already on others to go further. Jonathan Reynolds, Labour's shadow energy minister, said: "While any cut in energy bills is welcome, this is long overdue. Wholesale energy costs are at a five year low and this still isn't fully reflected in household bills."
British Gas said its bills don't just reflect wholesale prices. "There are a range of costs that make up energy bills," said Mark Hodges, the firm's managing director.
Simon Read
Register for free to continue reading
Registration is a free and easy way to support our truly independent journalism
By registering, you will also enjoy limited access to Premium articles, exclusive newsletters, commenting, and virtual events with our leading journalists
Already have an account? sign in
Register for free to continue reading
Registration is a free and easy way to support our truly independent journalism
By registering, you will also enjoy limited access to Premium articles, exclusive newsletters, commenting, and virtual events with our leading journalists
Already have an account? sign in
Join our new commenting forum
Join thought-provoking conversations, follow other Independent readers and see their replies