Challenges for Satya Nadella, the new man in Microsoft's office
It was once the biggest company in the world, but is now being eclipsed by Google and Apple
Oscar Williams-Grut
Thursday 06 February 2014 01:00 Comments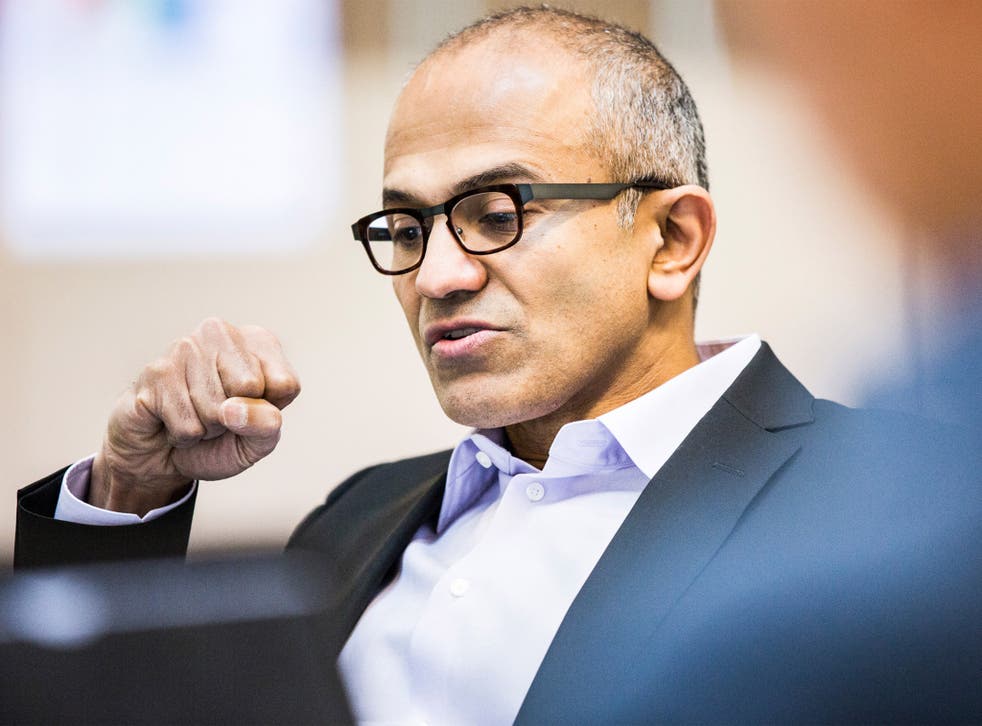 Satya Nadella must surely have one of the busiest in-trays in corporate America. The 46-year-old has been given the mammoth task of fixing Microsoft, the once-market leading technology giant now floundering.
The self-confessed cricket and poetry lover, a 22-year veteran of the company, was born in Hyderabad, India. He married his high school sweetheart and has three children.
He has said "family, curiosity and a hunger for knowledge all define me. I buy more books than I can finish. I sign up for more online courses than I can complete". Only the third chief executive of the technology giant, he faces a tough challenge. His predecessor, Steve Ballmer, saw the company lose almost a third of its value during his 17-year tenure.
Once the biggest company in the world, the software giant has been eclipsed by the likes of Google and Apple in the last 10 years and largely missed out on the mobile and tablet revolution of the last five years, with products like Surface failing to gain much traction.
"It feels a bit like IBM in the early Nineties," says Philip Letts, chief executive of the services platform blur and a former Silicon Valley insider. "You had this monolith that was reliant on legacy technologies that were becoming increasingly less relevant. Microsoft's in exactly the same place now."
Part of the problem is the scale and reach of the business: Microsoft has more than 100,000 employees worldwide and offers everything from the Xbox to servers for business customers - known as its "enterprise" clients.
"They will need to pick their battles," says Peter Bauer, chief executive of the email systems provider Mimecast, a Microsoft partner. "Despite the success of Xbox, the acquisition of Nokia and other consumer-oriented initiatives, Microsoft's heartland is undoubtedly enterprise."
Many in the industry think that Mr Nadella, previously head of cloud and enterprise at Microsoft, needs to focus the company on catering for businesses to regain momentum. Investors have called for consumer-facing parts of the business such as Bing and Xbox to be spun off, and the company's £4.6bn purchase of Nokia's handset division seems increasingly difficult to defend, given Google's recent decision to offload Motorola at a loss.
"Should they continue to try and be this multi-device, multi-platform company that's part-consumer and part-business? No one's really done that," says Mr Letts. "The side of their business that's more profitable and more sustainable is the enterprise side."
If it does decide to target aggressively business customers, Microsoft faces stiff competition. "The die is cast in terms of the shift of enterprise IT moving into the cloud," says Mr Bauer. "The cloud is Google's paradigm, not yet Microsoft's. The stage is set for a monumental battle for hearts, minds and dollars."
Mr Nadella said in his first address to employees that Microsoft needs to "thrive in a mobile-first and cloud-first world," and one way it could catch up to the likes of Google and Apple is to spend some of its huge cash pile on talent.
But amid all the talk of how to turn the company around, there are questions in some quarters as to whether Mr Nadella is the right man for the job. "The tough bit with an insider is you're more prone to work with the legacy you've got rather than shake it up," Mr Letts says.
With Bill Gates stepping down as chairman but staying on the board, Microsoft is still highly profitable, making $21.8bn (£13.6bn) last year. Mike Tobin, chief executive of the data centre provider Telecity, says: "Microsoft has always been a stellar company with real long-term cash generation. They don't need to replicate Google, Amazon or Apple – just be themselves."
Top 5 problems in the new chief's inbox
1. Windows 8
Microsoft's Windows operating system is a pillar of its lucrative software business, but the latest incarnation, Windows 8, is seen as a disaster. The operating system tried to cater for both touchscreen capabilities and desktop use, in the end failing to click for both. The company is reportedly rushing through a new system, codenamed Threshold, for launch in April.
2. Nokia
Microsoft's £4.6bn acquisition of Nokia's handset business last year was met with bafflement by many. Analysts predict a slowdown in smartphone sales, given weaker-than-expected sales from Apple and Samsung. The company will have to work hard to justify the deal, especially after Google's decision to cut its losses on Motorola.
3. Xbox and Bing
While the new Xbox One console has broadly been a success, many think Microsoft is spreading itself too thinly targeting both the home and office. Similar reservations are expressed about Bing, which has been less successful. Should Satya Nadella spin off the businesses?
4. The cloud
Many industry insiders think Microsoft should invest in cloud-based products for businesses to regain its momentum. The company's cloud products, both consumer- and business-focused, haven't gained as much traction as rival products.
5. Surface
The company's entry into the tablet market has been a significant mis-step, with a $900m (£550m) writedown on Surface inventory in the middle of last year. Will Mr Nadella abandon the tablet gambit or re-engineer the product from the ground up?
Register for free to continue reading
Registration is a free and easy way to support our truly independent journalism
By registering, you will also enjoy limited access to Premium articles, exclusive newsletters, commenting, and virtual events with our leading journalists
Already have an account? sign in
Join our new commenting forum
Join thought-provoking conversations, follow other Independent readers and see their replies