Chancing an Arm on the internet of things
From tiny start-up to global tech giant, Arm's success has been spectacular. But now a challenging new market beckons
Oscar Williams-Grut
Wednesday 11 February 2015 02:10 Comments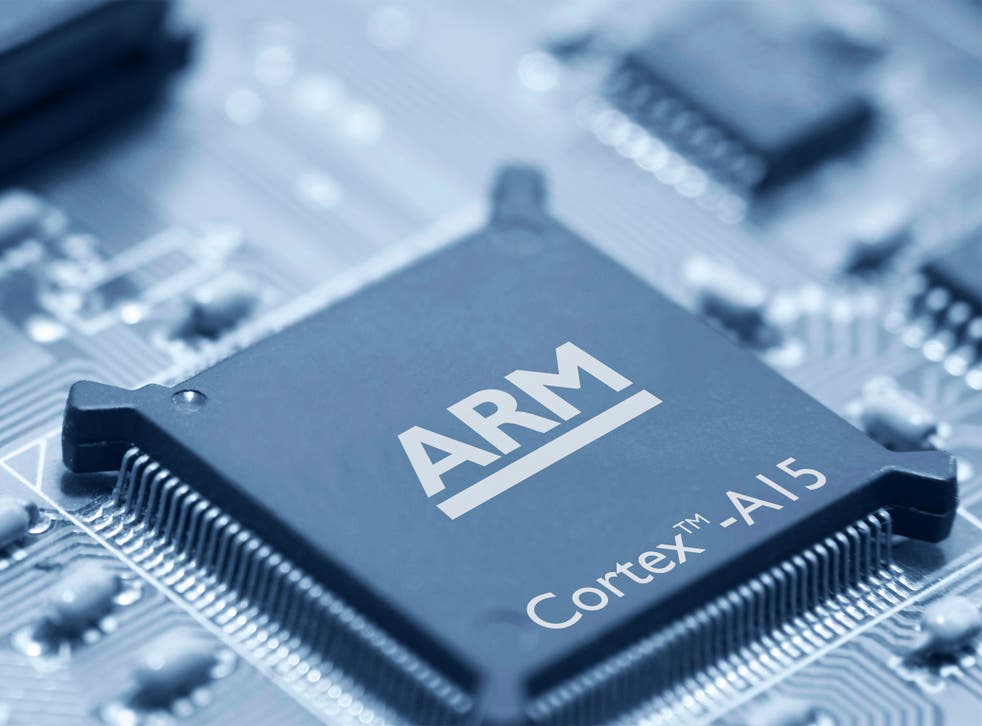 Arm Holdings is the UK's biggest technology success story. The £14.85bn microchip designer, which reports full-year results today, has powered both the mobile phone and the smartphone revolutions of the past 20 years. But can it be as dominant over the next two decades?
"Arm is probably the best company in global tech," says Eoin Lambe, an analyst for Liberum Securities who covers the company. "But there's a difference between being the best company and being accurately valued."
Mr Lambe is one of a number of scribblers in the City who fear Arm could be losing momentum, something he fears isn't yet reflected in the company's share price.
Most commentators believe the smartphone market, the motor of Arm's business, is slowing down and Arm's chief executive, Simon Segars, who replaced the 12-year veteran Warren East two years ago, is attempting to push the company into new markets to make up for any shortfalls. Opinions differ on how successful these efforts will prove.
"If you look at all of Arm's customers' revenue growth, it will decelerate this year. Yet expectations are that Arm's revenue growth will accelerate," Mr Lambe says.
An estimated 95 per cent of smartphones worldwide run on some kind of technology developed by Arm, whose rise from a Cambridge engineering start-up to a billion pound world-leader is inexorably linked to the rise of the portable phone.
The company was formed in 1990 when the British computer maker Acorn, known for the BBC Micro, decided to spin off its R&D division as a joint venture with Apple and VLSI Technology. Apple wanted to develop a handheld computer, an ambition that led Arm to develop high-performance, low-power microchips. Apple's Newton device was a dud, but the technology behind it caught the attention of Nokia and Arm was soon established as the go-to supplier for mobile phone hardware.
Arm doesn't manufacture microchips itself; instead, it designs parts and sells the designs to others. Clients such as Apple and Samsung pay around $10m (£7m) a year to use the technology. They then tweak, customise and combine the parts to make them unique and pay Arm a royalty of up to 2.5 per cent on every chip sold, whether for a Chromebook, smart TV, iPhone or anything else.
"The good thing about Arm is that, because they don't have huge fabrication costs, they can actually move quite quickly on to the next new thing," says Richard Holway, chairman of TechMarketView.
The "internet of things" is one such new area Arm is exploring. The term, coined by tech forecasters, refers to the trend of having everyday items connected to the internet; it covers everything from smartwatches to assisted-driving cars and fridges that tell your smartphone when you need to stock up on food. In other words, a whole lot more microchips for Arm to design.
"They've invested in developing chips that are extremely low-powered. That is a good move," says Mr Holway. "If you've got something like a thermostat it can't really use a lot of power."
At the other end of the spectrum, Arm is also hoping to break into network infrastructure and server technology, developing high-spec chips to take on Intel in one of its traditional home grounds.
"There are all these new applications for Arm's technology," says Nick James, an analyst at Numis who covers Arm. "As all these new categories become real – whether it be smart washing machines, smartwatches or more advanced network infrastructure – these will all sustain Arm's growth. People are using Arm more than they ever did before."
Mr Lambe is sceptical of both avenues. He reckons the chips designed for the internet of things could be as much as 70 times less profitable as those used in the iPhone. He also believes Arm will struggle to make headway against Intel in the server market, given its entrenched position and advanced manufacturing capabilities. Intel, which largely missed the smartphone revolution, is now also snapping at the heels of Arm as it looks to move into the smartphone market itself.
"Intel is investing aggressively," says Mr Lambe. "It bought a big stake in Chinese chip company Spreadtrum and is working with another called Rockchip. Those companies use Arm technology at the moment but Intel's going to try to kick out Arm's technology and put in its own."
Mr Holway is more optimistic. For one thing, he believes concerns about the slowing smartphone market are misplaced: "If you look at Apple's latest results, they more than compensate for the slowdown at Samsung. The marketplace is still growing."
Arm recently unveiled a new range of chips for the next generation of smartphones and tablets; it is also expected to reap more benefits from its 64-bit chips. Apple adopted the architecture for its iPhone 6 and analysts predict a trickledown effect among rival manufacturers.
Mr Holway thinks Arm is better placed to explore nascent markets than rivals. "In some respects, Arm's relative smallness is to their advantage. They can be quite agile. They could decide to drop a design tomorrow and it wouldn't have any cost implications. If Intel decide to drop a design, they have to retool [and] do all sorts of stuff."
He says naysayers underestimate Arm's canniness, attributing its decade of success to the luck of riding the smartphone wave rather than to skill. He compares the company to a "jockey that always rides the winner", saying: "They've [backed] some really good trends over the last 10 years."
The City expects Arm to reveal full-year revenue of £783.6m today, up from £714.6m last year. Pre-tax profit is forecast at £405.7m, up from £364m. But it is Mr Segars' comments on the future of his business that will be most closely monitored for signs of what the next chapter holds for Britain's runaway technology success story.
Learning curve: The new smart gadgets
Themostats
'Smart' thermostats can be controlled remotely via smartphones and can 'learn' your heating habits.
Watches
Smartwatches can do everything from linking to your phone to monitoring health and fitness indicators.
Cars
Hi-tech systems for GPS, automatic breaking and other assisted driving features are all powered by smart chips.
Register for free to continue reading
Registration is a free and easy way to support our truly independent journalism
By registering, you will also enjoy limited access to Premium articles, exclusive newsletters, commenting, and virtual events with our leading journalists
Already have an account? sign in
Join our new commenting forum
Join thought-provoking conversations, follow other Independent readers and see their replies