Coronavirus: The economic impact so far in five charts
These graphs below show the damage that has been done – and some that might yet come in the future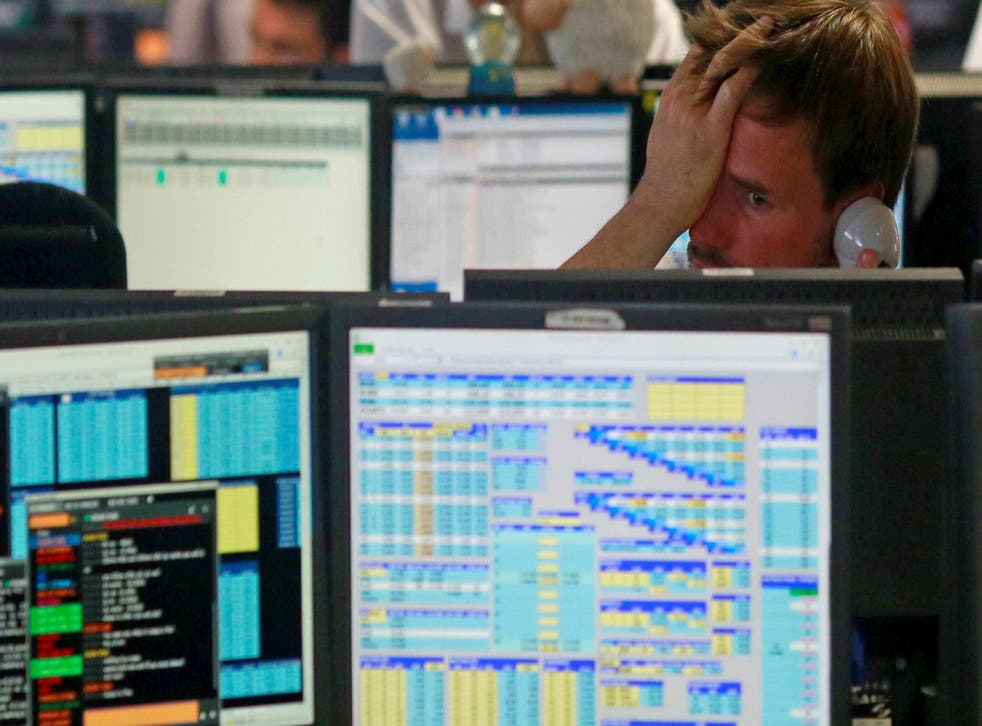 The World Heath Organisation has not yet declared coronavirus a pandemic, namely a disease epidemic that has spread in a self-sustaining fashion around the planet.
But Covid-19 has certainly shaken the planet's economy and financial markets already.
And further shocks are expected.
Some analysts are talking of the possibility of a global recession – something that has not been experienced since the financial crash of 2008-2009.
These charts below show the damage that has been done so far – and some that might still be to come.
1) China industrial production collapses
Economic activity in China, the world's largest manufacturer and a key link in Western companies' supply chains, has fallen off a cliff.
The Purchasing Managers' Index shows manufacturing activity as recorded by a broad survey of industry.
The reading for China in February has never been lower, not even in the global recession of 2008/09.
2) Major stock markets sell off
Last week saw the biggest fall in share prices of any since the global financial crisis in 2008, as traders woke up to the likely knock-on impact of the virus on global corporate revenues and profits.
The MSCI World is an equity index which reflects the share price performance of medium and large firms across the world.
It fell by more than 10 cent in the week to last Friday, erasing some $6 trillion (£4.6 trillion) in value from the value of listed corporations.
That will have inflicted a big paper loss on almost everyone saving in stock markets for their pensions.
3) Interest rates cut
The Federal Reserve, America's central bank, cut the official short-term rate of borrowing for the US economy by 0.5 percentage points on Tuesday to a range of 1 to 1.25 per cent.
This was the biggest single day cut to rates seen since the financial crisis, an indication of how serious policymakers think the situation could be.
Australia also cut its interest rates this week in the face of the expected slowdown.
Other monetary authorities such as the Bank of England and the European Central Bank are also expected to do the same, even though they have far less room to cut before they hit zero than the US, which had been raising rates between 2015 and 2018.
4) Government borrowing costs down
Government debt has jumped in price across the developed world in recent days.
This is partly because interest rates are expected to come down, which tends to automatically push up government debt prices.
It's also because government debt is generally considered a "safe haven" investment in times of crisis.
When the traded price of government debt rises, its interest rate, or yield, automatically falls.
This shows the coordinated falls in US and UK government debt yields in recent weeks, which is normally a signal of lower expected future growth.
5) Global growth forecasts tumble
The OECD, a mulitlateral government-funded think tank based in Paris, this week slashed its global growth forecast due to coronavirus from 2.9 per cent to 2.4 per cent.
And it said global growth could fall to just 1.5 per cent if the virus proves more serious than it currently expects.
Other international forecasters such as the International Monetary Fund are expected to follow in downgrading their own growth forecasts due to the economic impact of Covid-19.
In the absence of an extraordinary bounce back in the economy later in the year, 2020 is likely to see the worst year for global GDP growth in more than a decade.
Join our new commenting forum
Join thought-provoking conversations, follow other Independent readers and see their replies