Did Amazon scare Sainsbury's into a desperate Argos bid?
The US online retail behemoth and its plans to deliver groceries to British homes is the latest threat to the beleaguered UK supermarket sector. And it may even be behind this week's big merger news
Simon Neville
Thursday 07 January 2016 01:52 Comments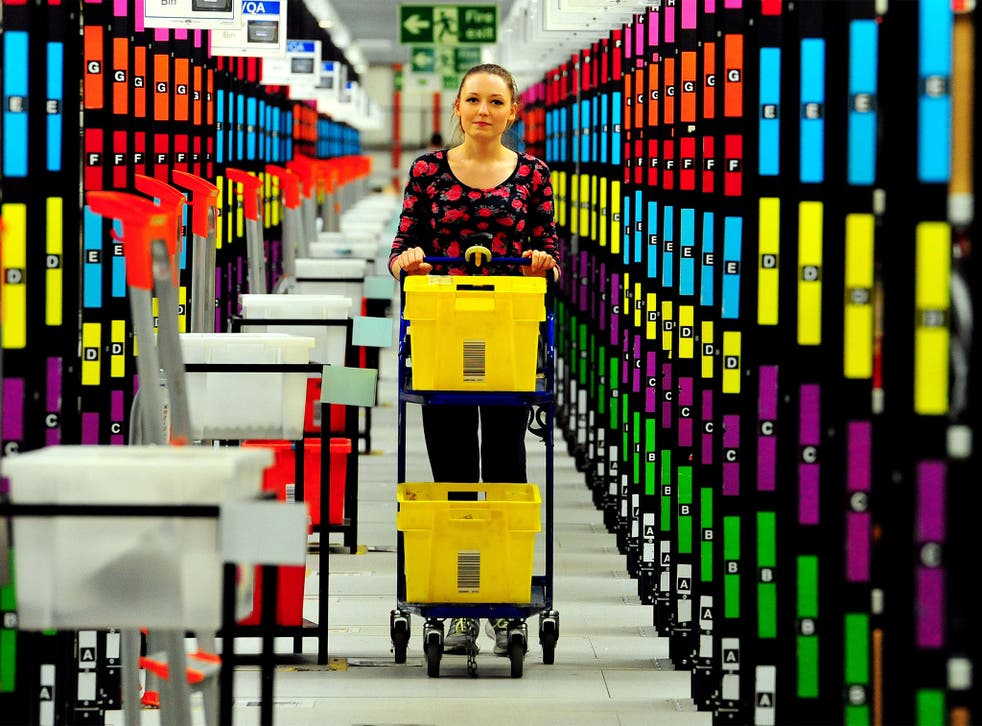 When Phil Clarke ran Tesco he would constantly be asked the same question: "Who is your biggest competitor?" And without fail, the former boss would swiftly answer: "Amazon".
And while Mr Clarke's legacy looks about as trashed as a North Korean nuclear testing site, his vision of supermarket battles with Amazon may not be wide of the mark.
Sainsbury's has typically never paid much attention to Amazon. The online retailer and the UK's second biggest supermarket have had little in the way of direct competition, with Sainsbury's focusing its attentions on slimming down its non-food operation and increasing food quality to pick off Waitrose shoppers and make it a viable alternative to Aldi and Lidl.
But with Amazon lining itself up for a tilt at grocery home delivery, Sainsbury's may think it cheaper to buy the next best thing to the online giant, in terms of a decent distribution network, than splash out the hundreds of millions it will cost to upgrade its creaky infrastructure.
And this could be why Sainsbury's is so "desperate" (in the words of several analysts) to get its hands on Argos, in one of the biggest retail deals since Dixons merged with Carphone Warehouse.
Sainsbury's has fallen behind its rivals when it comes to online operations – still using individual store workers to traipse through the aisles of its stores during the early morning, picking up the items on customers' shopping lists.
By comparison, Ocado and Tesco use massive automated warehouses – or "dark stores" – to pick stock in a fraction of the time.
Bosses also only recently introduced Tu clothes sales online for the first time at the end of last year, and in stores customers still cannot pay using contactless credit and debit cards.
Over at Argos, the company has invested millions in its new hub-and-spoke distribution network, which now allows for same-day collection and delivery on 20,000 products.
Bosses have also developed the ability to deliver Argos stores in tiny formats and still make a success of things – something Sainsbury's has done equally well with its Local branches.
Amazon, the lumbering giant of online retail, has been very coy about its grocery ambitions. However, it has quietly been snapping up warehouses and depots, with each new site tipped to be the birthing unit for Amazon Fresh UK.
In the US, Amazon has offered fresh food delivery for eight years, slowly rolling it out from a few suburbs in Seattle to major cities on the east and west coasts, including Los Angeles, San Francisco and New York.
But today users are charged a $299 (£205) annual fee to use the service before a single banana is purchased, and such a high charge would be pretty unpalatable in the UK.
Even Ocado, seen as the premium end of home-food shopping, charges a maximum of £100 a year for a delivery pass, and most analysts agree that Amazon will be looking to win more cost-conscious shoppers, who already get a good deal from all the big supermarkets with the option of one-hour delivery slots.
But if and when Amazon does decide to launch fresh food in the UK, which is getting closer with a heavy push into "pantry" items, only the bravest or foolish supermarket boss would fail to take notice.
Sainsbury's is also pushing hard into non-food again, after years of former boss Justin King insisting stores should be primarily about food.
Today Sainsbury's sells £2bn worth of non-food items and many bigger stores are being filled with clothes, homeware and even electrical gadgets. There are also the 10 stores that have incorporated Argos concessions, which Sainsbury's would no doubt capitalise on from the deal even further.
However, while the bosses of Sainsbury's have every faith that they can take on the might of Amazon – and chief executive Mike Coupe will be able to wax lyrical about it during next week's Christmas trading update – few in the City are convinced that Sainsbury's can be a worthy opponent of Amazon.
Clive Black, a retail analyst at Shore Capital, explained: "In gaining access to Argos' e-commerce capabilities and logistics, Sainsbury's also has to acquire a struggling business where problem-solving has to be at the core.
Acquiring problems is not always the ideal route to strategic solutions. Additionally, whilst Argos has undoubted heritage in remote shopping, we do harbour concerns about its on-going exposure to competitive challenge from pure-play online, most obviously from Amazon."
Deutsche Bank was equally unsure about the move, and said: "We would expect some Sainsbury's shareholder concern at acquiring a retailer which, for all its omnichannel expertise and property development potential, faces competitive threats from Amazon, Dixons Carphone and the discounters."
Business news: In pictures

Show all 13
Tony Shiret, a retail analyst at Haitong Group, said: "Why else would anyone countenance adding Amazon to their list of major competitors and take on 850 low-margin Argos retail outlets and 250 or so Homebase units that they thought would be a good idea to get rid of in 2000?"
The City is certainly unconvinced. But the question is, will Mr Coupe's legacy look like Mr Clarke's, or does he know something the rest of us don't?
Register for free to continue reading
Registration is a free and easy way to support our truly independent journalism
By registering, you will also enjoy limited access to Premium articles, exclusive newsletters, commenting, and virtual events with our leading journalists
Already have an account? sign in
Join our new commenting forum
Join thought-provoking conversations, follow other Independent readers and see their replies