Far East fakes: The burgeoning underworld of counterfeit goods
Imitation may be the sincerest form of flattery, but phoney goods are costing manufacturers billions in lost sales, and China is at the heart of the problem
Laura Chesters
Friday 09 November 2012 22:29 Comments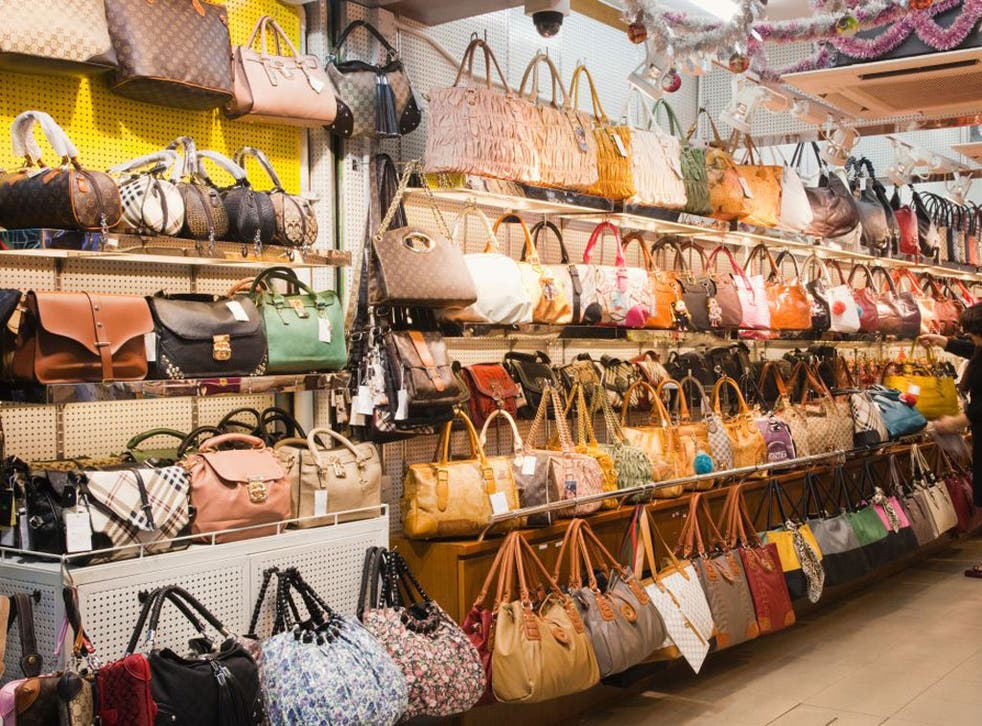 Beautiful watch lady? Nice price." On every corner of Nathan Road in Kowloon, men stand and wait to tell the next passer-by about the wonderfully cheap designer watches on which they can cut you a deal.
Further north at the Ladies' Market at Mong Kok, below neon signs and sandwiched between restaurants and electrical shops, stalls are laden.
There is Mulberry's Daria pouch purse in every colour you could dream of, Marc by Marc Jacobs handbags or Louis Vuitton-monogrammed wallets. The range is no smaller at Stanley Market on Hong Kong Island, where the glittering designer belts and boots are easily spotted between plastic children's toys and calligraphy sets.
China and Hong Kong have become the home of the luxury brand. The industry has spent billions ensuring they have the right shop on the right street and spend fortunes advertising their brand across the region.
But the success of booming sales has been undercut by a burgeoning underworld of counterfeit goods. Imitation – the sincerest form of flattery – is costing fashion houses billions.
The brand-protection company MarkMonitor puts the annual cost at £86bn across all business. Although heavily profitable, firms argue they have to raise their prices to combat the copycats and differentiate their products. Designers are also keen to keep their goods off the "grey market", where wholesalers sell their products outside the brand's authorised retailers, meaning they can't control the pricing and all-important shopper "experience".
The British leather goods brand Mulberry last month decided to cease selling its products in many Italian stores due to the fact its expensive handbags were ending up on the "grey market" and sold in China.
While the source of phoney goods is now also widespread, the Far East is at the core of the problem. Hong Kong's markets might be rammed full of sham merchandise, but it is more common for China to be the manufacturer rather than the consumer of copies. The country's thirst for luxury over the past decade has meant the knock-offs don't need to travel as far from the factory to find willing buyers.
"The distribution chains are the biggest issue for large businesses," said Jeremy Hertzog, the head of intellectual property group at Mishcon de Reya, who represents some of the luxury brands trying to fight counterfeiters.
"From market stalls to global networks, they distribute goods that can even end up in legitimate distribution channels through deception. It is a huge problem.
"The government has pretty much said it is the brands' problem to deal with," he went on. "Brands have to police their own sectors. There is obviously legislation there but I question how much is actually done to help stop the issue."
The counterfeiting culprits are a broad bunch. Mr Hertzog explained: "Previously, it was controlled by a small number of individual businesses. But now people are trading from home and there are many more of them than before.
"The trading and distribution networks are now sophisticated webs in the US, the UK, Europe, China and India. It is a global, cross-border business."
Ruth Orchard, the director general at the Anti-Counterfeiting Group, said: "People who buy fakes are leaving others to pick up the tab. The fake trainers you get for the kids today could fund the supply of drugs at their school gates tomorrow."
Shoppers hoping to snap up a designer bargain on eBay or from a discount website often think they aren't doing anything wrong. Many of the counterfeit websites sell the products for a price that can hardly be called cheap and the websites look convincing.
For example, a pair of Christian Louboutin heels can be bought for £150 rather than £595 or a YSL leather handbag could be £350 rather than £1,350. The naïve web surfer could be forgiven for thinking they weren't buying a fake, but were perhaps paying a wholesale price. And at the click of a button expect a perfectly wrapped item to wing its way from China to their door.
The big brands are taking a stand, however. Waiting at Felixstowe docks, Heathrow airport or Coventry's sorting office hub, teams are working alongside customs officials to try to spot dodgy orders.
The brands' willingness to invest in order to stamp out counterfeiting means they are spending millions to find and destroy such deliveries. The firms will then send letters to buyers telling them they have bought a fake from an illegal seller of counterfeit goods, which is now being destroyed by customs, and the shopper can wave their payment goodbye.
But brands will only pursue fraudsters if they think it is cost effective. Different brands have different strategies depending on the capital available. To police the problem companies must take civil court proceedings.
The US brand Coach this week won £160m in damages in a counterfeiting claim, after launching an anti-counterfeiting litigation campaign in 2009 called "Operation Turnlock".
Todd Kahn, Coach's executive vice president, says: "The magnitude of this judgment underscores the severity and illegality of counterfeiting, and sends a clear message that US courts will enforce the law."
In May, Burberry won a court battle against a rogue US website. A Burberry spokesman said: "Counterfeit goods are a major industry issue, impacting brands and customers alike.
"Burberry vigorously protects its intellectual property rights and, as such, we launched a website litigation program in December of 2010 to combat commercial websites."
The Anti-Counterfeiting Group estimates that 10 per cent of the value of the total legitimate UK market in luxury goods is lost to buying fake versions instead, and for an industry with sales at £234bn annually, that is a lot of cash.
Counterfeiting is just one of the problems which brands are trying to clamp down on. Mimicking products is another headache.
The high street favourite Primark has been hauled before the courts on numerous occasions for copying designs from furniture makers, Superdry and Monsoon to name a few.
But Mr Hertzog, and other lawyers like him, only spend a small portion of their time on rip-off handbags and copied T-shirts.
"People might think that counterfeit goods just affect fashion brands, but the sheer scale of the counterfeit industry is far wider," he said.
"It includes the pharmaceuticals industry, alcoholic drinks, automotive parts, software and hardware and more. Every commodity can be counterfeited – everything from condoms to toothpaste."
So the contraband on show along the Nathan Road really is only the tip of the iceberg.
Hong Kong: Shoppers and brokers
Luxury brands have been pouring into China to get a slice of the country's growing spending power. But Hong Kong's stock market has been just as desirable as its shopping centres. The fashion brand Prada and skincare brand L'Occitane went to Hong Kong to raise money despite being headquartered thousands of miles away in Europe.
L'Occitane's Asia Pacific president, Andre Hoffman, says: "China is the next big market for European brands. To list there was an obvious decision. The IPO [initial public offering] process was part of our marketing strategy for the brand.
"Many mainland Chinese companies from industrials to property companies used the route to advertise their products – whether it was aluminium tubes or mining. An IPO created investor interest, but the adverts used for the float are on billboards that hit wider retail investors too – people that will become our customers."
But all has not been well in the financial mecca for western brands. The cold that hit investors worldwide caught up with Hong Kong. Investor sentiment started to wane and the intricately planned roadshows to raise money for brands came to a screeching halt. The luxury London jeweller Graff Diamonds was a well-publicised victim. It pulled its plans to list in May after receiving orders for just half of its planned $1bn (£630m) fundraising.
It wasn't the only company to put the brakes on. The same week, two other groups suffered the same fate: the copper producer China Nonferrous Mining Corp and car dealer China Yongda Automobiles Services scrapped their plans.
Some analysts put Graff's failure down to idiosyncratic reasons around its company and sector. The US jeweller Tiffany had only just issued a profit warning, and better growth was offered at the luxury group Richemont compared to Graff's stated potential returns. Some investors were still recovering from their investment made in the Chinese jewellery brand Chow Tai Fook, which has disappointed. Either way, the investor fatigue was palpable. Experts expect Graff to restructure its business with bank debt and try again.
Register for free to continue reading
Registration is a free and easy way to support our truly independent journalism
By registering, you will also enjoy limited access to Premium articles, exclusive newsletters, commenting, and virtual events with our leading journalists
Already have an account? sign in
Join our new commenting forum
Join thought-provoking conversations, follow other Independent readers and see their replies