A View from the Top: Scot Gardner, Cisco chief executive, UK & Ireland, on GDPR and data protection in the digital age
'In modern business, data is part of the transaction,' Gardner says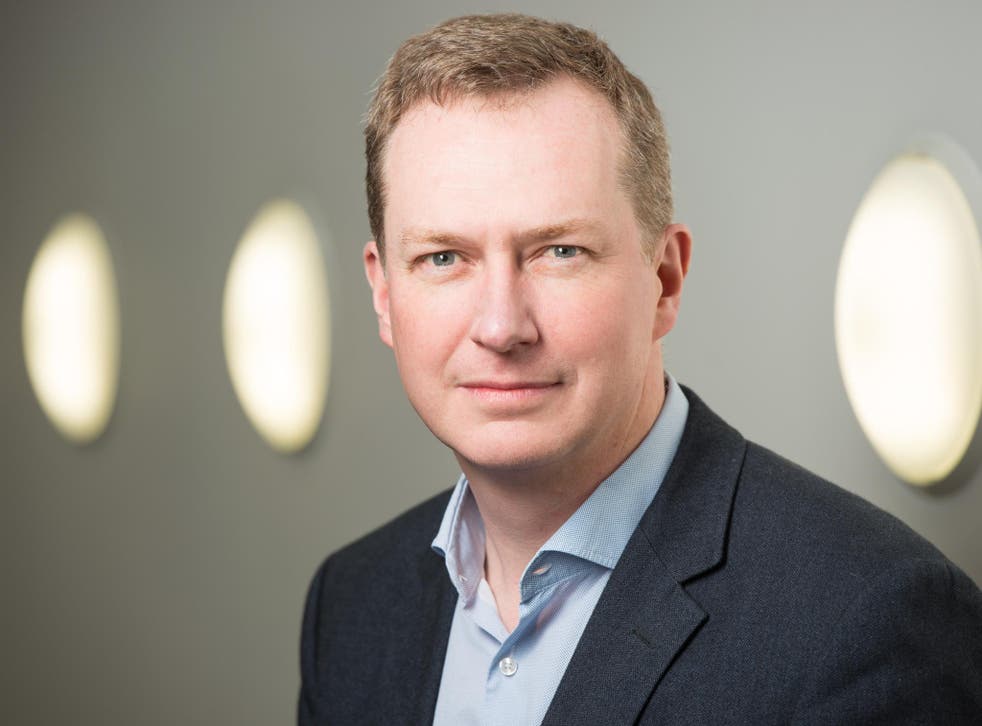 As parting gifts go, the GDPR regulation enacted by the EU is not a bad one for internet users. The begging emails filling up inboxes around the country will sever billions of connections between Britons and businesses that some people won't remember signing up to in the first place. Those emails, languishing without replies, signal the building of boundaries between people and the companies that harvest their data.
These ideas are nothing new to Scot Gardner. As the chief executive of Cisco in the UK and Ireland since 2016, he is leading the European arm of one of the world's largest technology conglomerates as it tries to make the internet a safer place – for users and businesses alike.
"The way to think about Cisco is that historically we connected anything across the internet," Gardner says.
He sometimes introduces the company to school children by asking them how they think their messages get from one phone to another through Facebook and WhatsApp, and then telling them: "We build, help, operate and work with the people that do a huge amount of what makes it possible for those things to be connected." Nearly every internet connection in the UK touches Cisco.
In the past decade, Cisco has shifted from creating and running these networks to ramping up its research and development in the next frontier in internet security. Gardner's job now encompasses everything from talking to museums about how they can safely digitise information, to managing a relationship with Interpol to keep the UK safe from state-funded cyber attacks. That's a huge task in an era when Russia is under investigation for interfering in the US election and UK banks are being forced to shut down systems under threat.
While the digital industry is global, it occurs locally, through those day-to-day interactions and transactions on computers and phones. GDPR is a first step in allowing individuals to redefine the way they interact, but in reality the work is only just starting. "GDPR is a very sound set of principles around what should be under the individual's control, and what businesses have to do to ensure that customers' data is protected," Gardner says. "You do have a choice."
Many businesses are not celebrating. For small firms the regulation could see the destruction of hard-won email lists of potential customers. Tech startups, video games companies and advertising companies from the US are reported to be among those pulling out of the EU entirely, fearing fines of up to €20m (£17.5m) or 4 per cent of global revenue after 25 May.
"In modern business data is part of the transaction," Gardner says. Cisco is one of two organisations advising the UK government on where data goes after it is collected, called 'data flows'. Data, like labour and goods, must be able to travel between jurisdictions for companies to be able to use it.
Brexit poses an obvious threat to the free flow of data between the UK and Europe. Gardner is confident that Cisco will adapt to the terms of the deal once it is finalised: "We operate in 122 countries, so we're used to operating globally. We'll adapt to the deal when we know what it is."
He is more concerned with creating a digital economy that will allow the UK to thrive whatever the conditions of trade. "Being a successful digital economy, to my mind, is more important than the political context of in or out of Brexit. If you look at the GDP growth numbers associated with a successful digital economy, they are the bigger numbers. So we must be very focussed on what makes a digital economy first and foremost."
In Manchester, Cisco has opened an innovation centre called Mi-IDEA with Manchester Science Partnership, to give students and startups a place to collaborate on ideas from transport to healthcare and housing. It is also involved in City Verve, an ambitious attempt to make Manchester a test case for smart cities in the UK. This involved smartphone-powered interactive tours of the city, sensors and smart inhalers to help relieve pressure on the NHS, and digital "nudges" to encourage Mancunians to be active and lower their risk of health problems. There are plans to make the transport system more efficient with talkative bus stations that allow people to "check in" to their stop to alert the bus driver that someone is waiting.
In short, Cisco is powering the networks that will soon run not only our WhatsApp and Facebook messages, but every aspect of our lives. Gardner is optimistic about this 'fourth industrial revolution', but wants to see the theories behind it tested. "It's really about connecting data and proving the use cases for citizens," he says. "But you have to make it real, it can't be just an aggregate discussed."
One place he'd really like to see better tech trialled is on trains. "I'm a commuter, I come into the city by train," he says. "One of my passions is how I get good broadband on the train. If I had good connectivity on the train I could leave earlier, see my family more or change how I behave. Even if I just want to watch a movie – at the moment that's a hard thing to do."
Through Project SWIFT, Cisco and partners ScotRail, CGI, Network Rail Telecoms and Wittos are trailing the fastest wifi on trains in the world, with internet speeds of up to 300Mbps. It is also working on improving connectivity to rural areas with new 5G networks. "Forty per cent of our population is rural. You think about farming techniques, tractors in the fields – it's important that we make available to people in remote communities the same connectivity as in more urban ones."
He might now be problem-solving connectivity problems on a much bigger scale, but Gardner has always liked fixing things. He started his career as an engineer and describes himself as a "keen DIYer". "I like fiddling with things and fixing them, messing about with engines." It was at Exxon where an employer noticed his passion for computing and asked it he wanted to move to the IT side of the business. Later a friend suggested he should get into "these things called networks". He joined Cisco a few years later. That was more than 20 years ago.
Alongside his work at Cisco, Gardner sits on the board of TechUK, a representative body for people working in tech, focusing on the next generation of digital skills and jobs. He also represents the charity XForces, which supports start-up and scale-up businesses in the UK military community.
Much of his work happens around big themes like security, productivity or data. But like a true engineer, Gardner is concerned about the details. "I want the UK to be at the forefront of the digital revolution, whether it's skills or whether it's jobs," he says. "But rather than it being broad-brushed, what does it mean for people's lives? I'm passionate about that."
Register for free to continue reading
Registration is a free and easy way to support our truly independent journalism
By registering, you will also enjoy limited access to Premium articles, exclusive newsletters, commenting, and virtual events with our leading journalists
Already have an account? sign in
Register for free to continue reading
Registration is a free and easy way to support our truly independent journalism
By registering, you will also enjoy limited access to Premium articles, exclusive newsletters, commenting, and virtual events with our leading journalists
Already have an account? sign in
Join our new commenting forum
Join thought-provoking conversations, follow other Independent readers and see their replies