Gerard Lopez: An F1 car helps for a man in a hurry
He has investments ranging from real estate to Charlie Chaplin. But right now he has Lotus on his mind
Margareta Pagano
Sunday 17 August 2014 23:13 Comments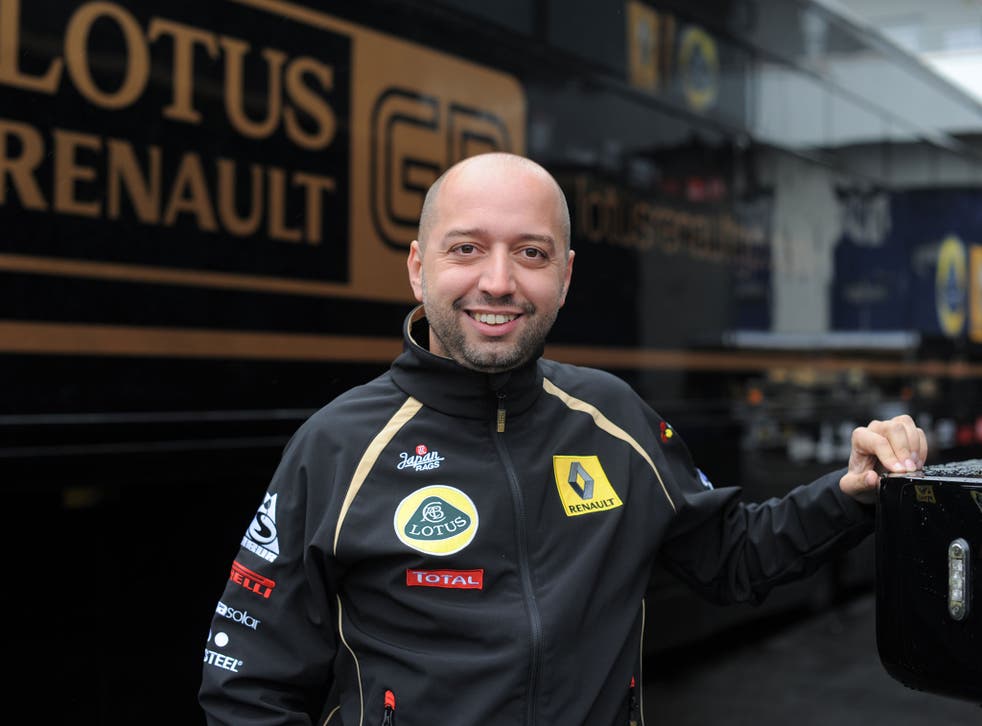 Gerard Lopez is crazy about cars, so crazy that he has 100 or so of them stored close to his office in Luxembourg. His favourite is a midnight blue Rolls-Royce Silver Cloud II with three previous owners – the actress Brigitte Bardot, singer Charles Aznavour and the shoe king Charles Jourdan.
He drives them all but the Silver Cloud tops the lot: " It's a unique feeling – whenever I get in the car, I think about the illustrious people who they had driving with them. Somehow I never feel it's mine, that I am just borrowing it."
Lopez has had a car bug since he was a kid but couldn't afford to buy one until he was 22, which is when he started collecting Austin Healeys and Jaguars. Now, 20 years later and with many millions in the bank, he and his business partner, and fellow Luxembourger partner, Eric Lux, also own the Lotus Formula One team through their privately owned and highly diverse investment company, the Genii Group.
When the Lotus team, then racing under the Renault name, came up for sale about five years ago, Lopez says it was an easy decision to take the wheel: "We both love cars, love speed. It may seem naive, even stupid, for us to take on the big boys but it's great business for us; Eric and I call it our 'embassy on wheels'.
"It's extraordinary what owning an F1 team does for networking," he adds. "Everybody who is anybody wants to be invited into the paddocks. You can't quantify the value of this network."
And it's fun too: "Owning an F1 team is like stepping into the costume of a superhero for the weekend. But then you get back to work in normal clothes like everybody else on a Monday."
While the black and gold Lotus cars are familiar to the millions who watch motor racing, the Genii name written on the side is less well-known outside the track.
But now Lopez and Lux have decided it's time for Genii to come out of the lamp as they are so fed-up with the rumours whizzing around the motor press alleging financial troubles at the group's investment management arm, Genii Capital, because of Lotus F1.
The 42-year-old Lopez is based in Luxembourg and has flown in by private jet to meet me at Genii's offices in the Ritz building in Piccadilly – and put the record straight. He says: "It's absurd to say that Genii has financial problems. Yes, Lotus has lost money, like every other F1 team in the world.
"Running Lotus cost us about €50m [£40m] last year and the related debts are about €100m, but the business is supported by shareholders and partners and represents only 10 per cent of our overall companies; the rest of Genii is profitable.
"We support Lotus with debt, not sponsorship like the other big teams. Only $6m of debt in the holding company of F1 is from banks. People are trying to compare apples with pears when it should be apples and apples."
In fact, Lotus is improving: the accounts for 2013, due to be filed in a few weeks, will show that losses have been reduced with Lotus close to break-even, give or take €10m. There's goodwill in the brand, between $36m and $166m a year, and a recent capital increase valued the F1 team at more than $330m. And the Genii Group is well funded, with unleveraged liquidity of more than $400m for strategic investments.
"What's amusing to us is that Lotus – the David against the Goliaths – is always in the public eye more than the big teams like Red Bull and Ferrari. But F1 is a bitchy world and smear campaigns between rival teams are commonplace."
Today Lopez is not in superhero gear – more downtown in black jeans and T-shirt and a baseball cap. But his life has a touch of the larger-than-life action adventure story: the son of Spanish political refugees who fled Franco for the safety of Luxembourg, he was recognised as being exceptionally bright as a child – his IQ is 182 and he speaks seven languages fluently – but he disliked school, being thrown out of three.
Studying at Miami University changed his outlook. Lopez discovered a love for learning and campus life and was set on academia until one of his professors told him to "stop wasting your time and do your own thing". That was it – although thing quickly became things in an entrepreneurial dash across diverse business sectors.
This was the mid 1990s and he taught himself everything about the internet, setting up a website company in the US before returning to Luxembourg to start a car leasing firm. "I wanted to buy a Porsche 911 but couldn't afford it so tried to lease one and couldn't. So I set up a leasing company.'
The professor was right: by his mid-twenties he had made a couple of million. Then he met up with Lux, who had been working at his father's logistics business and whom he had known from school. They pooled their money and set up Mangrove Capital Partners, a venture capital firm, investing early in start-ups like Skype and raising nearly half a billion dollars.
Lux's speciality, real estate, has been a great success and Genii owns over a million square metres of prime land. The portfolio is worth around $1bn – they recently bought into New York's tallest building, Essex House, and plan to add another $1bn of assets.
Energy trading is another arm of the empire and they have licences to trade, store and distribute oil and gas across Africa. "We have capacity for over a million metric tonnes a year, making us one of Africa's bigger players," says Lopez.
Another calling card, almost as hot as F1, is Genii's investment in the new Charlie Chaplin museum being built in the grounds of Chaplin's house – which they own – on the Swiss Riveria. It is due to open in two years' time. "It's a bit like F1 for us: the museum is unlikely to make huge money but we are passionate about Chaplin and want our children to remember his genius."
Lotus may be only a tiny bit of Genii but it's still their dream to get it back on track after a horrible year on the circuit due to engine problems. Lopez is not giving up: "We have big plans and ambitions for next year. We wouldn't be in this business if we weren't out to win."
Register for free to continue reading
Registration is a free and easy way to support our truly independent journalism
By registering, you will also enjoy limited access to Premium articles, exclusive newsletters, commenting, and virtual events with our leading journalists
Already have an account? sign in
Join our new commenting forum
Join thought-provoking conversations, follow other Independent readers and see their replies