Groupon, the $30bn company that (surprise!) didn't match the hype
As the daily coupon pioneer cuts 10 per cent of its workforce and closes its operations in seven countries, Andrew Dewson looks at what went wrong at a group that less than four years staged the biggest flotation in New York since Google 
Andrew Dewson
Wednesday 30 September 2015 16:08 Comments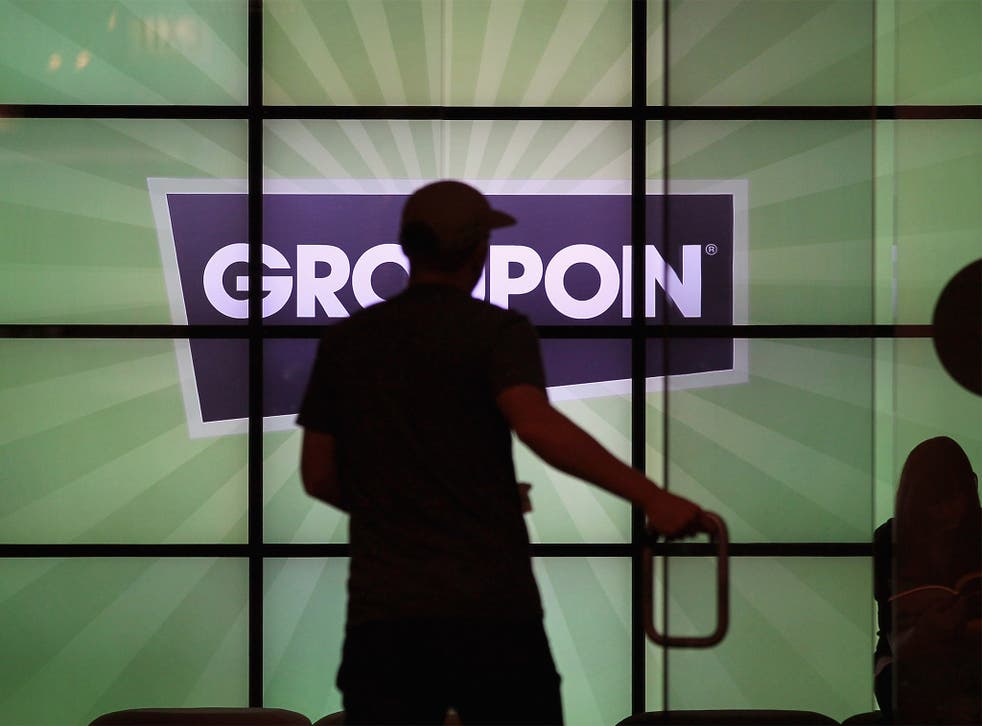 Hard though it is to believe now, when Groupon went public in November 2011 its $12.8bn (£8.4bn) valuation made it the largest initial public offering since Google hit the markets in 2004. It seems like a long time ago now – even if less than four years have passed.
Shortly after its IPO the company had a market value of more than $30bn, but far from being the "game-changing" business its backers imagined it would become, Groupon is in grave danger of becoming a footnote with little prospect of recovery. Its current market value is less than a tenth of its peak.
This week's announcement that the discount retail and restaurant coupon company, which has never reported an annual operating profit, is withdrawing from seven more countries and cutting 1,100 jobs – 10 per cent of its workforce – was shocking but predictable. It has already withdrawn from Greece and Turkey, and in early 2016 will phase out operations in Morocco, Panama, the Philippines, Puerto Rico, Thailand, Taiwan, and Uruguay. Small beer, perhaps, in terms of operational importance, but much more significant as a portent of a company struggling to make its business model work.
So where did it all go wrong? In fairness, Groupon itself had little to do with investors falling over themselves to buy the stock after its IPO and forcing its price to unsustainable levels. Its peak value looked ridiculous at the time and has proven to be just that. There was no shortage of bulls willing to pay any price for the stock, but there were also plenty of bears unable to understand how a business with zero barriers to entry and very little brand loyalty could be worth such a sum.
That lack of barriers to entry appear to have been its major stumbling block. Small competitors such as Living Social and The Daily Deal appeared almost instantly, while major retailers cottoned on to the idea just as fast. Trying to compete with small upstarts is one thing; trying to compete with Amazon is another.
For what many people still consider to be a tech start-up, Groupon also has a significantly larger workforce than its peers. The latest layoffs still leave it with the best part of 10,000 employees – about the same number as Facebook.
Groupon's initial success was founded largely on its novelty and its emphasis on bringing customers to local businesses, although anecdotal evidence suggests that some small businesses struggled to cope with the volume of business its coupons created, and also failed to calculate how low their margins would go if all of the coupons available were redeemed. That anecdotal evidence made some businesses reluctant to use Groupon and resulted in generally less attractive coupons.
With revenue flatlining and sales growth that plateaued within a year of going public, Groupon's decline is hardly an overnight occurrence. The problems highlighted when its founder, Andrew Mason, was ousted as chief executive in February 2013 remain problems today. Writing to staff following his departure, Mr Mason said: "I was fired today. If you're wondering why… you haven't been paying attention… Two quarters of missing our own expectations and a stock price that is hovering around one quarter of our listing price, the events of the last year and a half speak for themselves." Mr Mason's tenure at the helm ended soon after the CNBC commentator Herb Greenberg crowned him the "Worst CEO of 2012".
Far from turning things around, performance has gone from bad to worse under Mr Mason's replacement as chief executive, fellow founder Eric Lefkofsky. Investors will have noted that Groupon's directors have also displayed little faith in their own ability to turn the company around over the past year. According to filings with the Nasdaq stock exchange, Groupon directors have been selling stock with unseemly enthusiasm over the past 12 months. For every share they have bought, they have sold almost 24.
Despite its woes, Groupon does at least have one thing going for it: cash. The company has about $1.1bn of cash or cash equivalents, and no long-term debt apart from $17.5m in lease obligations. Analysts believe that the company could make acquisitions to bolster its market share, although its track record in merger and acquisition activity so far has done nothing to improve its performance.
Thanks to its poor performance over several years, Groupon is becoming increasingly less attractive as an acquisition target and the cash on its books will be worth less than its face value in the event of an acquisition because buying a public company is an expensive undertaking in itself.
Groupon still makes money. The problem is that the number of people signing up for its coupons stopped growing years ago. Google, itself a failed player in the daily coupons market (Google Offers was closed last year), allegedly offered Groupon $6bn for the business in 2010. Luckily for Google, Groupon's management turned down the offer.
Retreating from small overseas markets makes sense for Groupon, but it may be too little too late. It failed to expand as expected outside the US, which now counts for 60 per cent of its revenue, and its business is surprisingly high maintenance for what turned out to be a low-margin model.
As a generic term for discount coupons the name Groupon may well outlast the company, because, barring a minor miracle, its days appear to be numbered.
Register for free to continue reading
Registration is a free and easy way to support our truly independent journalism
By registering, you will also enjoy limited access to Premium articles, exclusive newsletters, commenting, and virtual events with our leading journalists
Already have an account? sign in
Join our new commenting forum
Join thought-provoking conversations, follow other Independent readers and see their replies