How bookshops could be happy ever after: ebooks could provide new revenue stream
Now they can cash in on ebooks, sellers are making shelf space for e-readers and can see a way forward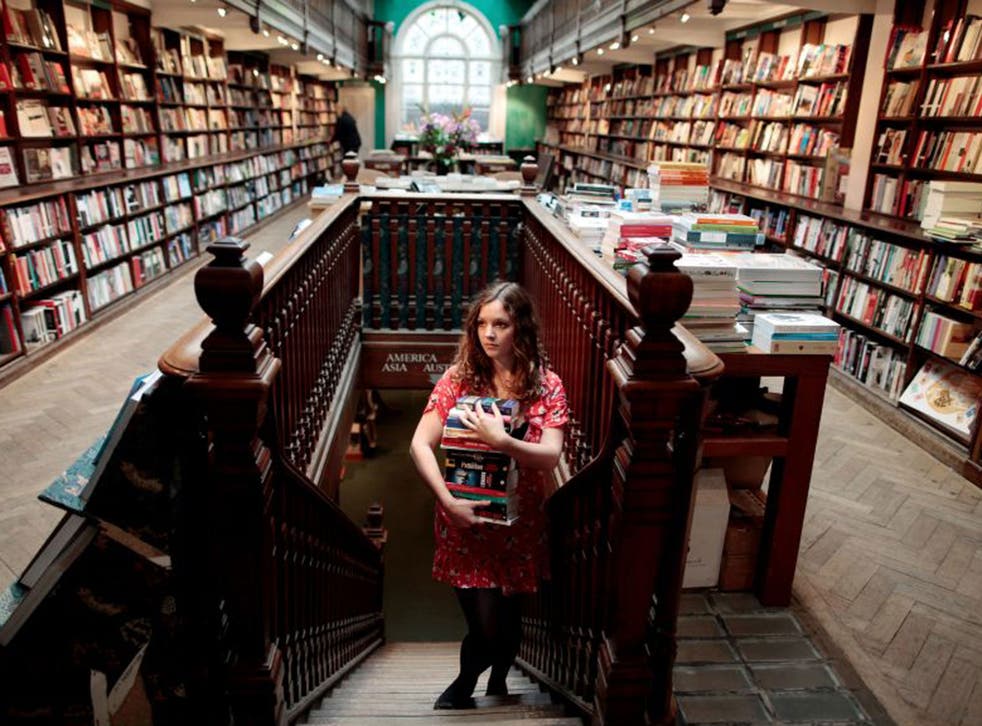 Let battle commence: Amazon's Kindle has cornered up to 90 per cent of the ebook market by some estimates. But high street booksellers are starting to fight back. The Kobo and the Nook have arrived, securing deals with retailers to allow their eReaders to be sold in physical bookshops, which can then take a cut of future ebook sales.
With Amazon's corporate behaviour increasingly unpopular – its tax affairs have generated a furious backlash –there seems to be a ready market for an alternative that could provide Britain's independent booksellers with a much-needed new revenue stream.
Ron Johns, who owns the Bookseller in Falmouth and St Ives in addition to independent publisher Mabecron, is a convert.
"Kindles have about 90 per cent of the market, which means Amazon virtually controls it. Only in the last two months have indies been able to sell a reader, mainly Kobos. Through the Booksellers Association, who have organised and orchestrated it, we get a kickback from every ebook sale from a Kobo reader that we sell."
Smaller booksellers still have concerns about the rise of the ebook. Mr Johns cites the recent appearance of Alan Hollinghurst's The Stranger's Child at just 20p: "That was a shake. If an ebook is that cheap it doesn't generate enough income for anyone. If that sort of thing becomes the norm the economics of producing a book becomes shaky and it doesn't help anyone because the trade will collapse."
But they are having to find ways to live with them. ebooks are growing rapidly in popularity and WH Smith, for one, has gushed about the "incremental" opportunity of its "ahead of plan" partnership with Kobo.
And they might not have quite the devastating impact MP3s have had on the music industry if publishers wake up to the opportunities.
Patrick Neale, co-proprietor of Jaffé & Neale in the Cotswolds town of Chipping Norton, serves as president of the Booksellers Association. He says he realised he had to do something when people started turning up to the cafe in his shop armed with e-readers which they would read over coffee.
"The thing about having the Kobo in store to sell now is that it gives me an opportunity to talk about mixed formats when customers come into the shop. And at least customers' e-readers get them into the shop, which means I can talk to them, and perhaps get them to buy a book while they're here," he says.
"The research suggests that people will probably buy a mix of formats."
To capitalise on that research, Mr Neale would like to be able to "bundle" ebooks along with physical books in a similar manner to the way premium price Blu-Rays can often be bought as a "combi-pack" with a DVD and a digital download thrown in. Magazine publishers have gone down this route, as have comic book publishers such as Marvel. But so far book publishers have held back.
"We would love publishers to bundle. Bundling to me seems like a good idea but they are scared to proceed because they are worried about how to price the bundles. Amazon will inevitably drive the price down, of course. It just needs someone to be brave and take the jump," says Mr Neale.
One thing that might hold the Kobo back is the surprising lack of cross promotion through its owner Rakuten's other big UK business, play.com, in stark contrast to Amazon, where the Kindle is aggressively pushed through the retailer's home page.
play.com has closed its retail business after the Government stopped it selling goods free of VAT out of Jersey. It is now focused on acting as a marketplace for others. But why that should stop it from pushing Kobo is a mystery. That's not an issue for Barnes & Noble, which has successfully taken huge chunks out of Amazon's market share in the United States with its Nook. The giant bookseller has secured a number of tie ups for the entry of its e-reader into the UK.
While Barnes & Noble doesn't have anything like the brand recognition here as it does at home, it might not need it with the likes of Sainsbury's, John Lewis and Foyles on board.
Foyles' chief executive Sam Husain says: "The Nook is a fairly recent entrant to the market but it had huge success in the US against Kindle. What's important to us is it is made by Barnes & Noble, and they're another bookseller. We only started selling it on 29 October and we've been very satisfied. The screen is better, it's light and now backed by Microsoft."
Mr Husain is optimistic that the exploding ebook market need not be a bad thing: "I believe that there is a really good future for the bookselling industry." Even Amazon has enlisted the help of a physical bookseller, setting up a partnership with Waterstones. Kindles bought there have access to unique content, such as the Waterstones blog, and come with different screen savers. More unique add-ons are planned, although by contrast to the Kindle's competitor devices you still have to use the Amazon store.
Mention the word Amazon to Mr Johns and he gnashes his teeth, likening the company to the three-legged war machines in HG Wells' War of the Worlds. "What we need is a virus to take them down, like in the book," he says. The Kobo, and the Nook, might not take down the Kindle, but at least they can cut into the giant's dominance.
Philip Jones, editor of the trade paper The Bookseller, believes they have a shot: "If you look at the owners, they are big companies with a lot of financial clout so yes, they do have a chance to take Amazon on."
And if not? Well maybe the Kindle's closed shop will need to be broken up.
Says Mr Jones: "Estimates put Amazon's market share at 80 to 90 per cent of the ebook market. That's the sort of number that I'd certainly want to take a look at if I were a competition regulator."
Three of the best: From Kindle to Nook
The Kindle:
Owned/Made by: Amazon
Tie ins: Waterstones
eBook sales: Closed shop: through Amazon only. Details of the Waterstones deal have not been disclosed but is thought to take a cut from books sold through its Kindles. Users can "side load" ebooks from other sellers on to Kindle but can't transfer Kindle books.
Price: From £69 to £169. The 3G colour tablet costs from £159.
The Kobo:
Owned/Made by: Canadian company Kobo, owned by Japan's Rakuten
Tie ins: WH Smith/independents
eBook sales: Kobo, WH Smith and from some independent stores and their websites.
Prices: The "mini" costs £49.99, the Glo is £99.99 and the top-priced version is £159.99.
The Nook:
Owned/Made by: US bookseller Barnes & Noble
Tie ins: Foyles/John Lewis/ Sainsbury
eBook sales: Barnes & Noble site, but you can also buy from other sources.
Prices: The Simple Touch goes for £79. Simple Touch Glow Light eReader tops out at £109.
Join our new commenting forum
Join thought-provoking conversations, follow other Independent readers and see their replies