How traditional markets are fighting back
A host of radical ideas and local traders and producers are helping the original retail experience fight back against the internet shopping revolution. Meg Carter reports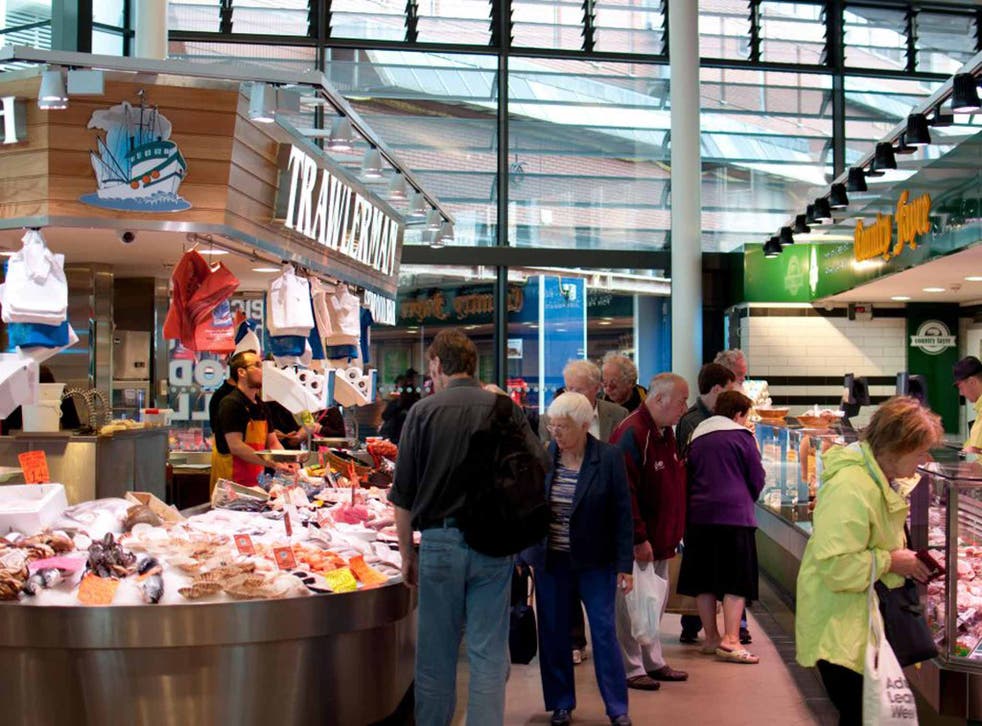 In an era of online shopping in which high streets are in decline and even a major retailer such as Tesco is struggling, the traditional town market may seem like little more than an outdated throwback to a medieval age. Yet thanks to our growing appetite for local produce – edible and otherwise – our desire to get up close and personal with local producers, and a new generation of innovative younger traders, the town market's fortunes are once more on the rise.
For proof, look no further than the Northamptonshire town of Kettering, which hosted its second Teenage Market last Saturday – a day of stalls showcasing local young traders' talents, produce and innovative ideas for all ages.
The market, funded by Kettering Borough Council Markets and the town's Youth Council, is the brainchild of Tom and Joe Barratt, who, as teenagers, created the Teenage Market as a local event in their home town of Stockport, offering local teens free market stalls to sell their wares.
Promoted online and via social media, the Barratt brothers' first market, in April 2012, attracted 70 traders, 20 performers and thousands of people into Stockport's old town centre. Since then, the pair have run more than a dozen other market events and are now licensing the Teenage Market concept across the country.
"The success of the Teenage Market is all about individuality – attracting a new kind of market trader with unique products and ideas which you won't usually find on the high street," explains Joe, who is 21.
"Traditional markets typically attract older people who've been visiting them for 30, 40 or even 50 years. But a fresh approach can create a new destination in town centres for a wider range of people – younger people, especially – with opportunities for a new breed of market trader. For a sector whose future has been uncertain for many years, this can only be good news."
In 2009, a report by the National Association of British Market Authorities (Nabma) suggested that 25 per cent of the UK's local markets would close down by 2020. By 2013, however, its findings showed a markets sector more than holding its own, with 65 per cent of Nabma members reporting stallholder numbers up, 57 per cent reporting higher footfall and 58 per cent reporting profits either up or stable, year-on-year.
Moreover, this year has seen the fruits of substantial investment in markets by local councils. Leicester Market now boasts the 5,500 sq ft Leicester Food Hall, following a £9.2m upgrade. And the formerly struggling Brighton Open Market reopened in July and is now open every day. Sheffield invested £18m in the Moor Market, which opened at the end of last year.
"What we are seeing is little short of a revolution in local markets with the local authorities – operators of most of the country's local marketplaces – either upgrading facilities or opening up their running to local community groups and private businesses to revamp the market offer," says Nabma's chief executive, Graham Wilson.
While he still expects rationalisation – with those markets unable or unwilling to update closing between now and 2020 – he insists the outlook for the local market today is far brighter than it was just five years ago. The reason? The combined effects of the success of local farmers' markets with the democratisation of foodie culture and growing interest in local producers as community spirit has been rekindled, in part, by recession.
Many local authorities, meanwhile, have been championing the upgrading of their markets, adds Ellie Gill, who runs the Love Your Local Market campaign and last year helped to launch a market in the Wiltshire town of Trowbridge in direct response to the self-styled Queen of Shops Mary Portas's 2011 report on the future of the high street, The Portas Review.
"Local markets are no longer about cut-price tat and counterfeit goods," she insists. "Instead, they're now recognised as a great place for local businesses to try out new ideas. And by creating a colourful and vibrant alternative to homogeneous, bricks-and-mortar retail outlets, they are a great way to mask the well-documented decline of the British high street, too."
As – if not more – important, however, has been a fundamental shift in shoppers' attitudes, according to Jim Whyte, the head of insights at the leading branding and design consultancy Fitch London.
"Consumer behaviour has changed fundamentally in recent years. Not so long ago, we used bricks-and-mortar shops to locate products – something most of us now do online, leaving the physical retail environment as somewhere we go to explore, to dream, to be inspired," he says.
"And this is where local markets – many of which take place at weekends, when consumers have time free – come into their own. It's because of the opportunities they provide to explore, to encounter the unexpected, and to talk to the people behind many of the goods on sale – the local producers."
It's a suggestion that certainly strikes a chord in Hebden Bridge, West Yorkshire – a town built at the point where packhorse drovers once converged to trade their goods where today, at least two different markets pop up weekly – usually in the car park opposite the town hall.
Wednesday is bric-a-brac market day, where, in recent weeks, students – selling the contents of their wardrobes to make money for the start of term – have stood alongside regular stalls stocked with anything from antique and vintage to quality pre-loved toys, local resident and market enthusiast Helen Meller explains. The food market, meanwhile, is on Thursdays, with stalls including one selling delicious handmade pies and another piled with freshly caught fish.
"The great thing is not knowing what might turn up, as no two market days are ever the same – last week, along with Hunter wellies and old typewriters were fox and mink collars and lobster pots," she says.
"On a Thursday, everyone here buys fish from Paul the fishmonger, who collects his catch from Fleetwood at first light and is here by 7.30am. It's not so much price that primarily attracts people but the fish, the banter and the ritual of it – the recipes exchanged and the fishy tales told."
And it is this which is, perhaps, the local town market's most enduring strength. For at its best, Wilson points out, a local market is "a celebration of what's great about its own particular community".
Join our new commenting forum
Join thought-provoking conversations, follow other Independent readers and see their replies