Insurance offers new hope to Africa in fight against drought and natural disasters
A programme run by the African Union hopes to provide member states with immediate aid following catastrophes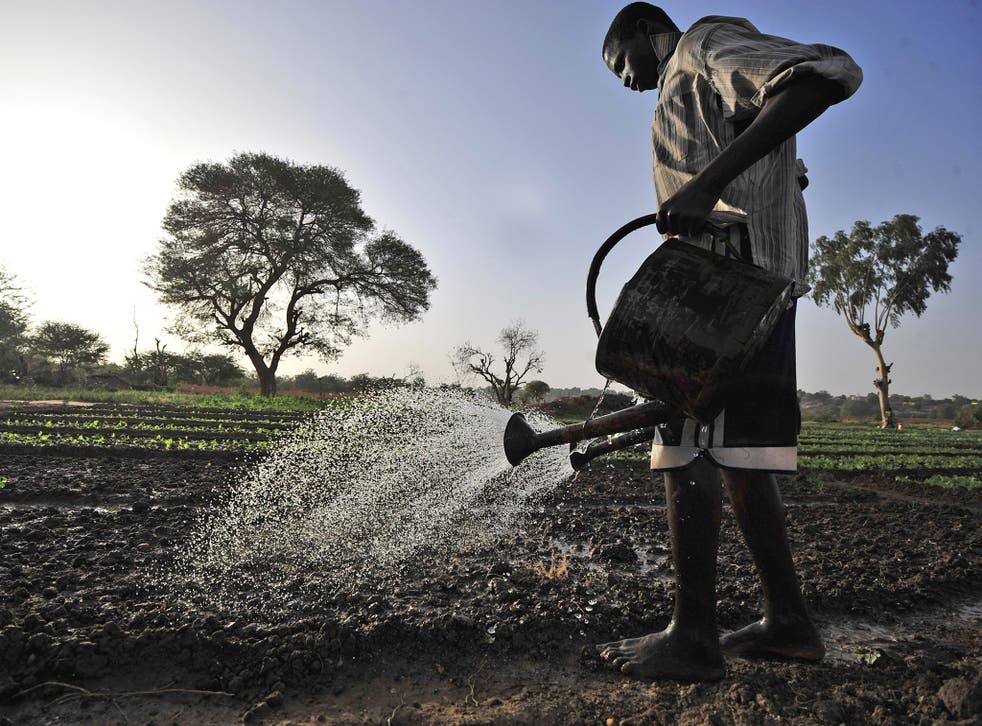 It has been 30 years since Michael Buerk's report on the 1984 Ethiopian crisis was broadcast, horrifying millions of viewers across the world with images of the country's "biblical famine".
Pop concerts, charity songs and fundraising campaigns were organised to provide disaster relief, yet Africa remains a continent ravaged by war, flooding, drought and disease, which continue to hold back its growth despite economic progress.
In a report last year, Birhan Woldu, the Ethiopian "miracle girl" whose face came to symbolise the Live Aid concerts of 1985, warned that food aid was failing Africa's poorest people, with more focus needed on preparing for future droughts.
"We know our vulnerabilities. We are a proud people. Let us grow our own food and help manage our own systems so we are not hit so hard when the next drought or flood comes," she said.
One programme aiming to help Africans do this is African Risk Capacity (ARC), which was set up by the African Union and United Nations to help member states prepare for extreme weather events and protect "food insecure" populations.
Several months on from its launch last May, the insurance programme has already paid out a total of $25m (£16m) in claims to Niger, Mauritania and Senegal, triggered by drought in the Sahel region.
Drought accounted for, on average, 34 per cent of all World Food Programme operations in Africa between 2002-12, a good proxy for overall international aid flows. ARC analysis suggests that a widespread catastrophic drought in sub-Saharan Africa today could cost upwards of $3bn in emergency assistance; this would put an unprecedented financial strain on African countries' and donor countries' aid budgets.
"ARC was established to help African countries build their own capacities to prepare for and respond to predictable natural disasters, such as the next drought or flood," said programme director Joanna Syroka. "At a time when international aid budgets are stretched more than ever before, ARC is an important step forward in creating a sustainable African-led strategy for managing extreme climate risks for the continent."
ARC Ltd, a Bermuda-based mutual insurance company, which was backed by UK and German government agencies, sits at the heart of the programme and has so far issued policies to Niger, Mauritania and Senegal as well as Kenya and Mozambique. They pay premiums of about $3m-$4m in return for annual drought coverage of up to $30m.
ARC Ltd uses a sophisticated software application – Africa RiskView – to estimate crop losses and drought response costs during and after a growing season. This triggers insurance payouts if rainfall has been lower than expected, causing drought conditions.
"ARC insurance payouts are designed to be released to participating countries early – before international aid is available – reducing the time it takes to reach vulnerable populations who depend on government assistance in times of crisis," Dr Syroka added. "Before a country can receive a payout, it must first have a Final Implementation Plan, approved by the ARC Agency governing board. This outlines how the government will convert the payout into timely and effective assistance to those affected and is a scenario-specific version of the more general ARC Operations Plan that was approved before the country bought insurance."
According to Simon Young, who runs the insurance arm, the policies are expected to pay out once every three to five years, with maximum payouts of up to $30m in each country happening once every 30 to 50 years. He previously helped develop and run the Caribbean Catastrophe Risk Insurance Facility, which was set up in 2006 in the wake of Hurricane Ivan. This has grown to cover 16 Caribbean countries and protects against hurricane and earthquake damage and has paid out nearly $35m since being launched.
In terms of how the ARC money is spent, he said: "If we look at Senegal, most affected areas are towards the north of the country, where there is a lot of livestock. Most of the money will go towards direct food aid or livestock feed distribution. It's not about air-dropping flour – we're working within local systems to help local markets respond."
In May, ARC expects to welcome new countries into the fold, which may include Burkina Faso, Gambia and Zimbabwe, and even more in 2016. It is also working on plans to add flood and tropical cyclone coverage next year.
"At last week's African Union summit in Addis Ababa, our member states requested ARC also develop coverage for disease outbreaks and epidemics such as Ebola. We aim to insure the first four participating states against such diseases in 2017," Dr Syroka said.
The scheme has been backed by the wider insurance market, with broker Willis securing $55m protection for ARC Ltd from major reinsurers. Claire Wilkinson, a partner at Willis's weather risks practice, said: "It is heartening to see so much support from the industry for a project that has the potential to do so much good."
The African Union: Power and politics
The African Union (AU) is a continental organisation set up to promote political and economic integration among its 54 member states.
Morocco is the only African country not to have joined the AU, which debates issues across the continent and advises heads of state.
Its long-term plans include a court of human rights, a central bank and even a single currency, although this remains some way off. The AU's Peace and Security Council can deploy troops in conflicts that involve genocide and crimes against humanity.
Critics have attacked the AU for failing to intervene in the Libyan conflict. It has also been criticised for not having enough money to fund some of its more ambitious schemes. China built and paid for its headquarters in Addis Ababa, Ethiopia.
Register for free to continue reading
Registration is a free and easy way to support our truly independent journalism
By registering, you will also enjoy limited access to Premium articles, exclusive newsletters, commenting, and virtual events with our leading journalists
Already have an account? sign in
Register for free to continue reading
Registration is a free and easy way to support our truly independent journalism
By registering, you will also enjoy limited access to Premium articles, exclusive newsletters, commenting, and virtual events with our leading journalists
Already have an account? sign in
Join our new commenting forum
Join thought-provoking conversations, follow other Independent readers and see their replies