The rise and fall of Jamie Oliver's overambitious food empire
The mediocre restaurant chain is no more, but should he have seen this coming? asks Julia Platt Leonard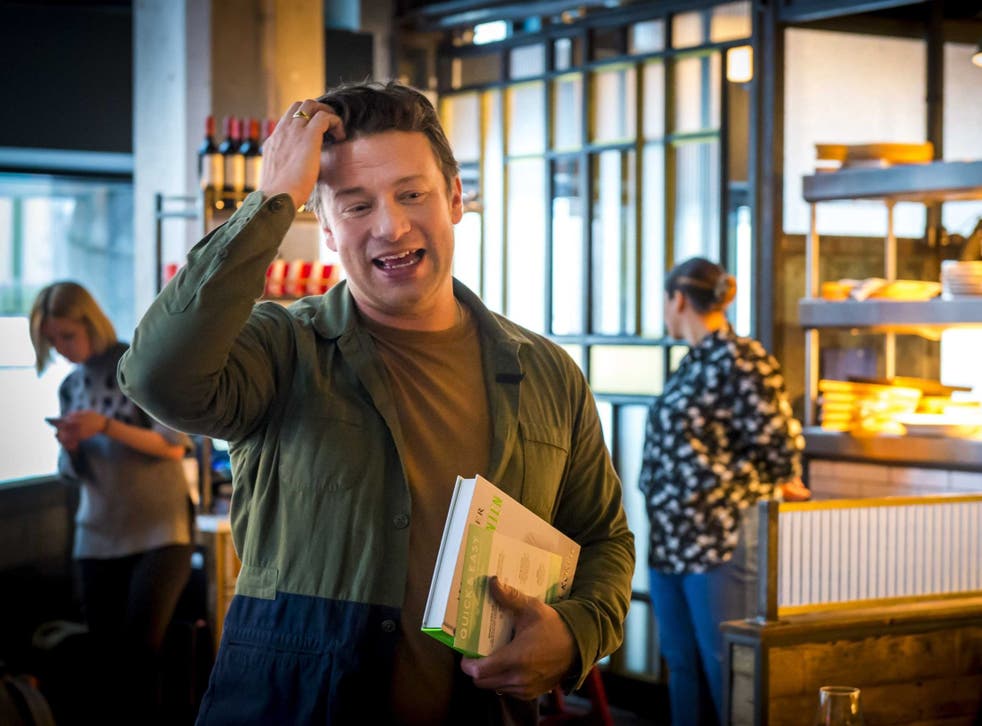 They're calling it the revenge of the Turkey Twizzlers. The news that Jamie Oliver's restaurant group has gone into administration has lit up the Twittersphere with jokes that the highly-processed foods – banned from school dinners, thanks in part to the 2005 series Jamie's School Dinners – has had the last laugh. But with a 1,000 jobs at risk, it's about the only laugh, as administrators step in to sort out a mess that will affect workers across the country.
Should Oliver have seen it coming?
Oliver was criticised over how he should have spent more time on the business and less on his status as a celeb chef. It seems clear that he over expanded – his restaurant group includes Jamie's Italian chain, Barbecoa and Fifteen (Fifteen Cornwall is unaffected) and numbered dozens of restaurants. His empire has been under pressure for several years with a steady drip feed of closures. In addition, he stopped the presses on his magazine, Jamie in 2017.
No doubt, escalating high street rents share some of the blame, as well as labour costs and business rates. Throw into the mix that the way we eat is changing. We're dining out less and letting Deliveroo do the work. The quarterly Market Growth Monitor from CGA and AlixPartners, says the number of restaurants in Britain fell by 2.8 per cent in the year to March 2019. That translates into 768 net closures over 12 months, or about 15 per week – the fifth successive quarter of decline. Compare that to the heady days of 2013-18 when the restaurant sector expanded by more than 15 per cent.
Oliver isn't the only one who's felt the pinch in the casual dining sector – others like Gourmet Burger Kitchen, Bryon Burger, Carluccios, Prezzo and Strada have closed sites in recent years. Surely, some of finger pointing should be directed at investors who assumed they had a sure deal with Oliver.
Food and drink news

Show all 35
But fundamentally, the restaurant business has always been mercurial and not for the faint of heart. Margins are notoriously slim and a sure return on an investment is a unicorn. Those who do well, do so by either constantly evolving – anticipating rather than following trends – or delivering a classic with superb service and outstanding food. Oliver did neither of these.
Of course, the real concern is for the around 1,000 people who will be without a job, not to mention the knock-on effect for suppliers and other companies who provided goods and services for the group. Employees will be searching for jobs in a sector that's in a massive slump – one that may be permanent. If we have indeed changed the way we eat, where we eat it and when, then the casual dining sector as we've known it, may well and truly be a thing of the past.
Jamie Oliver's restaurant chain files for administration, putting 1,300 jobs at risk.
In the midst of the barrage of negative comments about Oliver, it's tempting to forget the positives, including his 20-plus years in broadcasting and his cookbooks that have encouraged and at times cajoled reluctant cooks to give it a go.
Or to dismiss his campaign work as self-serving and promotional. Yes, perhaps he liked the sound of his own voice, but if our kids aren't eating Turkey Twizzlers at school and he had anything to do with it, then that's nothing to laugh about.
Support free-thinking journalism and attend Independent events
Join our new commenting forum
Join thought-provoking conversations, follow other Independent readers and see their replies