Jes Staley set to pick up the Barclays executive challenge
The former head of JP Morgan's US investment bank is expected to be appointed new boss of the British high-street lender
Michael Bow
Wednesday 14 October 2015 01:26 Comments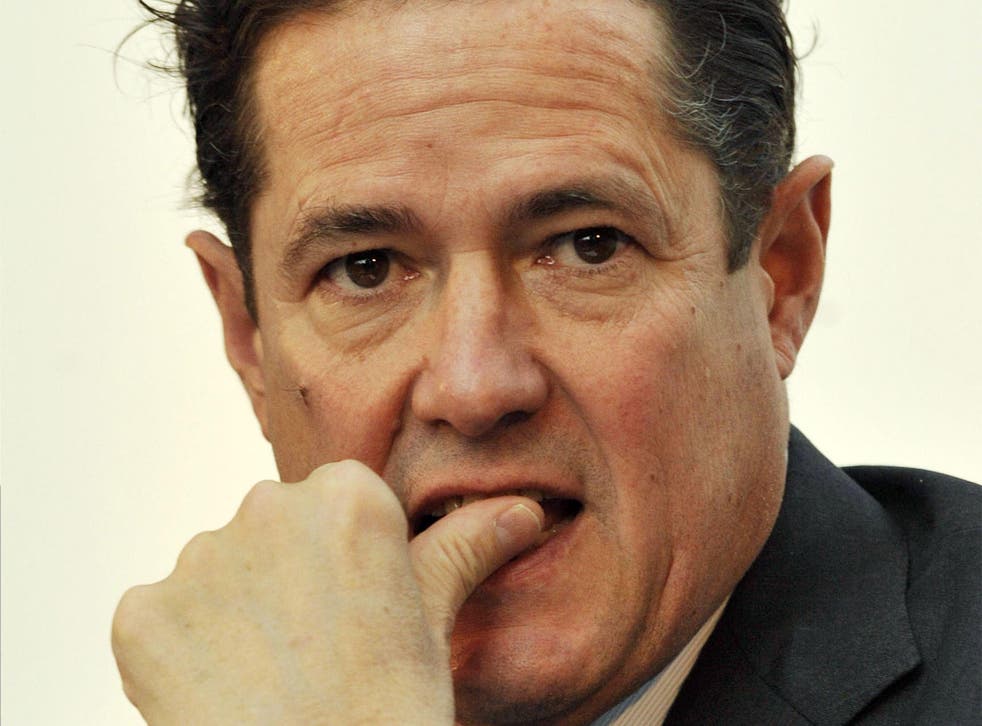 Barclays has signalled a major push back into investment banking as it emerged that it plans to hire top US banker James "Jes" Staley as chief executive in an attempt to revive the group's flagging fortunes.
Mr Staley, the former head of JP Morgan's investment bank in the US, is expected to be unveiled as head of the 300-year-old institution within a fortnight after Barclays receives approval from regulators.
The 58-year-old will replace former chief executive Antony Jenkins, who was ousted from the group in July after a boardroom coup over the direction of the company.
Barclays' chairman John McFarlane, dubbed "Mac the Knife" for his aggressive cost-cutting, has criticised the poor performance of Barclays investment bank and its ability to compete with US rivals.
The appointment of Mr Staley is seen as a way to fix that, and re-heat its ambitions to hold a seat at the top table of the investment banking industry.
Mr Staley was a long time lieutenant of JP Morgan boss Jamie Dimon and was once tipped to take over from him. However, he left in 2013 to go and run US hedge fund BlueMountain Capital after an internal shake-up at the bank.
"Barclays has got some very good businesses in the investment banking sphere but the knowledge and understanding of them at the board level was not as strong as they might have been," said Royal London Asset Management chief investment officer Piers Hillier.
"What Mr Staley will do is identify what the investment bank needs and shut down some bits which don't generate returns. Having somebody with that background means he will know where the economic returns can be generated. Gently running them down is not a recipe for long term success."
Chris Wheeler, a bank analyst at Atlantic Equities, added: "He's got great experience in universal banking and he knows how to make investment banking and big corporate banking work together. He's got a great contacts books and arguable a better Rolodex than Antony Jenkins."
Top of Mr Staley's in-tray will be fixing Barclays underperforming investment division, which is currently led by Tom King, the former European banking head at Citi. The unit, which employs 20,000 people in Canary Wharf and on Wall Street, has shown signs of improvement recently following a torrid 2014 but Mr McFarlane has hinted he wants to take more costs out of the business. But it still faces a bumpy road ahead. Investment banking fees dropped 11 per cent in the second quarter of 2015. A 14 per cent cut in operating expenses helped cushion the fall, delivering a higher overall pre-tax profit of £765m.
The fillip followed a dismal 2014 for the unit, when pre-tax profits at the investment bank dropped by a third. The division has also suffered a rapid exit of top banking talent, symbolised by the exit of the former head of the division Hugh "Skip" McGee in April.
Jeremy Thomas, a global equities manager at Allianz Global Investors, said: "JP Morgan is a good training ground and understanding investment banking is critical at Barclays. Assuming his appointment is confirmed, no doubt he will be looking hard to see if the investment bank can generate a better return for shareholders."
The appointment of a senior US investment banker will revive memories of ex-Barclays boss Bob Diamond, who left after just 18 months at the helm amid the Libor rigging scandal. Mr Diamond had helped turn Barclays' capital markets division BarCap into a force capable of competing with America's top institutions.
He grabbed US investment banking division of Lehman Brothers after that institution's collapse in 2008, having earlier been thwarted in his ambition to rescue the entirety of the reeling company.
The appointment of Mr Staley, who has lower key approach than Mr Diamond, comes at a sensitive time for banks as they seek to deal with rules designed to ring fence retail banks from the investment banks.
Detailed proposals on how ring fences should operate are expected to be unveiled by the Prudential Regulation Authority tomorrow. "Any expansion of investment banking would increase the importance of ensuring ring fencing is rigorously applied," said the Treasury Select Committee chairman Andrew Tyrie, who has called for stronger ring-fencing of retail institutions.
However, analysts say the investment bank remains vital for Barclays success. "The investment bank will remain a material focus for Barclays," Ian Gordon, an analyst at Investec, said. "It's still a significant business where Barclays will be able to extract a survivor's premium as competition has been eroded due to withdrawal so it's not entirely surprising with that skill set that Mr Staley is a leading candidate."
The influential JP Morgan alumni
Jes Staley is the latest alumnus from the Wall Street giant JPMorgan to make waves in the banking world.
Mr Staley was named head of the company's well-regarded investment bank in 2009. He landed the job after the exit of the division's co-heads, one of whom was Bill Winters, who has since emerged as the chief executive of the London-listed Standard Chartered bank.
It means two former JPM executives now run two of Britain's biggest banks. Both have been tipped as eventual replacements for current JP Morgan boss Jamie Dimon.
"JPMorgan is known for being a good school of management, it's very competitive," Atlantic Equities' US bank analyst Chris Wheeler said. Mr Staley will also find a former work colleague in the form of Barclays current chief financial officer Tushar Morzaria. He is also a JP Morgan alumnus who served as finance boss in the company's corporate and investment banking division
But the JPM brain drain hasn't stopped at British banks. Another frontrunner for Mr Dimon's job, former investment bank boss Michael Cavanagh, left to become co-president of private equity firm Carlyle last year. Charles Scharf, who led JPM's retail bank, also left to run payments firm Visa. There is one other prominent in-house name who could succeed Mr Dimon – the current head of the firm's investment bank Daniel Pinto.
Register for free to continue reading
Registration is a free and easy way to support our truly independent journalism
By registering, you will also enjoy limited access to Premium articles, exclusive newsletters, commenting, and virtual events with our leading journalists
Already have an account? sign in
Join our new commenting forum
Join thought-provoking conversations, follow other Independent readers and see their replies