Peter Diamandis: And for my next trick... asteroid mining
The entrepreneur, author and space enthusiast says the human race has its future on another planet, but for now 'the only constant is change – and the rate of change is increasing'
Oscar Williams-Grut
Thursday 20 November 2014 02:27 Comments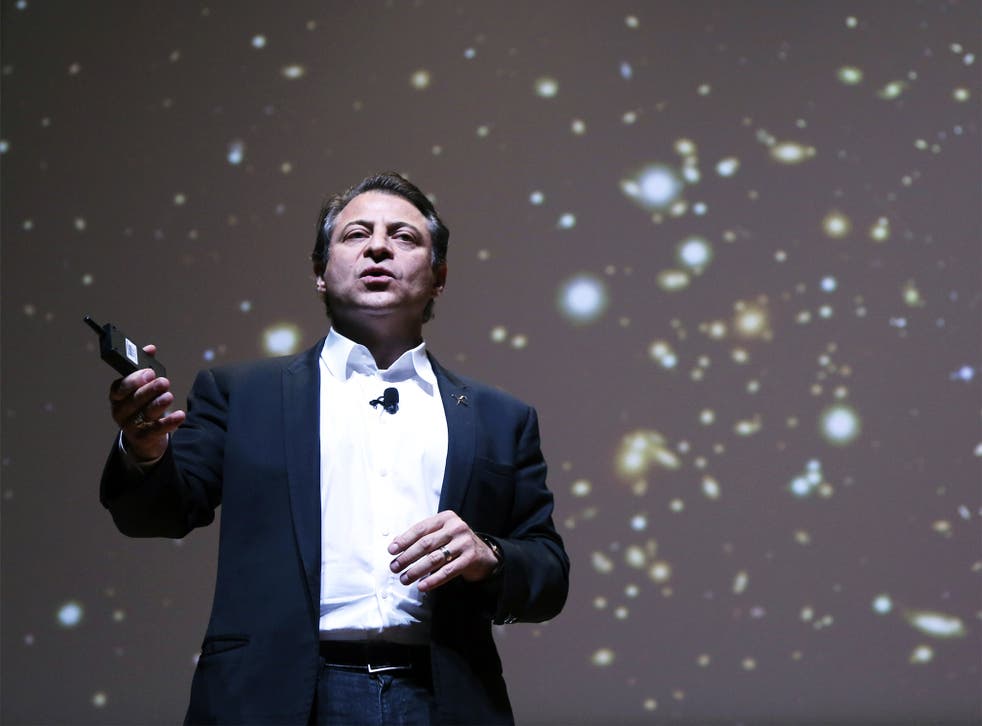 Peter Diamandis's life could have sprung from the pages of a comic. The entrepreneur, author and space enthusiast has funded rocket ships, founded companies (Space Adventures Ltd, Zero-Gravity Corporation) and is currently pursuing a plan to mine asteroids. One of his failed endeavours was the Rocket Racing League.
"I grew up during a time when people were dreaming very big dreams," Mr Diamandis says. "I was born near the end of the Apollo programme, Star Trek was going on. I believe then and I believe now that the human race has its ultimate evolutionary path beyond the bounds of Earth."
Like Tesla Cars founder Elon Musk and Amazon's Jeff Bezos, both of whom have founded space exploration companies, Mr Diamandis is one of a number of Silicon Valley entrepreneurs getting the chance to live out their boyhood dreams thanks to the microchip age.
But as grand as those dreams are, the Bronx-born Greek-American's current focus is more grounded: how businesses cope with the accelerating pace of technological change. Mr Diamandis is in Amsterdam this week for the Singularity Summit, a spin-off of Silicon Valley's Singularity University, which he co-founded in 2008. The unaccredited school, backed by Google and Cisco, aims to "educate, inspire and empower leaders to apply exponential technologies to address humanity's challenges". An early attendee described it in the FT as "South Park meets Harvard Business School".
"The key message is that the only constant is change, and the rate of change is increasing," says Mr Diamandis. "Technology is transforming every single industry."
His advice to attendees of the €2,000-a-ticket summit is "disrupt or be disrupted", but he doesn't seem overly optimistic about the prospects of current goliaths hoping to avoid extinction when we talk over the phone.
"The majority of the most interesting breakthroughs are occurring at the converging of different technologies. Take healthcare for example: it will not be the healthcare companies, the pharmaceutical companies, the hospitals or physician groups that drive the change – it'll be coming out of companies like Google, Apple and Samsung. It will not be coming out of the biological sciences, but data sciences."
Mr Diamandis is himself a driver of change. After founding several space-focused businesses in the late 1980s and early 90s, he made a name for himself with the X PRIZE foundation, which offers corporate sponsored cash prizes to encourage certain innovations. The first $10m prize, announced in 1996 with no funding at the time, was for the creation of a private passenger-carrying spaceship.
"I was reading about the early days of aviation prizes," explains Mr Diamandis, who has more than a touch of early 20th-century American business mogul and aviation pioneer Howard Hughes about him. "You had dozens of prizes, many of them coming out of the UK, for crossing the English Channel or the Atlantic. Those prizes spurred tremendous competition and innovation, and while they were dangerous, they were the beginning of the kinds of innovation and experimentation that led to today's very safe $5bn aviation industry."
The first X PRIZE spawned SpaceShipOne, the successor of which was the Virgin Galactic craft that recently crashed in the Mojave desert. Mr Diamandis, who counts Sir Richard Branson as both a friend and investor, is sanguine about the disaster: "As it has turned out, it appears to have been a pilot error and not a technical fault … I believe Virgin Galactic will very quickly overcome this and get back to testing within a six-month period. It's very much building a safe and reliable vehicle. I have my ticket and I have no doubt that I will fly."
Mr Diamandis has reasons to be optimistic about Virgin Galactic's chances – his latest business venture is once again tied up in space: Planetary Resources plans to mine asteroids and has drawn funding from Google's Larry Page and Eric Schmidt, real estate mogul Ross Perot Jr, the film director James Cameron and Branson.
"These near-Earth asteroids, many of which are much easier to get to than the Moon's surface, are rich in rocket fuel, construction materials and strategic metals such as platinum. They're the low hanging fruit of the solar system."
The project typifies Mr Diamandis unique brand of futurism that in many ways seems rooted in the science fiction of the past rather than the current era of Facebook and Netflix. But he rejects an offhand labelling of his thinking as "blue sky" and insists he is a realist rather than a dreamer.
"It all seems crazy and far-fetched until it happens," Mr Diamandis says. "Today's companies like British Petroleum are mining oil on platforms that go down 5km from the ocean's surface and then drill 20km below the ocean floor – that's a crazy idea, and yet the economics are strong enough that they have materialised. It's the same thing with space."
His ambitions have been boosted by the European Space Agency's recent widely reported success at landing a probe on a comet.
Beyond providing a treasure trove of resources, Mr Diamandis believes space also holds our future.
"We were born here, we evolved here, but it's during our lifetime that the human race is going to move irreversibly into space," he says. "That's only happened once before when life moved out of the oceans and on to land."
Not all of the 53-year-old's time is spent star-gazing. The most recent $15m X PRIZE challenges teams to build software to help children in the developing world learn to read, write and do maths. Mr Diamandis is a firm subscriber to the Whiggish view that technological progress is linked to social advancement.
"If you look at the last 100 years, even though we had massive casualties – we had 150 million die – we still had a significant improvement in quality of life across the board. I believe that the decades ahead will show a continued improvement across the board. Will there be challenges? Will there be terrorism, warfare, use of technology for negative activity? Absolutely. I'm not saying we're going to have a smooth road ahead."
He points to conditions today to back up his argument. "A kid in Mumbai today with a smartphone has access to more information than President Clinton had. It's a levelling of the playing field. I'm not saying everyone's going to have a Ferrari, but I'm expecting everyone to have an excellent education, and water, and healthcare and food."
Register for free to continue reading
Registration is a free and easy way to support our truly independent journalism
By registering, you will also enjoy limited access to Premium articles, exclusive newsletters, commenting, and virtual events with our leading journalists
Already have an account? sign in
Join our new commenting forum
Join thought-provoking conversations, follow other Independent readers and see their replies