Phil Knight donates $400m to Stanford: why do billionaires donate to universities?
As Nike's Phil Knight becomes the biggest university donor with his $400m Stanford pledge, andrew dewson looks at why the super rich give money to institutions of learning. And what benefits might a philanthropist get in return?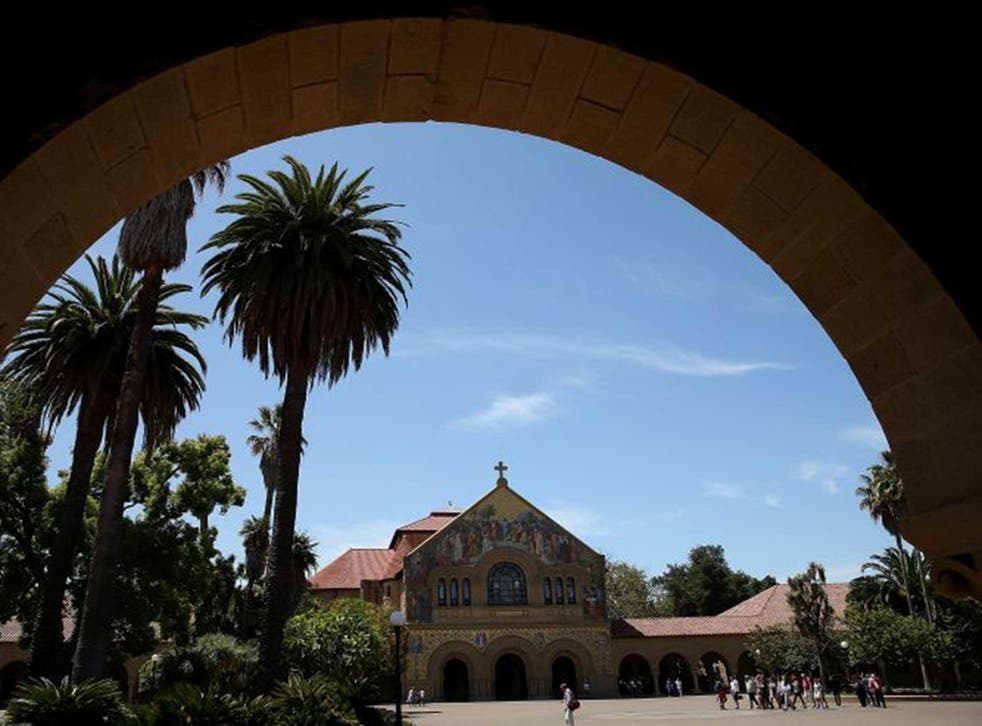 Phil Knight might not have been the world's greatest college athlete, but he may be on track to become the world's greatest college donor.
The co-founder of sportswear giant Nike, with a personal fortune worth about $25bn (£18bn), yesterday announced a $400m gift to Stanford University. It will be the biggest donation in the private university's history and equal to the largest donation to any American university, matching the amount hedge fund manager John Paulson gave Harvard University in 2014.
The donation, part of a $750m endowment set up to fund mainly foreign post-graduate students, is not Mr Knight's first donation to a university. However, it is a departure in some respects, because many of his previous donations have revolved around financing sports facilities.
By 2000, Mr Knight had already donated $230m to the University of Oregon, where he was a student and middle-distance runner and where he founded Nike along with his coach, Bill Bowerman. Since then, his donations to sports facilities at his alma mater have almost doubled.
The Oregon Ducks play basketball in an arena named after Mr Knight's son and its state-of-the-art American football training facility was funded by a $68m donation. He has supported academics at Oregon too, although not without controversy.
Although he is best known for his association with the University of Oregon, Mr Knight attended business school at Stanford, home of the Knight Management Centre, built following a $105m donation in 2006.
The new endowment, part of an agreement with departing Stanford president John Hennessy, creates the Hennessy-Knight Scholars Programme. Its primary aim is to educate non-US scholars, the idea being that they will take their education home and solve problems in emerging economies.
Billionaires donating to universities is nothing new. Harvard, often referred to as a "hedge fund with a university attached" has an endowment worth approximately $32bn, significantly more than the next best-funded American university, Yale.
British universities have benefited from the largesse of American billionaires too – the Bill and Melinda Gates Foundation gave Cambridge University $210m in 2000.
Stanford, often hailed as the best academic university outside the Ivy League, is not short on cash either – its endowment is already worth about $22bn. Where Stanford is taking a different approach to its American competitors is in encouraging applications from low-income students.
While a year's tuition at Harvard will cost students $57,200, tuition at Stanford is now free to any student whose parents earn less than $125,000 per year. According to the university, 77 per cent of its students will graduate without any debt. While Mr Knight's donation is not related to this decision, it is clear that Stanford is using its endowment to broaden enrollment and compete more effectively for the best students with its East Coast rivals.
Despite the increase in large donations to universities, the practice is not without detractors. For a start, most of the universities benefiting from large donations are private and already very wealthy, at a time when public funding for further education lurches from one crisis to another.
Mr Knight's donations to the University of Oregon have been dogged by scandal and protest, largely due to accusations that Nike has been involved in unethical labour practices in its factories.
Donations, and not just those by billionaires, are often the life-blood of college finances. People donate for a variety of reasons: reducing the potential tax burden on their heirs; the vanity of getting their names on buildings or scholarships; even because of a genuine desire to help out a college they attended or to have a positive impact on the lives of current students.
Kevin Berry, director of individual philanthropy at Hanover College, a liberal arts school in southern Indiana, says that people often give to educational institutions because going to university is a life-changing event.
"When people sit down and think back over their life experience, university is what shaped them into the person they became," he said. "Also, when many donors were at university they had some kind of financial need. It's a way of paying back to society."
However, donations are increasingly coming with strings attached. Philanthropists want more than just their name on a building – they want to influence what is taught inside the building, too. Colleges want unrestricted donations, but more donations now come with restrictions.
Business news: In pictures

Show all 13
In Kentucky, Papa John's pizza founder John Schnatter teamed up with the Koch Brothers Foundation to fund business school programmes at the University of Louisville and at the University of Kentucky. Both donations came with the caveat that the donors can stop funding if they do not feel that their mission – the teaching of free market economics and business practices – is being carried out to their satisfaction. To some, such stipulations imply that students will be taught by professors sympathetic to the political and economic views of the donors.
A proposed $20m donation by Sandy Weill, the former Citigroup chief executive, to a struggling New York State liberal arts institution, Paul Smith's College, was pulled after a judge refused to allow the college to rename itself after Weill's wife and thus break the terms of its founder's will. The college already has a library and a student centre named for Mrs Weill.
Critics will doubtless point out that Mr Knight is giving his money to institutions that are already very wealthy. There is truth in that – but the counter argument is that big donors such as Mr Knight who want to create a global legacy need institutions with the capacity to attract the world's best students. The result is that Stanford, Harvard and Cambridge will continue to attract the biggest donations – and most billionaires are nothing if not competitive.
Donor

Bequest League
1. John Paulson, Harvard engineering school, $400m in 2015, to endow its school of engineering and applied sciences, which will be named after him
2. Stephen Schwarzman, China's Tsinghua University, $275m ($100m of his own money) raised as of January 2016, for scholarships (for foreign students to study there)
3. Michael R Bloomberg, $350m in 2013, Johns Hopkins University, for scholarships and research
4. John W Kluge, $400m to Columbia University on death
5. Morningside Foundation, $350m to Harvard Public Health School in 2014, renamed Harvard TH Chan School of Public Health
6. David Booth, $300m in 2008, University of Chicago Booth School of Business named after him
7. Frank C Doble, $272m in 2008, shared between Tufts and Lesley universities for new laboratory, student aid and endowment growth
8. William S Dietrich II, $265m to Carnegie Mellon University in 2011, Dietrich College of Humanities and Social Sciences named after mother
9. Sanford Weill Jr and Joan Weill, $250m to Cornell University, medical school named after the Weills
10. Charles B Johnson, $250m to Yale University in 2013, to build two residential colleges
Join our new commenting forum
Join thought-provoking conversations, follow other Independent readers and see their replies