Piling on the pound shops helps ailing high streets
As the economic convulsions continue to bring many household names to their knees, there is a phalanx of discount stores ready to take their place, often literally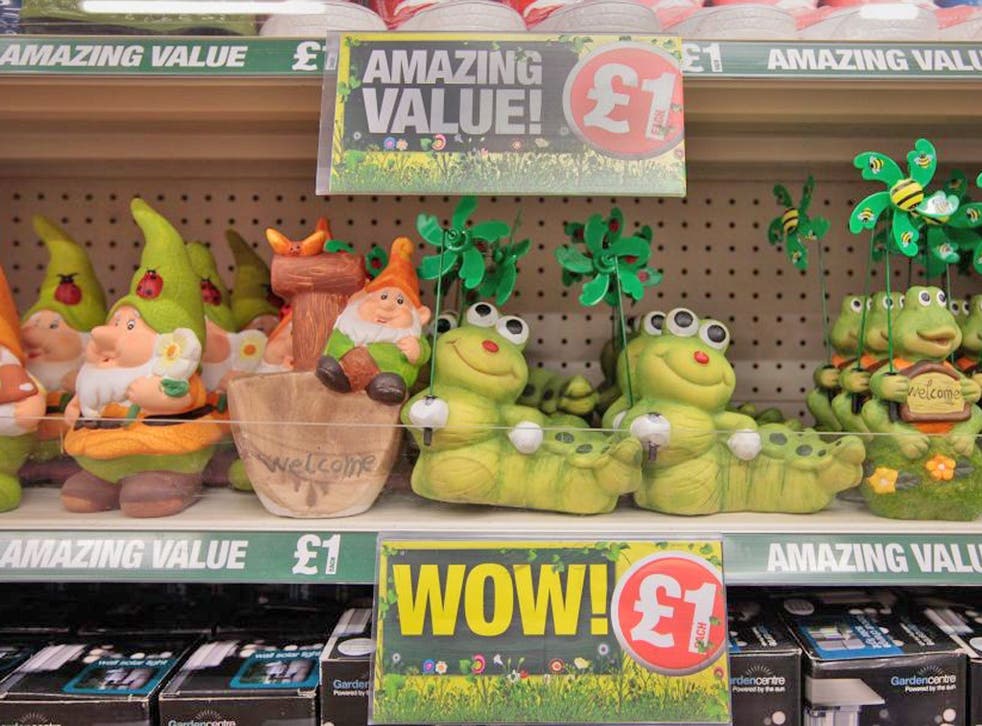 Hussein Lalani, the co-founder of 99p Stores, may not count his Watchdog showdown with the BBC's Anne Robinson as one of his finer moments. But, his appearance at the end of last month, was certainly a milestone for his company.
Mr Lalani faced a grilling over alleged misleading price promises, but ended with the commercial director of the single-price retailer "formally thanking" Robinson.
By shooting down most of show's arguments – such as by explaining that seven of the 40 products found to be cheaper at the big four supermarkets were actually "on offer" in their stores – 99p Stores' sales rocketed by 22 per cent in the three days following the programme. What could have been a PR disaster became a lucrative piece of advertising.
While Watchdog showed how consumers now view poundshops as a mainstream alternative to the likes of Asda, Sainsbury's, Tesco and Morrisons, there is far more to the explosive expansion of the UK's discount chains over recent years than a growing army of middle-class customers.
The less visible drivers of the UK discount retail revolution growth are a change in the relationship between the chains and consumer goods giants, such as Unilever, Procter & Gamble and Nestlé, and landlords bending over backwards to strike long-term deals in a soft property market. The internet, where many discount chains now sell their wares, has also created a culture of ruthless price transparency that has played into hands of the value players.
The UK discount retail market – including the fashion chains Primark and Matalan, as well as the grocery discounters Aldi and Lidl – is forecast to grow exponentially from sales of £28.2bn in 2010 to £42.2bn by 2015, according to the research firm Keynote.
At a time when the big supermarkets are expanding their own-label offer to improve margins, it is easy to see why big manufacturers of brands see pound shops and other big discount retailers, such as Home Bargains and B&M Bargains, as a huge opportunity to sell more goods.
Jim McCarthy, the chief executive of Poundland, says: "The major manufacturers recognise the potential in the sector and they want to extend their brand reach." Poundland opened its 400th UK store to a fanfare in London's Haringey at the end of last month and with this scale comes massively increased buying power.
As a result, there has been a huge shift in the level of co-operation between the suppliers of the big brands and the value retailers. Mr Lalani, who co-founded 99p Stores in 2001, says that previously it had to source branded products through wholesalers and other third-parties, but now it deals with the suppliers. He says: "The big brands have come on board and want to deal direct with us."
Big manufacturers are also far more willing to make pack sizes specifically for single-price retailers, which goes to the heart of how the chains deal with inflation. While it is often a small proportion of the thousands of products they sell, poundshops have to change brands, or pack sizes, each year to maintain their single prices and margins. For instance, if the cost of plastic jumps from one year to the next, a single price retailer would either switch to a cheaper washing up liquid or work with the manufacturer to produce a 900ml bottle, instead of a litre.
For consumer goods manufacturers, while the volumes ordered are typically smaller, discount chains often provide a long-term reliable source than the big grocers. This is partly because once supermarkets start to see a new brand selling strongly, the grocers may seek to produce a similar version of their own-label product, which delivers better margins.
There has also been a change among landlords towards the discount players since Woolworths, which had more than 800 shops, collapsed into administration in late 2008.
Jonathan Salt, a partner at Harvey Spack Field, the out-of-town retail property specialist, said: "Woolworths exited stage left and the people that took their stores were the likes of B&M, Home Bargains and 99p Stores." For instance, Poundland took 80 Woolworths' sites and has so far taken 10 from the fashion chain Peacocks, which fell into administration in January.
Since 2008, the administrations of a series of high street stalwarts, including Threshers, Borders, Focus Diy and more recently Game Group, and the migration to online shoppers have resulted in nearly one in seven town centre sites lying vacant, according to the Local Data Company.
In addition to this glut of supply, landlords have had to pay full business rates on empty properties since April 2008, following the scrapping of tax relief. Mr Lalani says: "Empty rates have had an impact. If you are a landlord you are worried about empty shops."
Illustrating the scale of its expansion, 99p Stores, which has 188 shops, is targeting up to 50 more this year.
Neil Saunders, the managing director of the retail consultancy Conlumino, says that in the past, landlords may have "overlooked or looked down their noses" at the discount operators but this has changed with the commercial reality of empty shops.
Poundland's Mr McCarthy explains that while single-price retailers were once seen as "poor end of retailing", landlords now appreciate how a Poundland on a high street can drive footfall. He says: "The rules have changed. We have been able to choose quite well on the quality sites."
Mr Salt says that the discount players are typically signing up for 10 to 15 years on the UK's out-of-town retail parks and often make quick decisions about taking sites that become available. "The one thing about the pound guys is that they are very entrepreneurial," he says.
Certainly, the discount sector has thrown up its fair share of multi-millionaires in recent years. According to the Sunday Times Rich List, the Arora family of Simon, Bobby and Robin have amassed a fortune of £487m after buying B&M Bargains, while Poundstretcher's Rashid and Aziz Tayub are worth £160m.
The discount retail sector has also attracted a huge amount of interest from the private equity sector recently. The US buy-out firm Warburg Pincus acquired Poundland in a deal worth an estimated £200m in 2010, while 99p Stores and Poundworld have been working with corporate finance advisers to explore their options, including a potential sale, although deals have not yet materialised. There is also speculation that the US buy-out firm Clayton, Dubilier and Rice, where the former Tesco boss Sir Terry Leahy is an adviser, has been running a slide rule over at least one player in the UK's discount market.
Overall, with the UK consumer downturn showing few signs of ending, the march of the discount chains and single-price retailers looks set to continue. A decent chunk of this growth will be driven by increasing numbers of middle-class shoppers, with Poundland boasting that 13 per cent of its customers come from the A, B, C socio-demographics. Mr McCarthy says: "If companies can keep opening stores and keep making returns, they will keep opening. The consumer will decide. While demand exceeds supply, the growth will continue."
Cut-price millionaires
B&M Retail:
Stores: 280 Profits: £52m Sales: £713m
When the chain was acquired by the Arora brothers, Simon, right, and Bobby, from the private equity firm Phildrew Ventures in 2005, it had just 21 stores.
Since then Liverpool-based B&M has grown exponentially to have more than 280 stores, which sell a huge range of general merchandise from toys to bikes at knock-down prices. The retailer has a target of reaching 400 stores by the end of 2015.
Their younger brother Robin joined in 2008 and the three have an estimated personal fortune of £487m. B&M was founded in Blackpool in 1976, with the initials originally standing for Billington & Mayman.
TJ Morris:
Home Bargains: Stores 250 Profits: £60m Sales: £721m
Tom Morris has done well since opening his first store in Liverpool in 1976, with his brother Joe, right, trading as Home Bargains.
He remains the retailer's managing director and is worth £620m, according to the Sunday Times Rich List.
Originally called Home & Bargains, the chain has more than 250 stores but plans to double this. Bolstered by an investing in a new £35m on a new purpose-built warehouse and distribution plant in 2010, Home Bargains sells "top brands at bottom prices" across 2,500 items including household goods, clothing, drinks and confectionery.
Poundworld:
Stores: 140 Profits: £5m Sales: £133m
The founding Edwards family still largely call the shots at Poundworld.
Chris Edwards is its managing director of retail, his co-founding brother Laurie is managing director of distribution, and Chris junior, above, became trading director in 1999.
Originally trading as Bargain Centre and then Everything's £1, it became Poundworld in 2004. The Edwards, who are worth a combined £80m, explored the group's options, including a sale, by hiring advisers at PwC in 2010 but a deal never materialised.
Poundworld was in the spotlight last summer, when its marketing director Martyn Birks went on the Channel 4 show Undercover Boss to identify why it had an unsatisfactory level of staff turnover.
Poundstretcher:
Stores: 400 Profits: £1m Sales: £308m
Founded in 1981 by Paul Appell and Stephen Fearnley, Poundstretcher found the going tough several years ago as a listed company, when it also operated the Instore fascia.
Instore was delisted in 2010 after Aziz Tayub, above, took control of the group via his Seaham Investments vehicle, a subsidiary of the entrepreneur's Leicester-based food distribution and property group. Since the acquisition, all the company's core stores were rebranded as Poundstretcher.
The brothers Rashid and Aziz are worth around £160m. Chief executive Aziz returned the retailer to profit last year for the first time since 2005.
Register for free to continue reading
Registration is a free and easy way to support our truly independent journalism
By registering, you will also enjoy limited access to Premium articles, exclusive newsletters, commenting, and virtual events with our leading journalists
Already have an account? sign in
Register for free to continue reading
Registration is a free and easy way to support our truly independent journalism
By registering, you will also enjoy limited access to Premium articles, exclusive newsletters, commenting, and virtual events with our leading journalists
Already have an account? sign in
Join our new commenting forum
Join thought-provoking conversations, follow other Independent readers and see their replies