£100m in sponsorship – and the Olympics have Adidas written all over them
Margareta Pagano meets the German sportswear giant's sport-mad boss as he arrives in London to earn his Games stripes
Margareta Pagano
Tuesday 24 July 2012 22:43 Comments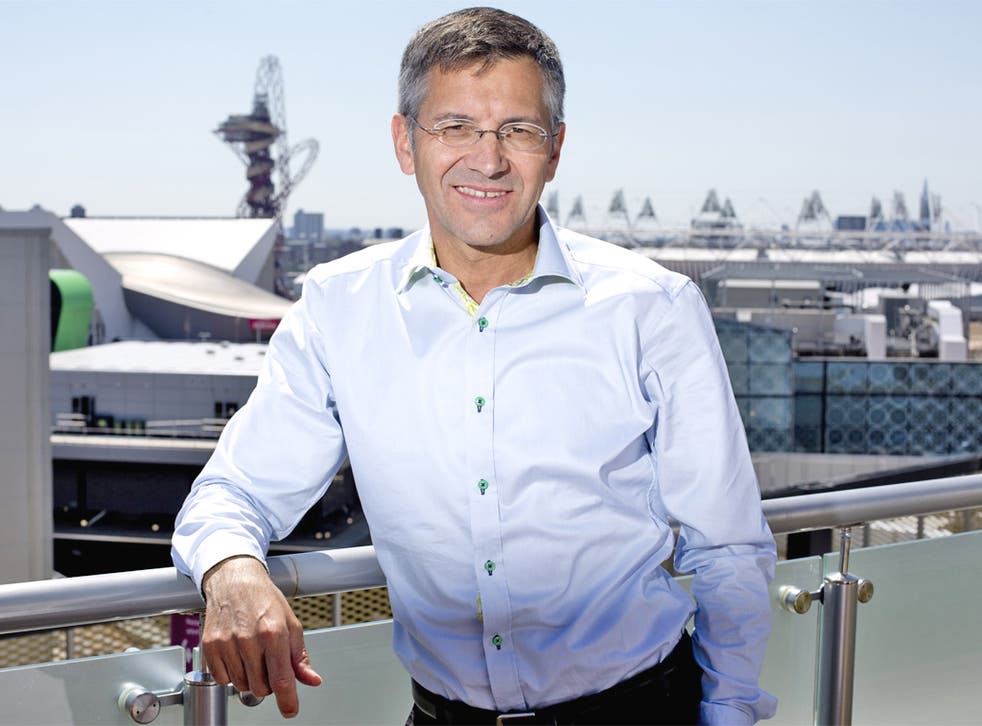 Look at the shoes; they're the giveaway. If Olympians are wearing Adidas shoes, then they are the ones with the multi-million-pound personal sponsorship deals with the giant German sportswear company. This includes runners like Tyson Gay, the US 100m sprinter, or Jamaica's Yohan Blake or the UK's golden girl, Jessica Ennis.
However, if the athletes are wearing Adidas clothes, they are sponsored by Adidas through their specific sports federation – track and field sports or swimming, for example.
But when you see the Olympians make it to the medal podium wearing Adidas, it shows they are one of the 11 National Olympic Committees the company is also sponsoring, including Team GB and the French, German, Ethiopian and Cuban teams.
Phew. Got it, just. Put simply, it means that Adidas has a three-tier sponsorship. If Ennis, the 26-year-old heptathlon queen, wins gold, she will be bathed from top to toe in Adidas; a contract said to be worth more than £320,000 plus bonuses. If Gay wins, he will be wearing Adidas shoes but the clothing of Nike, the official sponsor for Team USA. And you thought sport was for pleasure.
Herbert Hainer, the Adidas chief executive, who has just flown in from Nuremberg to be here for the opening ceremony on Friday, explains: "About 3,000 athletes in every sport will be wearing our shoes or clothes; every sport except horse-riding. Adidas has had champions wearing our shoes ever since Adi Dassler [the founder] designed the first-ever running shoe. He took the first pair from Germany to Amsterdam in 1928 for Lina Radke to wear. She won gold for the 800m."
Adidas has been decking out athletes at the Olympics ever since, and is one of the main sponsors this year in London. Mr Hainer says the company has spent £100m on sponsorship, marketing and advertising since the Games were first announced in 2007. It looks cheap at the price —Adidas is everywhere.
Indeed, the first thing that hits you when arriving at Stratford's Westfield complex is a gigantic poster with Ennis & Co monopolising the entrance wall. All the volunteers at the park are in Adidas gear with the Olympic logo as it's the only sportswear company allowed to use the logo on products; that's part of the deal agreed with Logoc, the London Olympics organising committee. Visitors seen wearing rival sportswear will not, he promises, be reported to the brand police.
The deal has also brought Adidas a fantastically positioned lounge area on top of a car park next to the Westfield London Shopping Centre with some of the best views over the Olympic Stadium. This is where we meet. The sun is blazing down and you can feel the thrill in the air as youngsters run around with clipboards while TV camera crews are all over the place. Their enthusiasm is infectious, and by now your correspondent is asking herself why she didn't apply for tickets.
In one of swish marketing halls, a couple of dozen excited teenagers prepare for one of the events being held ahead of Friday's ceremony. Adidas has been putting on side-events like these to ensure the Games leave a lasting legacy in the UK. Its Take the Stage campaign has included sponsoring 50 adiZones – free outdoor gyms and sports areas – working with local communities around the country.
Mr Hainer has only been here for a couple of hours – delayed by a lorry – but seems impressed: "Seb Coe and Logoc have done a great job. It's a good time for the UK too with Bradley Wiggins winning the Tour de France, and we have great hopes for Ennis."
This is big business for Adidas – the best showcase on earth for its newest gravity-defying products – the shoes that Gay and Blake will be wearing. The adiZero Prime SP weighs only 99 grams, the world's lightest commercial sprint spike. Swimsuits worn by Adidas-sponsored swimmers are 36 per cent lighter than the Beijing suit, and absorb 32.5 per cent less water.
Now that's detail for you. As Mr Hainer says: "Innovation has always been the driving philosophy of Adidas. We have engineers in chemistry looking at creating the best fabrics and engineers looking at how electronic devices can improve performance. Our latest garments have electronic support in places where muscles are used the most." Called the TechFit PowerWeb, they help athletes improve body strength.
Performance matters. Mr Hainer says 10 years ago footballers would run on average 6km to 8km in a match – today it's 12km to 13km. "We have recently designed a new device, Smart Football, which will collect data like the heart rate and pulse rate of the 22 players playing football so that managers will be able to tell whether they are exhausted, who should be brought off."
It's scary, science fiction stuff, but it's the DNA of what Adidas does. And the business of sport is proving remarkably recession-proof. Last year Adidas had sales of €13bn (£10bn) with net income up 18 per cent to €671m. In the first quarter of this year, sales were another 13 per cent higher. Half-year figures next week will show a similar rise. In the UK, Adidas has 16 per cent of the sportswear market and Mr Hainer is determined to close the gap with Nike, which has 18 per cent. Sales to countries such as China are on the rise although Nike and Puma have both reported a downturn.
"Sport does not seem to be too affected. Even in Spain, which is in crisis, we sold 900,000 Adidas shirts for the Euro 2012 final," he says. A football fanatic himself, Mr Hainer – who played in the Bavarian league and is deputy chairman of Bayern Munich – had other winners with its sponsorship of Champions League finalists Chelsea and Bayern. Adidas is an official sponsor of the Fifa World Cup in Brazil 2014 but will not be running for the Rio Olympics.
He is optimistic about his industry's future: "Athletes want to run faster, jump higher, and what we do is work on garments and shoes that can help them do so. Most people are living healthier lifestyles – from the young to those in their 50s, 60s and 70s who now have the time to take part in sporting activities."
It's not like his parents' generation after the Second World War, he adds, who had to work all the time to put food on the table to feed their children.
Some say Adidas is not giving its overseas workers enough to feed their families. War on Want campaigners have been putting 34p price tags – the minimum hourly rate for workers in Indonesia – on Adidas products in their stores and protesting outside the Stratford park against the low rates allegedly paid to workers for sweatshop Games merchandise.
Mr Hainer knocks down the claims: "It's completely false. It's a lie. We pay double the local rate for our workers – and we have assembly and manufacturing in many, many countries around the world where we work with non-governmental organisations on meeting the local rates and conditions." Adidas has twice offered to talk to the War on Want campaigners, he says, but has not any response.
Adidas is also green, he says, taking care of resources. However, he doesn't go as far as one of his rivals, Jochen Zeitz, the former chief executive of Puma, who devised an environmental profit and loss account to measure the cost of making products. "What do you do with the measure once you have it?" he says, with a touch of irritation. "We are always careful about our resources; buying the best cottons and using less water where we can. But we are not in the welfare business. Our job is to make a profit."
It's no surprise Mr Hainer is the longest-serving chief executive of a German DAX-listed company, having been in the hot seat since 2001 and with Adidas since 1987 when he joined as a sales director for hardware – bags, rackets and balls – from Procter & Gamble. Now 58, he has the top job until 2015 but the contract could be extended as German bosses retire at 65.
Will he stay the course? "I have a simple answer: To have success, you have to be successful. Every day I go to work, I say I have the best job in the world. I'm fanatical about sports, about making better shoes and products. It's what drives me day and night."
Mr Hainer is not wearing Adidas shoes, but you can see those three stripes running right through him.
Adidas in numbers
42,000 Employees
€13.3bn +13% 2011 sales
€12.3bn Market cap
€671m +18% Record profits 2011
Founded in 1948 by Adi Dassler, whose brother Rudolf created Puma
Brands include Reebok and Rockport
Register for free to continue reading
Registration is a free and easy way to support our truly independent journalism
By registering, you will also enjoy limited access to Premium articles, exclusive newsletters, commenting, and virtual events with our leading journalists
Already have an account? sign in
Join our new commenting forum
Join thought-provoking conversations, follow other Independent readers and see their replies