Retailtainment: the future of shopping?
As famous high-street shops fall into financial straits, could the future of shopping lie in high-concept 'retailtainment' stores? Victoria-Anne Bull finds out
Wednesday 29 June 2011 00:00 BST
Comments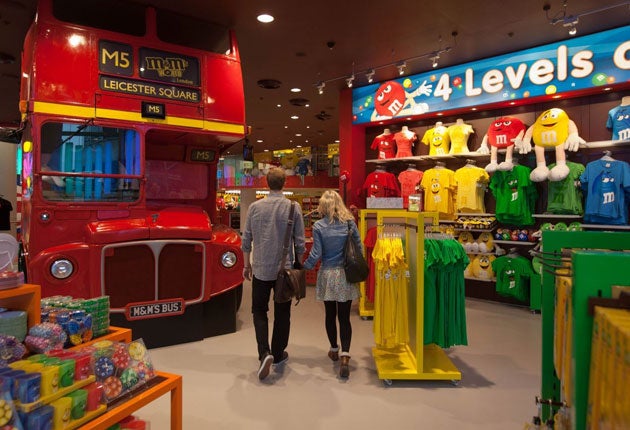 A little French girl tugs at her friend's sleeve, sheer excitement pulsing through her body, her eyes gleaming. "Viens voir c'est trop rigolo!" she shouts ("Come see. It's too funny!") and drags a small boy across a blue pixie dust trail to the windows of a 28ft-tall castle. The pair find themselves standing next to a large duck and a mouse dressed in soldiers' uniforms. The children giggle together while posing for photos with the footmen. The location of this hullabaloo is not inside the pages of a fairytale book, or even a theme park – although it could be – it is, in fact, the new Disney Store on London's Oxford Street, the largest of all of the House of Mouse's European retail branches. Opened last month, the huge shop, which spans two floors, houses animated trees, cartoons whizzing across the walls and mood music all adjusted by a click on an iPod Touch operated by a member of staff.
The idea behind this store is to change a dull retail shopping trip into an interactive, cheerful experience.
An extension of previous high-concept Disney Stores, customers here don't have to endure messy fixtures, grey lighting and staff who are uninterested in helping you. These concept stores provide the kind of entertainment designed to make you – or at least your children – leave the premises grinning from ear-to-ear as you reel from your experiential day out. This is Retailtainment.
On Monday, clothes chain Jane Norman became the latest high street casualty of the recession, as it moved into administration. And as the internet threatens to guzzle up the profits of remaining high street retailers, perhaps it may take an outstanding shopping experience to stir droves of people from their chairs and into the shops. Various phrases have been used over the years to describe the enhancing of shopping stores: "retailtainment" and "entertailment" are obvious word plays.
First coined by American sociologist George Ritzer in his 1999 book, Enchanting a Disenchanted World, Revolutionising The Means of Consumption, "retailtainment" was defined as "the use of sound, ambience, emotion and activity to get customers interested in the merchandise and in the mood to buy". He argued it was all about allure; the dilemma of attracting more customers "while remaining highly rationalised".
Around this time, one of the first successful concept stores in the UK opened in London's Oxford Circus. Since the inception of Nike Town, there has been an explosion of similar outlets in London and around the globe.
Peter Cross, business partner of Mary Portas – and manager of one half of her retail consultancy – Yellow Door, said: "Retail theatre is not a new thing, but the sheer power of the internet and its efficiency means that so much transactional retailing can happen online, so shops have to up their game.
"Offline shops have realised they have to do something else other than simply sell you stuff."
And while the British high street appears to be filling up with shops touting the latest and most thrilling retailtainment, it is actually the American brands who are leading the way. Walking into American lifestyle fashion brand Anthropologie on London's Regent Street is almost like sashaying through an exhibition: there is a living wall of green plants irrigated by rainwater collected on the roof, Anthropologie candles are lit every day to "enhance customers' sense of the brand" and imposing art installations line the store. On the day that I visit it is a huge daisy chain.
Also situated in the heart of Regent Street is the giant Apple Store. Apple's shops are famously more like showrooms than stores and the Regent Street branch features a studio for creative advice and a 64-seat theatre for workshops, events and demonstrations. Meanwhile Abercrombie & Fitch (and sister brand Hollister) use half-naked greeters and booming music to create an immersive shopping experience that's more like a nightclub than a shop.
These are all more examples of what Cross calls "the sheer ballsiness of the American way" and he claims the Americans have done retail better than us for a long time. "Recently there are a whole raft of American brands that have come into the UK and have created temples to the brand. I look at it quite simply: if you genuinely understand your brand and see your shop as a three-dimensional expression of that brand – and deliver – that is most of the work done."
Jonathan Storey, who has worked at Disney for 19 years and is now the marketing and guest experiences director for the London store, brims with enthusiasm when asked to explain how the Disney team first built a full-size replica of the shops in a secret Californian warehouse. "It has one hundred per cent been about the entertainment and that has been the driving factor that sets this store aside from any other retailer," he says. "We didn't want it to be this place where you just come and buy Disney merchandise.
"We wanted it to be a place that you went and got this amazing experience, whether you had any need to buy a Disney product or not."
With more Disney stores scheduled to open in the next year with a total of 11 North American locations and 10 European ones, next on the hit list for giant concept stores are Canada, Puerto Rico, Denmark, Belgium, Spain and Italy.
Other interactive activities in the stores include a Disney Princess Magic Mirror, where youngsters can watch short stories from well-known Disney princesses and an in-store theatre holding a number of free events throughout the day. Furthermore, the retailtainment experience is heightened with a freshly-cut grass fragrance – pumped in subtly at the entrance to create an outdoor feel – and atmospheric music written by film composer James Seymour Brett allows more of the Disney brand to seep through into the shopper's subconscious.
Meanwhile in London's Leicester Square a teenage girl with short purple hair and gargantuan sunglasses taps a man on the shoulder. She says: "I've heard there's a blue one in a car somewhere. Can you tell me where?"
The man points her downstairs and she squeals with delight as she hops into a silver Aston Martin driven by an unusual suitor: a larger-than-life bright blue M&M character complete with bushy black eyebrows. She turns to face the blue plastic man and pouts her lips as if to kiss him and waits for her photograph to be taken.
Spanning four floors and featuring plenty of interactive zones, M&Ms World is the first shop of its kind in Britain dedicated to a confectionery brand (there are three branches in the United States already).
The word-of-mouth buzz from the stores provides a stream of valuable marketing for the chocolate makers.
"Investing and opening up that space will have generated so much brand interest and word of mouth that traditional advertising could never ever compete with," Cross says.
Of the chocolate brand's new shop he says: "They will have thousands of consumers charging in there to experience the brand. It is like a massive tasting session and it is a hugely confident gesture."
Likewise, Disney's team generate a frenzy surrounding their daily opening ceremony, as one child is chosen to use a giant key to open the rope barrier to the store. The idea is to encourage the children to return to the store to see if they are chosen to unlock the doors. Great news for parents.
On the day I went to M&Ms World, there are crowds building around each of the displays. But does the investment in retailtainment spaces – especially in such expensive London real estate – pay off?
The money spent on these merchandising playhouses is undoubtedly great. Disney is reluctant to say how much it has invested in the Oxford Street store ("You can't put a price on magic" it tells me, unhelpfully). But M&Ms reveals that it has spent £10m on its chocolate temple. Will candy sales pay the rent? Or is that not the point?
"It is those brands that don't get who they are beyond product who are missing a trick. Look at Marks & Spencer: is it a really fantastic shopping experience? No, it's not. The light is flat and one-paced and you have women wondering around in fleeces selling you fashion products," says Cross.
"Why would you just not go somewhere that just gives you joy?"
Join our commenting forum
Join thought-provoking conversations, follow other Independent readers and see their replies