Robbie the robot in a Japanese adventure: British firm's creation sent to Fukushima
British group's prototype will work in the Fukushima disaster zone, says Mark Leftly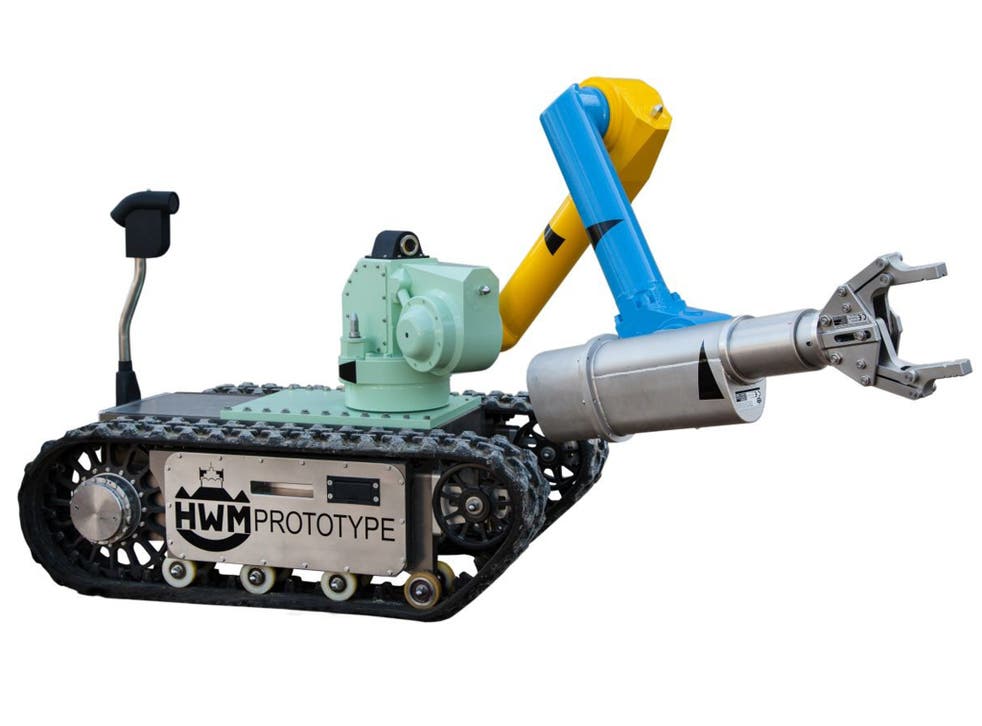 The Y-1000 might sound like a cyborg from The Terminator films – Arnold Schwarzenegger played the bloodthirsty T-1000 – but this robot looks a lot more like the kindly Johnny Five from the Short Circuit comedies.
Not only does the Y-1000 share Johnny's tank-track base and one of his long arms, he also has a similar nickname: Robbie.
Weighing in at 400kg, Robbie has just been sent out to Tokyo, where he is expected to be one of the stars of next month's IROS 2013, the big event in the world of intelligent robots. It is fitting that the conference is in Japan, as shortly afterwards Robbie will be sent into the rubble of the Fukushima Daiichi nuclear power plant that was so devastated by an earthquake and tsunami in 2011.
Robbie is a prototype a year in the making, designed and manufactured by a small conglomerate based in Carlisle that produces rat bait and cattle feed as well as one of the world's most-sophisticated robots. Carr's Milling is a £400m revenue group that can trace its origins back to the 1830s, but Robbie is one of the highlights in a long history that has largely been based on producing flour.
Five of the company's boffins in Carr's Milling's German engineering division, Walischmiller, have spent around €500,000 (£422,000) designing and developing the 125cm long, 75cm wide, 40cm high base on which the 100kg arm sits.
Super-strong Robbie will be remote controlled from a distance of 100m-200m. An onboard camera and global-positioning system will help his operator move debris and transport grinders as scientists and technicians try to discover the extent of the clean-up required within the confines of the destroyed reactors.
The companies behind those reactors – General Electric, Toshiba, and Hitachi – have ordered Robbie through Carr's Milling's Japanese partner Mitsui. They have been impressed at how the plucky robot can withstand radioactive attack, carry its own body weight, and work underwater.
"We hope we can help them use the vehicle to go inside Fukushima and have a look around, as it is not possible for a human do that," says Claudia Reich, Walischmiller's managing director.
"The vehicle has a radiation resistance of a mega-ray, which believe me is very high. There are lots of possibilities with this vehicle."
After Fukushima, Robbie could be used for offshore maintenance and inspection work, rescue missions, and similar decontamination situations.
The robot's arm is an older product, having already been used in 40 countries, and is known in the industry as a "power manipulator" – its wrist, upper and lower arms all pivot, while the hand can be rotated 360 degrees.
When then-chief executive Chris Holmes referred to the develop-ment of "specialist, remote- handling equipment" to be used at Fukushima in last year's annual report, he did so with little other detail.
Shareholders must have thought that this was going to be a fairly mundane device.
Over the following 12 months, though, that device became a robot that, in the eyes of Ms Reich's staff at least, gained a personality of its own.
"They love it, there are lots of colours," she chuckles. "Suddenly, a lot of people in the company started calling it Robbie."
Combining the strength of The Terminator with the heroism of Johnny Five, Robbie might one day get his own film about his adventures in one of the most dangerous places on earth.
Join our new commenting forum
Join thought-provoking conversations, follow other Independent readers and see their replies