Rohingya crisis: How trading and small business has grown inside Muslim refugee camps
Some Bangladeshi shopkeepers seek opportunities to sell produce to refugees, but it comes at a cost
Hannah McKay
Sunday 24 December 2017 23:58 Comments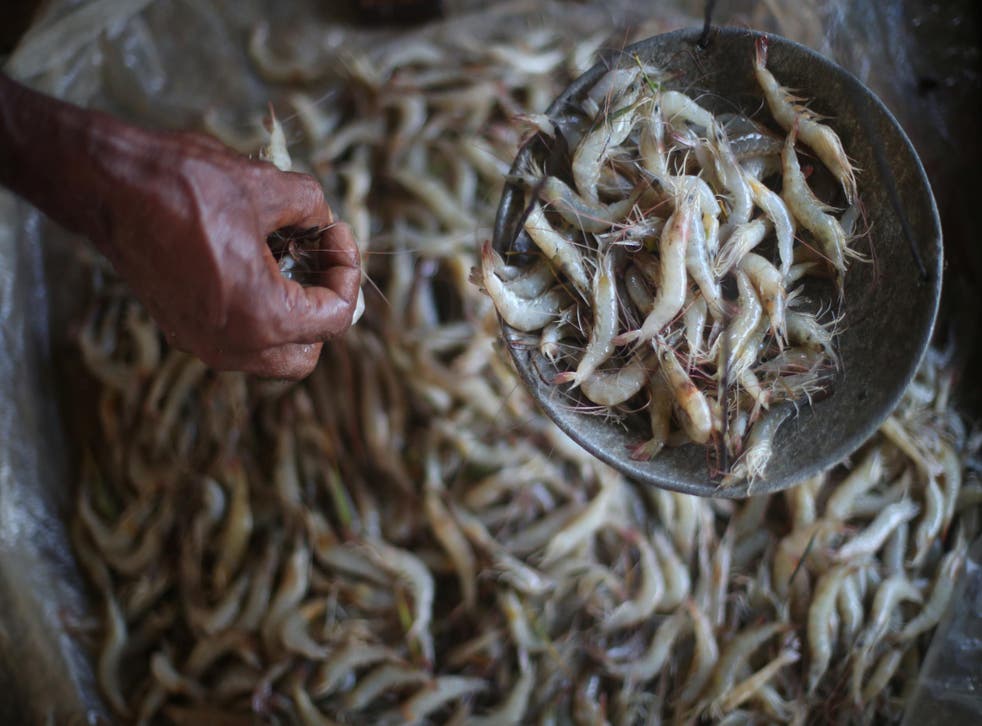 Mohammad Ayas, a 12-year-old Rohingya refugee in the sprawling Palong Khali camp, is busy selling piazu: a fried mixture of onions, lentils and spices.
The 150 portions of piazu, made by his mother from the aid package the family received after fleeing violence in Myanmar, sell for 1 taka each, or a little more than 1 US cent (£0.009p).
"I started my trading here with the relief I got," Mohammad told Reuters. "I did not buy anything. I got this relief package five days ago and my mum made this piazu this morning."
Myanmar's Rohingya Muslims have endured killings, arson and rape by Myanmar troops and ethnic Rakhine Buddhist vigilantes since 25 August, in response to Rohingya insurgent attacks on security posts, the United Nations says.
It also says problems like child trafficking existed in Bangladesh's camps, even before they were overwhelmed by the more than 600,000 new arrivals.
Now, driven by a need for food and other essentials, trade is starting to thrive in the Palong Khali camp, located about 2.5 miles from the Naf River, which marks the border between Bangladesh and Myanmar.
Some refugees are returning to their previous occupations to eke out a living.
Abul Fayaj, a 50-year-old vegetable seller from Buthidaung township in Rakhine, now sells green chillies to residents of the camp.
He said a Bangladeshi lent him money for the chillies, which he sells for 200 taka (£1.80) per kg, higher than the local market price of 130 taka per kg.
"I don't have the money to take lots of food, that's why I have to take a loan," he said.
"I have to pay more to the lender who gave me the money to buy the vegetables, so there is only a small profit," said Fayaj, adding he takes home 100 taka a day.
Obaidul Mannan, 40, with five daughters and two sons, traded clocks in Myanmar until the military came to his village, arresting people and burning homes.
He now sells betel nut that he bought with 9 grams of gold that belonged to his wife. His complaints are common to shopkeepers everywhere.
"The problem I'm facing here is that I'm selling next door to traders who are also selling the same items," he said.
Some Bangladeshi shopkeepers have hired Rohingya refugees to run shops within the camp.
Kalim Ullah, 42, fled from the Buthidaung area with his wife, six sons and a daughter.
He used to transport goods in Myanmar, but was told that Rohingya could not own a business in Bangladesh. Ullah joined up with a local business owner and now sells snacks and red chillies in the camp for a daily wage of 100 taka.
Two Bangladesh government officials confirmed that the refugees are not legally allowed to own businesses in the country since they are not citizens.
"We are giving all kind of humanitarian assistance. They are not our citizens," said a senior home ministry official. "The Myanmar government will have to take them back."
Bangladeshis are aware of the opportunities that the Rohingya exodus provides for trade, and a number of them have moved closer to the camps.
Abdur Razzak, 26, sells knives, pots and water buckets in the Palong Khali camp where he set up shop three months ago.
After paying rent on his shop, wages for two assistants and transporting goods from the town of Ukhia, about 5.4 miles north of the camp, Razzak earns about 500 taka profit on sales of 2,000 taka.
"I'm not making a lot of money. I just profit a little," he said.
Reuters
Register for free to continue reading
Registration is a free and easy way to support our truly independent journalism
By registering, you will also enjoy limited access to Premium articles, exclusive newsletters, commenting, and virtual events with our leading journalists
Already have an account? sign in
Join our new commenting forum
Join thought-provoking conversations, follow other Independent readers and see their replies