Future Investment Initiative
Saudi Arabia: Behind the scenes at Mohammed bin Salman's opulent 'Davos in the desert' conference
Did the crown prince's first public words on the Khashoggi killing this week shore up his political position? And what does this turmoil mean for Saudi's economic modernisation dreams? Ben Chu reports from the Future Investment Initiative in Riyadh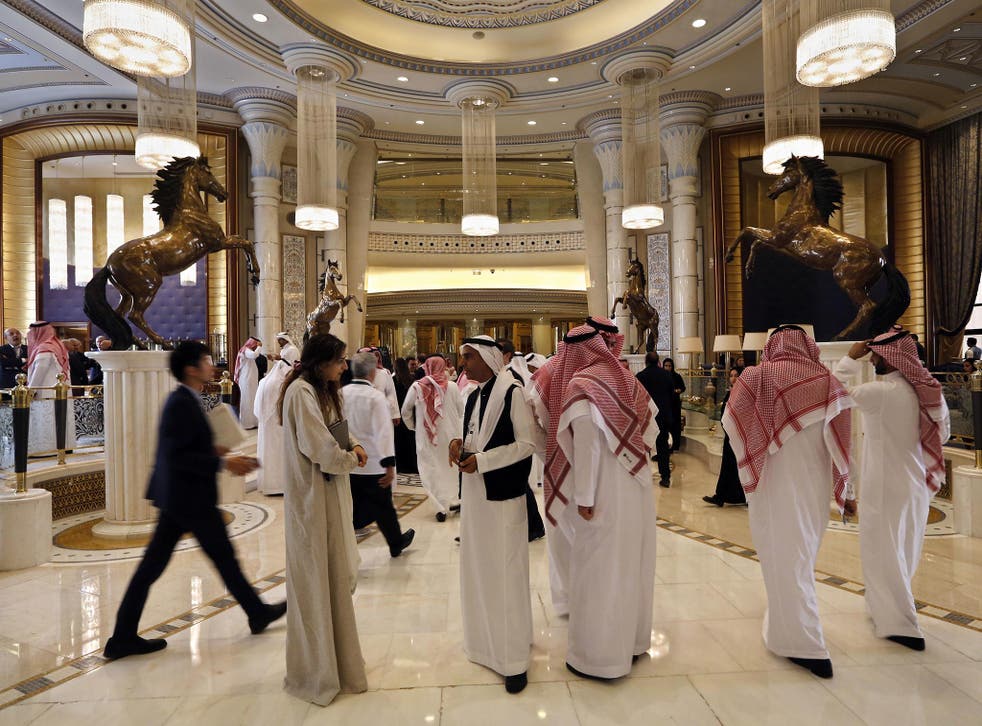 If you wanted to build a room in which to conceal an elephant it would probably have the dimensions of the opulent main hall of the King Abduaziz International conference centre in Riyadh.
The neoclassical marble columns framing the rectangular space must be at least seven metres high. Crystal chandeliers hang from the stuccoed ceiling like enormous frozen explosions of bling. Everything is almost comically oversized.
But even this aircraft hangar-sized Saudi Arabian ballroom could not hide one pachyderm this week: the killing of the dissident Saudi journalist Jamal Khashoggi in the kingdom's embassy in Istanbul earlier this month.
Few spoke about it, but everyone was staring at it.
The Saudi "Future Investment Initiative" – the "Davos in the desert" – was conceived as a way to suck foreign investment into the Saudi economy and to make a reality of the 33-year-old Crown Prince Mohammed bin Salman's "Vision 2030" economic reforms.
But while "MBS", as he is known, wants to attract foreign cash and foreign technical expertise he also wants foreign interest, foreign enthusiasm for a modernising Saudi Arabia.
Before the conference began that seemed to be a dream that had been extinguished, along with the life of Khashoggi.
Bosses from some of the world's biggest corporations and financial companies – Jamie Dimon of JPMorgan, Stephen Schwarzman of Blackstone, Larry Fink of BlackRock, Masayoshi Son of Softbank to name but a few – dropped out in the wake of Khashoggi's killing and the global wave of abhorrence about an act apparently ordered from Riyadh.
Politicians did the same, from the US Treasury secretary, Steve Mnuchin, to Christine Lagarde of the IMF, to our own trade secretary, Liam Fox.
It was one of the most impressive no-show lists in the history of parties.
Saudi crown prince Mohammed bin Salman says Khashoggi killing was 'heinous crime'
Yet anyone who had assumed that the conference in the heart of the Saudi capital, which began on Tuesday, would have been a purely domestic, or regional, affair was mistaken. Chinese money managers and Indian business people had either not got the memo about the boycott, or did not care to join. And there were a fair number of Western business delegates here in the sprawling Riyadh conference centre, although they tended to have less exalted titles such as "chief scientific officer" and "vice president international division".
Many were keeping a low profile and spoke about the Khashoggi case only obliquely as "the political situation".
"It's not a good situation if the facts are as they seem," said one Indian private equity magnate, sucking his teeth.
Yet others were privately less concerned. "Look it was a mistake – but China does this kind of thing all the time and yet they get praised for being a huge infrastructure investor across the world," complained one American.
The Saudi delegates, many of them working for state companies, were on message.
"Yes, he [bin Salman] is not perfect. But which country is perfect, with angels flying around?" asked one delegate from Riyadh.
Most of the sessions, despite the lavish video presentations that accompanied them, were rather sparsely attended, with people preferring the mingle in small groups over Arabic tea in the corridors of the centre.
But the 1,400 capacity hall was packed for the crown prince's panel, where he would make his first public remarks since Khashoggi's death.
The stage management was not very subtle. Many of the delegates were wearing the traditional Saudi ankle-length white shirt and red-patterned headdress and a glance at their ID lanyards showed that many worked for state – or state-linked – Saudi firms.
They cheered loudly the prince's rather defiant statements and responded to his jokes with ostentatious laughter.
The motivation for the defiance was clear. The US and Turkey have brought extreme pressure on MBS over the killing. But there was also a clear domestic message too: "I'm not going to be toppled."
It's not a fantastical proposition. The crown prince has alienated a lot of powerful Saudis – a year ago he locked dozens of them, including princes, in the Ritz-Carlton hotel, right next door to the very conference centre in which he was speaking, until they agreed to hand back assets to the state which they were accused of corruptly appropriating. Whatever the truth about the legitimacy of their claims to those assets, this was hardly a model of open justice and transparent government.
Will it work? Did bin Salman shore up his position with his words?
"I've given up trying to predict what will happen in Saudi politics," sighed one Middle Eastern wealth manager who serves rich Saudi families. "[The circle] is so tight knit around MBS. He's got rid of his security chief [in the wake of the Khashoggi killing]. My guess now is that it will get even tighter."
But, despite reports from Turkey this week that President Recep Tayyip Erdogan is not set on regime change in Riyadh, Ankara seems determined to turn up the pressure on MBS further over the killing. And, of course, nothing said before a friendly audience in Riyadh is likely to sway the White House and its erratic occupant.
It seems fair to say that the fate of the crown prince remains in the balance.
And so, inevitably, does that of his ambitious economic reforms, which include building a $500bn high-tech city in the desert and turning the kingdom into a tourist hub to rival Dubai.
The crown prince boasted of $50bn of inward investment deals signed with Western energy and infrastructure firms at the conference. But there was little detail and some analysts said some were likely to have been projects that had already been announced.
We will likely not know for many months how much damage has been done by the Khashoggi affair to the appetite of Western firms to invest in the kingdom.
The irony is that few would deny that bin Salman has identified the right economic strategy – diversification away from the liquefied dinosaur export business known as oil.
Around 40 per cent of the kingdom's GDP and 90 per cent of Riyadh's tax revenues come from fossil fuels at present. That is a precarious position in a world in which there is now a broadening (if not total) consensus that decarbonisation is environmentally and economically necessary.
Donald Trump: Jamal Khashoggi death 'the worst cover up ever'
Another rather bitter irony is that MBS's social reforms seem genuinely popular, especially among younger people.
One single female Saudi economic consultant stressed to me over lunch in the heaving dining room of the Ritz-Carlton how important the granting of the freedom for women to drive cars was.
"Before I had to have a driver. Now I can travel to meetings on my own. And it's changing attitudes too. Men must now look at us as human beings not objects," she said.
"And don't underestimate how difficult this was to get through. The problem wasn't politics, it was society. Even my father and brother were against it. But he [MBS] made it happen."
"It's a sexual revolution – I'm not joking," said one European-based energy executive who comes to Saudi around 100 days every year. "You should tell your readers about that!"
Yet MBS has not been a political reformer. Most non-partisan observers agree that the political realm is now slammed shut. And the Khashoggi killing has sent a terrifying message to those who might have been minded to criticise the regime.
Another irony is that amid the uproar over the killing of Khashoggi another story has gone ignored. The United Nations warned this week that Yemen, where Saudi forces are attempting to suppresses a Houthi insurgency through a blockade, is on the brink of a "massive loss of life" due to famine.
That, alas, was an elephant in the room that everyone at this week's tense conference in the Arabian desert seemed to manage to ignore without any difficulty at all.
Join our new commenting forum
Join thought-provoking conversations, follow other Independent readers and see their replies