Sony is looking to bounce back with Morpheus
Virtual reality headset exhibited at E3 could put end to decade of pain against Apple and Samsung.
Cliff Edwards
Monday 09 June 2014 20:47 Comments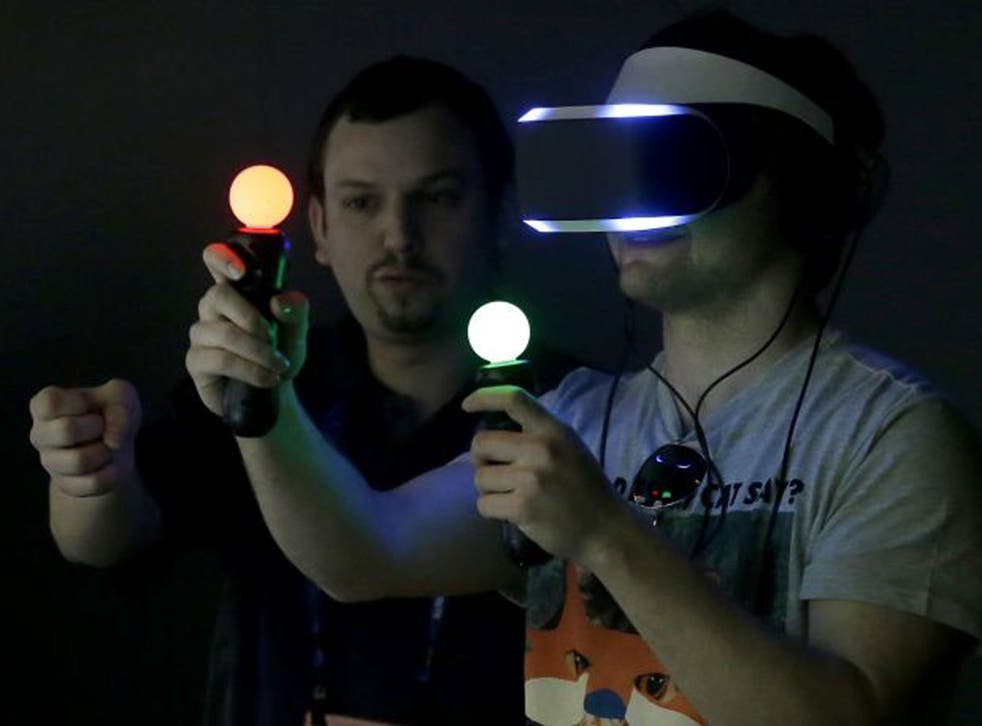 After being knocked around by Apple and Samsung for more than a decade, Sony is up against yet another tech rival, attempting to build the PlayStation 4 into an entertainment powerhouse and develop a virtual-reality headset for the gaming market.
And in this fight, at least, the Tokyo-based conglomerate, which has lost money in five of the past six years, might have an edge. Sony's commanding lead in sales of video-game consoles could give a boost to the Project Morpheus headset the company showed off yesterday at the E3 Electronic Entertainment Expo in Los Angeles. The chief competition is Oculus VR, the virtual-reality goggle pioneer being acquired by Facebook.
"You not only have the weight of Sony, you have the weight of a renewed Sony gaming business, and have to factor in the fact they make TV shows and movies," said Mike Vorhaus, at the research firm Frank Magid Associates.
The video-game division at Sony is one of the few bright spots for a company whose television business has not been profitable in about a decade and whose smartphone and tablets are perennial also-rans to those from Apple and Samsung.
Gaming is just the first killer application for virtual-reality headwear, which could become standard gear for experiences that put users closer to or even inside the action, from watching sports to taking classes online.
Sony's movie and television studios can feed its consoles with virtual-reality ready fare, and the Project Morpheus headset could help attract non-gamers. Its chief executive, Kazuo Hirai, wants to deliver an array of offerings via the web to challenge Apple, Samsung, Google and, now, Facebook.
To succeed, "PlayStation needs to expand its user base," Mr Hirai said recently.
The Oculus headset, called the Rift, has to connect to a high-powered PC to perform well. Morpheus works with the PS4, which has souped-up hardware and high-definition audio. More than 7 million PS4s have been sold since its debut in November, and there are more than 100 million PlayStations operating around the world.
While virtual-reality goggles have been demonstrated for decades, it's only now that screen technology has become cheap and light enough for mass-market opportunities.
"Sony getting into the mix helps. They're invested in being an early adopter and one of the first to figure out how virtual reality and gaming entertainment work together," Oculus's chief executive, Brendan Iribe, said. "We still feel like we have the superior, best VR out there."
Facebook said in March that it planned to buy the California-based Oculus for $2bn (£1.2bn). "The technology opens up the possibility of completely new kinds of experiences," its chief executive, Mark Zuckerberg, said.
At the E3 conference last year, Oculus wowed gamers and won best of show in the hardware category. The start-up, which raised $2.4m in a Kickstarter crowd-funding campaign, has sold more than 80,000 developer kits and is racing to make a retail prototype, Mr Iribe said.
Sony and Oculus have worked with each other to improve their respective headsets, Mr Iribe added, though the two probably will be incompatible because they use different software to get the devices to talk to applications.
Both companies' prototype devices will push Google, which is already selling its Glass smart glasses, Microsoft and others to take virtual-reality research beyond "skunkworks" – or testbed – status, Mr Vorhaus said.
Valve, the closely held developer of sci-fi video-game Half-Life and owner of the Steam video-game download service, last month demonstrated its own headset. Samsung is interested in making a unit to work with its mobile devices, according to Engadget.com.
Sony, with the largest current-generation console-installed base and active network of players, may be best equipped to attract game developers, according to Michael Pachter, an analyst at Wedbush Securities. "They know consumer electronics, game publishing and game developer relations," he said.
So far, big developers have said they need to see more before committing. "It is an antisocial technology, but we will support it to the extent it's brought to market and it works for our games," Take-Two Interactive's chief executive Strauss Zelnick said.
"For a core gamer, it could be a wonderful experience, someone who really likes to be immersed," he said. "But a lot of people who play video games, for example my kids, they play with their friends sitting next to them, so that technology is not going to appeal to them."
Sony plans this year to deliver its PlayStation Now game download service, as well as an Internet television service. The company is attempting to streamline its businesses by selling underperforming units and cutting jobs.
A decade ago, Sony relied too much on its cash-cow Trinitron TV business and missed a consumer shift to flat-panel television models. Samsung stepped into the gap, using efficient manufacturing techniques and eye-catching designs to snare the lion's share of profits in what is now a commodity business. Then Apple with the iPhone in 2007 and later the iPad offered a simple touch-screen interface, connected to downloadable applications to lead the mobile economy.
As for the video-game division, where Mr Hirai was an executive before becoming chief executive, he said last month that games hardware is profitable, years ahead of the typical schedule after a new machine such as the PS4 is introduced.
Game-related sales jumped 53 per cent, the company said in reporting its full-year earnings, while Xperia smartphone sales rose by about 20 per cent, even as Sony forecast a net loss of ¥50bn (£290m) in the current fiscal year.
PlayStation and mobile devices are two of the areas Mr Hirai has identified as key to turning around the struggling company.
For all the excitement about virtual reality, Oculus's Mr Iribe said it could take at least a decade for the technology to go mainstream. Then it will be a game-changer.
"A decade or two from now, VR glasses are going to be ubiquitous and disrupt many of the industries as we know them today," he said.
©Washington Post-Bloomberg
Register for free to continue reading
Registration is a free and easy way to support our truly independent journalism
By registering, you will also enjoy limited access to Premium articles, exclusive newsletters, commenting, and virtual events with our leading journalists
Already have an account? sign in
Join our new commenting forum
Join thought-provoking conversations, follow other Independent readers and see their replies