Therapists are using virtual reality to get inside their patients' heads
Headsets used to cost thousands of pounds, but now that cheap VR products are available on smartphones, the technology is starting to become a viable tool for medical professionals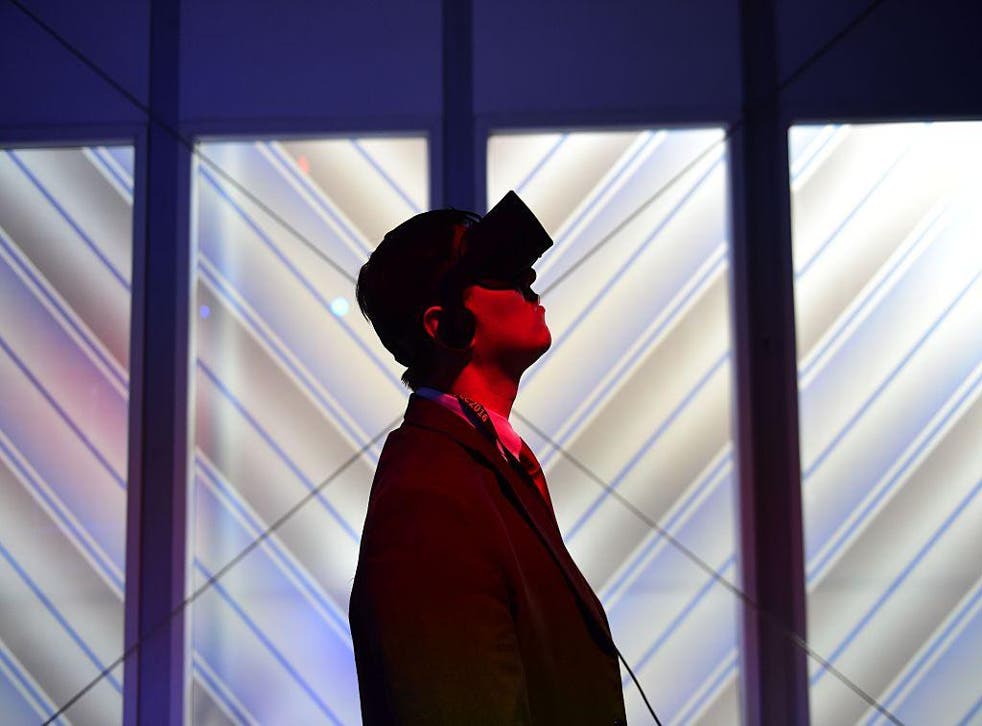 Dawn Jewell recently treated a patient haunted by a car crash. The patient had developed acute anxiety over the cross roads where the crash occurred, unable to drive a route that carried so many painful memories.
So Jewell, a psychologist in Colorado, treated the patient through a technique called exposure therapy, providing emotional guidance as they revisited the intersection together.
But they did not physically return to the site. They revisited it through virtual reality.
Jewell is among a handful of psychologists testing a new service from a Silicon Valley startup called Limbix that offers exposure therapy through Daydream View, the Google headset that works in tandem with a smartphone.
"It provides exposure in a way that patients feel safe," she says. "We can go to a location together, and the patient can tell me what they're feeling and what they're thinking."
The service recreates outdoor locations by tapping into another Google product, Street View, a vast online database of photos that delivers panoramic scenes of roadways and other locations around the world. Using these virtual street scenes, Jewell has treated a second patient who struggled with anxiety after being injured by another person outside a local building.
The service is also designed to provide treatment in other ways, like taking patients to the top of a virtual skyscraper so they can face a fear of heights or to a virtual bar so they can address an alcohol addiction.
Backed by the venture capital firm Sequoia Capital, Limbix is less than a year old. The creators of its new service, including its chief executive and co-founder, Ben Lewis, worked in the seminal virtual-reality efforts at Google and Facebook.
The hardware and software they are working with is still very young, but Limbix builds on more than two decades of research and clinical trials involving virtual reality and exposure therapy. At a time when much-hyped headsets like the Daydream and Facebook's Oculus are still struggling to find a wide audience in the world of gaming – let alone other markets – psychology is an area where technology and medical experts believe this technology can be a benefit.
As far back as the mid-1990s, clinical trials showed that this kind of technology could help treat phobias and other conditions, like post-traumatic stress disorder.
Traditionally, psychologists have treated such conditions by helping patients imagine they are facing a fear, mentally creating a situation where they can address their anxieties. Virtual reality takes this a step further.
"We feel pretty confident that exposure therapy using VR can supplement what a patient's imagination alone can do," says Skip Rizzo, a clinical psychologist at the University of Southern California who has explored such technology over the past 20 years.
Barbara Rothbaum helped pioneer the practice at the Emory University School of Medicine in Atlanta, and her work spawned a company called Virtually Better, which has long offered virtual-reality exposure therapy tools to some doctors and hospitals through an older breed of headset. According to one clinical trial she helped build, virtual reality was just as effective as trips to airports in treating the fear of flying, with 90 per cent of patients eventually conquering their anxieties.
Such technology has also been effective in treating post-traumatic stress disorder among veterans. Unlike treatments built solely on imagination, Rothbaum says, virtual reality can force patients to face their past traumas.
"PTSD is a disorder of avoidance. People don't want to think about it," she says. "We need them to be engaged emotionally, and with virtual reality, it's harder for them to avoid that."
Now, headsets like Google's Daydream, which works in tandem with common smartphones, and Facebook's Oculus, the self-contained $400 (£300) headset that sparked the recent resurgence in virtual-reality technologies, could bring this kind of therapy to a much wider audience.
Virtually Better built its technology for virtual-reality hardware that sold for several thousands of pounds. Today, Limbix and other companies, including a Spanish startup called Psious, can offer services that are far less expensive. This week, Limbix is beginning to offer its tools to psychologists and other therapists outside its initial test. The service is free for now, with the company planning to sell more advanced tools at some point.
After testing the Limbix offering, Jewell says it allows patients to face their anxieties in more controlled ways than they otherwise could. At the same time, such a tool can truly give patients the feeling that they are being transported to different locations – at least in some cases.
Standing atop a virtual skyscraper, for instance, can cause anxiety even in those who are relatively comfortable with heights. Experts warn that a service like the one offered by Limbix requires the guiding hand of trained psychologists while still in development.
Business news: In pictures

Show all 13
Limbix combines technical and medical expertise. One key employee, Scott Satkin, is a robotics and artificial intelligence researcher who worked on the Daydream project at Google. Limbix also works with its own psychologist, Sean Sullivan, who continues to run a therapy practice in San Francisco.
Sullivan is using the new service to treat patients, including a young man who recently developed a fear of flying, something that causes anxiety simply when he talks about it. Using the service alongside Sullivan, the young man, who asks that his name be withheld for privacy reasons, spent several sessions visiting a virtual airport and, eventually, flying on a virtual plane.
In some ways, the young man says, the service is still less than perfect. Like the Street View scenes Jewell uses in treating her patients, some of this virtual reality is static, built from still images. But like the rest of the virtual-reality market, these tools are still evolving toward more realistic scenes.
And even in its current form, the service can be convincing. The young man recently took a flight across the US – here in the real world.
© New York Times
Register for free to continue reading
Registration is a free and easy way to support our truly independent journalism
By registering, you will also enjoy limited access to Premium articles, exclusive newsletters, commenting, and virtual events with our leading journalists
Already have an account? sign in
Register for free to continue reading
Registration is a free and easy way to support our truly independent journalism
By registering, you will also enjoy limited access to Premium articles, exclusive newsletters, commenting, and virtual events with our leading journalists
Already have an account? sign in
Join our new commenting forum
Join thought-provoking conversations, follow other Independent readers and see their replies