Tipping point: the restaurants taking money off their staff
This week  we revealed that Pizza Express levies an 8 per cent admin charge on non-cash tips given to staff. But it's not alone: here are 10 other popular high street restaurant chains doing the same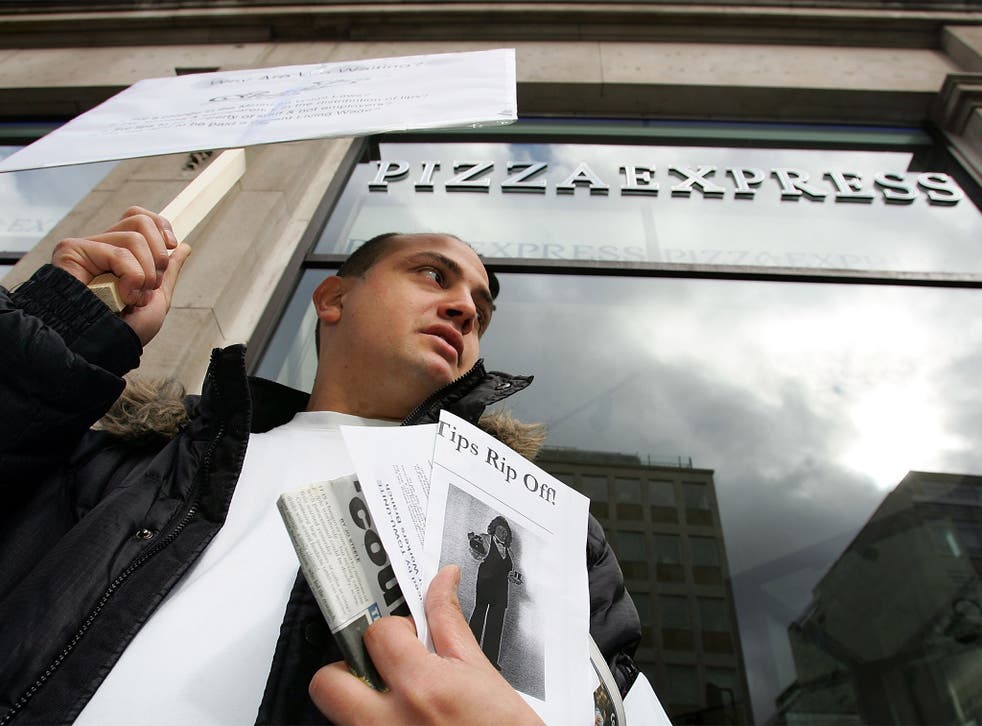 Restaurant serving staff have long been among the poorest paid and hardest worked employees in the country. Many waiters and waitresses are on the minimum wage and rely on tips to get even close to a decent standard of living.
Yet the multi-million pound organisations that own many of the UK's most popular restaurants have a history of finding ways to shave cash from their workers' tips.
Earlier this week The Independent revealed that Pizza Express is coming under pressure over an 8 per cent administration fee it takes from the tips paid by customers who use a debit or credit card instead of cash.
But now it can also be revealed that the practice stretches far beyond the Pizza Express chain. Ten restaurant groups use similar tactics, skimming cash from the top of tips to cover admin fees.
Ask Italian, Belgo, Bella Italia, Café Rouge, Giraffe (owned by Tesco), Las Iguanas, Prezzo, Spaghetti House, Strada and Zizzi all subtract admin fees, with some taking as much as 10 per cent of all tips. Many of these groups claim that the fees are not used to boost company profits but are needed to process the electronic tips pool (known as a "tronc") so that it can be fairly distributed.
However, unions and campaigners point out that a handful of restaurant groups have managed to get rid of their own tronc admin fees. These include Carluccio's, Chiquito, Frankie & Benny's, Garfunkel's and Wagamama, which hand 100 per cent of tips paid on cards over to staff.
The restaurant sector is dominated by a handful of big players, who own several different chains and use the blanket policy over all their brands. Casual Dining Group owns Café Rouge, Belgo and Bella Italia. It recorded sales of £193.1m last year on profits of £33.3m. Yet it charges a standard 10 per cent fee on all tips paid by card.
By comparison, the rival Restaurant Group (Frankie & Benny's, Garfunkel's and Chiquito), which achieved sales last year of £635m and pre-tax profits of £78.1m, takes nothing from staff tips on credit cards.
Dave Turnbull, Unite's officer for the food and drink sector, explained: "The issue is clearly widespread across the industry, but it's perhaps most interesting that some companies like the Restaurant Group can give all tips to staff without an admin fee, yet others like the Casual Dining Group can't."
Danny Breithaupt, the chief executive of Restaurant Group, said: "Charging staff to process tips does not fit in with our culture and we feel it would be deeply unfair to our employees.
"Our staff work extremely hard across all of our restaurants ensuring the highest levels of customer service, and they deserve to receive the full amount that was added to the bill. They are the ones that earned the money, after all, and I'm certain our customers would want to know that the full tip amount is being paid to their waiter or waitress."
A spokesman for the Casual Dining Group said: "The 10 per cent deduction covers the cost of credit card fees, payroll bureau processing costs and other direct house and administration costs."
A similar message came from the other groups that charge a fee to process staff tips. Zizzi and Ask Italian, both owned by the private equity giant Bridgepoint, for instance, said its 8 per cent fee was used to "cover costs that include: credit card transaction charges, restaurant manager time to input gratuity information into our IT system [and] IT support for tronc".
However, Mr Turnbull points out that the amount of effort required to run a tronc is minimal and in any case the system only really benefits employers, which get to avoid paying national insurance contributions on tips from credit and debit cards.
He added: "Claiming it goes towards administration also seems like a red herring because managing a tronc involves human resources managers who are already employed. There are very few meetings that will take place, and the so-called 'costs' associated with it are covered by the National Insurance tax break employers receive."
There's another issue. Consider a couple who go for dinner in a Zizzi and end up with a bill for £60. They add a £6 tip for the service and pay the full £66 by card. Is their waiter expected to cover the card processing fee, of around 2 per cent, for the entire £66 (£1.32) or just for the £6 tip (13p)? If it is the former, then employers may have found another loophole to save money at the expense of staff.
But then it would hardly be the first time restaurant chains have attempted to cream money off their poorly paid staff. Before 2009 several chains were caught paying staff the minimum wage by topping up their pay with tips. The practice was banned, leading companies to start taking a fee from cash tips, until that was also stopped.
Pressure being applied by Unite on Pizza Express could encourage other waiting staff to start protesting against the admin fees that reduce their all-important tips.
Some employers are likely to plead poverty, but before they do, they might like to consider that there could be a hard-headed business case to be made for scrapping the fees. Restaurant Group revealed that since it dropped the fee in 2007 retention rates among staff had shot up, saving it money.
Join our new commenting forum
Join thought-provoking conversations, follow other Independent readers and see their replies