Tour de France: Success wears Lycra in a UK tour de force
Inspired by Olympic and road-race success, Britain has fallen in love with cycling. Retailers and sponsors are forming their own peloton, but will the phenomenon ride and ride?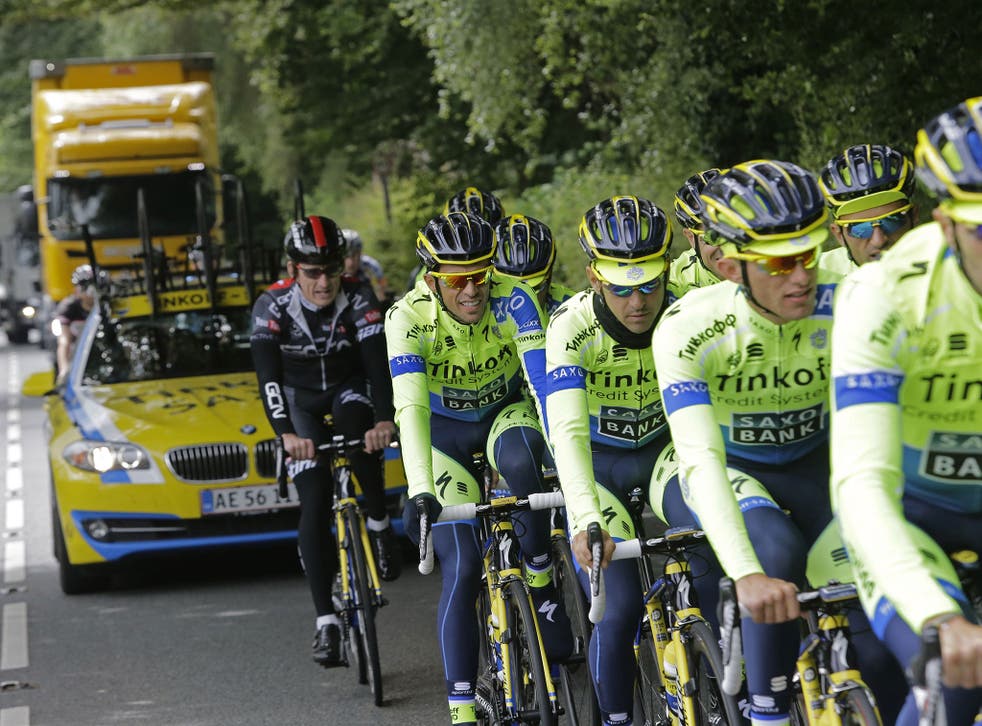 When the Tour de France arrived in Britain for only the second time in 1994, thousands lined the streets as the world's elite cyclists raced between Dover, Brighton and Ports-mouth in the fourth and fifth stages of "La Grande Boucle".
Chris Boardman, a gold medallist at the 1992 Olympic Games in Barcelona, had already won the prologue of the Tour and was tipped to eventually become Britain's first winner. Yet the event failed to capture the public's imagination and it would be some time before cycling became a mainstream sport.
Twenty years on and the 101-year-old race is back in the country for the fourth time. Prince William and Prince Harry will officially launch the race at Harewood House in Yorkshire on Saturday, when riders and spectators will be able to witness just how big the sport has become in Britain.
"When the Tour arrived in 1994, I don't think people really knew what to make of it. But since the 2012 Olympics in London, it's been enormous," Boardman told The Independent. "Cycling is the new golf."
According to figures from the London School of Economics, cycling contributes about £3bn to the UK each year in social and economic benefits.
The LSE said factors like the expansion of the National Cycle Network, urban cycling schemes such as London's Boris Bikes and the success of Mark Cavendish, Sir Bradley Wiggins and Chris Froome are driving this. Separate figures from Sport England show that 200,000 more people are cycling on a regular basis than they were before 2012, bringing the total number of people of cyclists in England alone to just under two million every week.
This weekend's event, known as "Le Grand Départ", is forecast to benefit Yorkshire's economy by £100m, according to Gary Verity, chief executive of the organiser, Welcome to Yorkshire. He claims the impact will be far greater than when the Tour last visited the country in 2007.
"This is being taken live on TV in 190 countries around the world for five hours on Saturday and another five hours on Sunday. We have a 10-hour global TV advert for Yorkshire," he said last week.
The event will also pass through the capital on Monday, when at least one million spectators are expected to line the route. Organisers estimate that the Tour will bring a £13m boost to London's economy.
This all means that cycling has become big business and with "Mamils" –middle-aged men in Lycra – among its biggest fans, the sport's rise in popularity has not gone unnoticed in the business world.
Corporate sponsorship deals now include Prudential Ride London, a two-day cycling festival that was launched last August, and the Rapha Condor JLT team, which is backed by the insurance broker JLT.
Broadcaster Sky also has a high profile sponsorship deal with British Cycling and operates one of the most successful teams on the Tour, home to both Froome and Wiggins.
The impact has also been huge in retailing, with pre-tax profits at Halfords rising by 1.1 per cent to £72.8m last year as interest in the sport boosted the bike chain's bottom line. Last month the London-listed company boosted its credibility by acquiring a stake in Boardman Bikes, a brand set up by the former Olympic champion and used by athletes including the cyclist Nicole Cook and the triathlete brothers Alistair and Jonathan Brownlee.
"We sold our first bike in 2007 and since then it's been a challenge keeping up with demand; it was getting a bit too big for us," Boardman said. "This deal will enable us to expand our range, which is now being sold in 86 countries."
Other beneficiaries of the cycling boom include Wiggle, the online cycling retailer that is considering a stock market float. Chaired by the former Asda chief executive – and cycling enthusiast – Andy Bond, the company was bought by private equity firm Bridgepoint for £180m in 2011.
Another retailer, Cycle Surgery, has just opened an outlet in Harrods that includes models of high-end bikes as well as Tour replica jerseys.
But is this all just a fad, inspired by a successful bunch of athletes, or is Britain's love of cycling going to keep growing? If it does, the opportunities for the business world are huge, Boardman claims.
"Our customers tend to be middle-aged people with a bit of money to spend, so the market is huge. However, the Government has got to play its part and make cycling safer, and I'm not all that confident. It needs to make some serious commitments as more people take to the roads."
For now, though, the golden era of British cycling looks set to continue, especially given the poor performance of England's footballers in the World Cup, the cricketers' series defeat to Sri Lanka and Andy Murray's quarter-final exit from Wimbledon.
It's safe to say that this weekend's event will capture the public's attention – and the world of business is ready to cash in.
Chris Boardman profile
Chris Boardman won an individual pursuit gold medal at the 1992 Olympics in Barcelona and broke the world hour record three times. Although he did not ever win the Tour de France, he wore the famous yellow jersey on three separate occasions.
The Tour's UK history
The Tour de France first came to Britain in 1974 when the second stage of the 61st Tour was held in Plymouth. It returned 20 years later for two stages, but it was not until 2007 that the UK hosted Le Grand Départ, with the race setting off from the capital. This year the race will start in Yorkshire and also pass through Cambridge and London before heading to France.
Register for free to continue reading
Registration is a free and easy way to support our truly independent journalism
By registering, you will also enjoy limited access to Premium articles, exclusive newsletters, commenting, and virtual events with our leading journalists
Already have an account? sign in
Register for free to continue reading
Registration is a free and easy way to support our truly independent journalism
By registering, you will also enjoy limited access to Premium articles, exclusive newsletters, commenting, and virtual events with our leading journalists
Already have an account? sign in
Join our new commenting forum
Join thought-provoking conversations, follow other Independent readers and see their replies