Trench warfare: Burberry vs Aquascutum
Two British heritage brands, two very different fortunes... Harriet Walker considers Burberry's success and Aquascutum's decline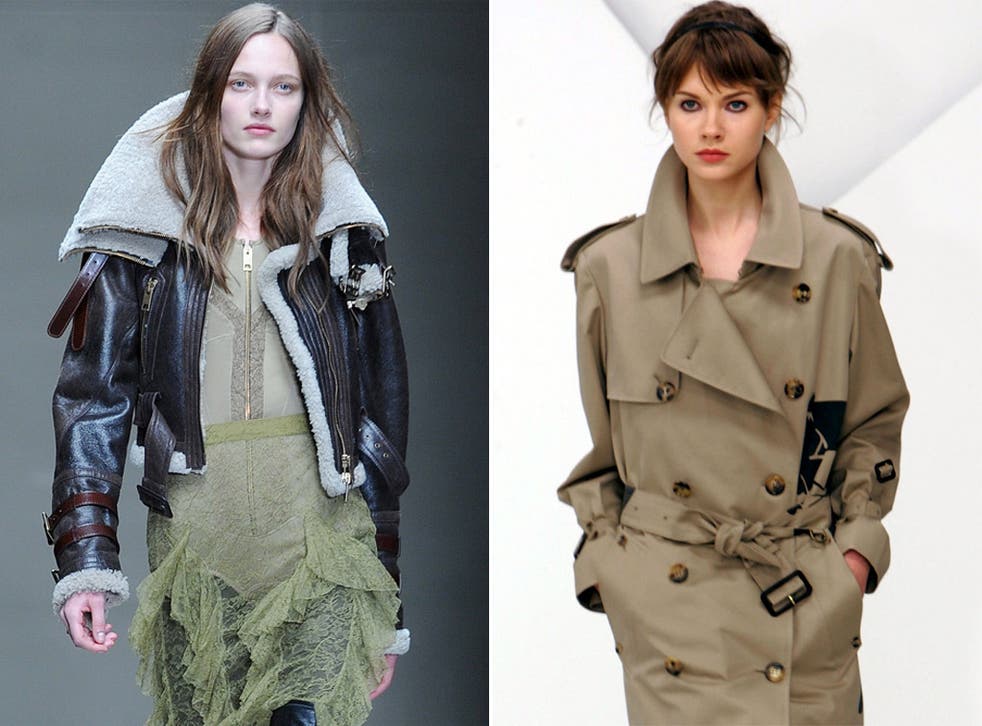 Two of Britain's most wellknown fashion labels found themselves at rather different ends of the spectrum yesterday, as international megabrand Burberry announced a rise of 17.1 per cent in its revenues, while Aquascutum – whose apparel once warmed the burly shoulders of Winston Churchill – has entered administration.
The news came after Monday's announcement that British name Jaeger would be sold to Better Capital, owned by distressed-debt expert Jon Moulton, for just under £20 million. Businessman and chairman of the British Fashion Council, Harold Tillman, bought the company in 2002 and added Aquascutum to his portfolio in 2009, after it sustained losses of £24m the previous year. It is understood he sold his majority stake in Jaeger this week in order to protect that label from Aquascutum's inevitable decline, given the impossibility of a turnaround in its health.
To anyone with even a passing interest in the industry, the fact that both Burberry and Aquascutum are famous for their trenchcoats and heritage status will not have gone unnoticed. So why should one blossom and the other wither? It's to do with hard times, of course, but also with marketing and vision.
Once upon a time, Burberry's signature checks were the stuff of football hooligans and Daniella Westbrook, but the company famously undertook an image overhaul in the early Noughties which has seen it go from strength to strength. The introduction of young British starlets and rock star progeny, such as Emma Watson, Otis Ferry and Eddie Redmayne, into glossy advertising campaigns shot by Mario Testino – not to mention enormous engagement with digital platforms such as Facebook, Twitter and real-time catwalk shopping – has ensured a high-end, cool image for the label both at home and overseas (its biggest fanbase is in Asia, where sales rose 37 per cent to £387m this half), without losing any of its homegrown USP.
But Burberry's success is also partly down to its chief creative officer Christopher Bailey's and chief executive Angela Ahrendts' visionary approach. When Bailey took on the mantle in 2001, he understood that the way to treat a "heritage label" is to reinvent that heritage for a new generation. They did this, softly and subtly at first, by using the main catwalk collection to deal with directional, seasonal trends (and dropping the signature checks from this), all the while recognising the democratic need for cheaper diffusion lines which sold the standard-issue pieces, handbags and scarves complete with checks, for a broader and more aspirational class of shopper. He worked those pieces into a more youthful aesthetic too – and, in doing so, Burberry's public face became at once cool and cult, losing none of the prestige that comes of being something of an institution.
But Aquascutum, once a stalwart of the British wardrobe, relied on that image, and on a waning demographic, for slightly too long. By the time designer Joanna Sykes joined the label as creative director in 2010, it was already too late. Her classic and more than competent designs garnered praise from the press who attended the shows, but they have failed to make an impact in a market where shoppers are cautious and status buys must be exactly that.
Having dressed everyone from Margaret Thatcher and the Queen to Humphrey Bogart and Cary Grant, Aquascutum has the credentials but not the clout. Where Burberry made its tradition relevant to a new audience, Aquascutum has not – the trick is to grow alongside your customers, rather than hanging in there until they die off.
It was much the same story with Hardy Amies, another outfitter to the royals, which went bankrupt in 2008 having similarly failed to find a niche for its offerings. The name has since been bought and revived – something which may well happen with Aquascutum too, as prestige and familiarity like this are hard to kill off.
But where the old guard of British heritage brands are content to dress the Duchess of Cornwall and her ilk, Burberry has experienced a massive boost to sales since Kate Middleton sported one of their trenchcoats. And that's the generational difference, right there.
Join our new commenting forum
Join thought-provoking conversations, follow other Independent readers and see their replies